---
The idea of holding a family reunion of the descendants of Olof Andersson and Eva Anderssdotter at the ancestral farm in Sweden was first proposed at the 2016 family reunion in British Columbia. After nearly a year of planning, it came true in June 2018. My grandfather, Victor Emanuel Holm, was the grandson of Olof and Eva and the son of their son Fredrick Olofsson, who had remained in Sweden when three of his brothers emigrated to America. Gail and I participated in the gathering and then took advantage of our presence in Sweden to see cousins to whom I'm related through my grandmother, Frida Sörqvist, and to do more sightseeing in this picturesque part of Sweden.
Location of Fjällbacka in Sweden

We chose to stay in the resort town of Fjällbacka because we knew that it was only about 30 kilometers from the location of our ancestor's farm. Brad had been there decades ago and knew it was good place to use as a home base, with hotels and restaurants. It is a picturesque village on the rocky shore of the Skagerrak strait. The actress Ingrid Bergman spent her summers here and, when she died, had her ashes scattered near the island her cottage was on. The village is featured in a series of murder mysteries by Camilla Läckberg.

The following cousins attended from America:

Eunice Helgeson, great-granddaughter of Olof and Eva's son Andrew Holm (Anders Olofsson), who emigrated to Minnesota in 1879.
Cynthia Sabinske, great-granddaughter of Olof and Eva's son Otto Holm (Otto Olofsson), who emigrated to Minnesota in 1882.
Mike Holm with his wife, Jeannie. Mike is a great-grandson of Otto Holm.
Brad Holway, grandson of Alida Carlson. Alida was the daughter of Olof and Eva's son Fredrick, who had remained in Sweden. She emigrated to New York in 1932.
Dan Holway, Brad's son.
Al Holm with his wife Gail. Al is a grandson of Victor Holm, who was the son of Olof and Eva's son Fredrick. Victor emigrated to Canada in 1909 and then to the U.S. in 1917.

The following Scandinavian cousins also attended.

Gerd Sønsterud and her husband Knud Lorensen from Drøbak, Norway. Gerd is a great-granddaughter of Olof and Eva's daughter Anna Maja, who married Ivar Olof Löngstrom.
Linda Tollefsrød, Gerd's daughter, with her husband Odd and sons Henri and Håkon.
Monica Myrland, Gerd's daughter, with her husband Tommie and sons Axel and Philip.
Lars-Olof Holmberg, his son Marcus Holmberg, and Marcus's partner Ulrika from Vartofta, Sweden. Lars-Olof is a great-grandson of Olof and Eva's son Carl Johan Olofsson Holmberg.
One of the challenges we faced in planning our reunion was that initially none of us really knew precisely where the farm was located. In her book The Descendants of Olof and Eva Andersson, Helen Holm Hobert had written, "Olof Andersson was a farmer who owned land at Heljebo near Lake Bullaren, the largest lake in Bohus Län". In his memoir, Victor Holm had written that farm Helgebo was in Mo Parish on the east side of Lake Bullaren at the foot of Kynne Mountain. The farm's name did not show up in a Google map search. However, from the description, a Swedish cousin of Al was able to locate it with a Swedish online map program. We also found the farm - named Häljebo - in topographical maps of the area. Its location is circled in the map image on the right.

To help future generations to find Häljebo, we note that its latitude and longitude is 58º 39' 31.16" North, 11º 34' 34.64" East.

Laila Falk put us in contact with the current owner of the farm, a German, to make sure that we had permission to visit. She also arranged for the previous Swedish owner of the farm, Rolf Olausson, to give us a tour.

In his later days, Fredrick Olofsson moved to another farm, named either Hällekårret or Hällejäret and that is where Brad's grandmother grew up, but we were not able to locate it on our maps.

---

Another challenge the Americans faced was getting in touch with Swedish relatives. This side of the family had lost contact. Once again Laila Falk was able to provide the necessary information. Eunice corresponded with our newly found relatives and some of them were able to join the reunion.

---

Laila Falk also arranged for us to get see the interior of Mo Kyrka, the church that our ancestors attended, and to attend a church service at Naverstads Kyrka, where Victor Holm was baptised.

Häljebo farm location near Lake Bullaren
Thursday, June 14, was our day of travel and of checking in at Villa Evalotta, our hotel. Brad and Dan came from a journey up Norway's coast with the Hurtigruten Cruise Line so they flew south to Oslo and drove down from there. Cynthia, Eunice, Mike, and Jeannie flew directly to Oslo from Minnesota. Gail and Al flew to Göteborg from exploring her family's locations in Scotland.
We stayed in Evalotta's Villagården building and had all but one of the rooms. It had a large dining and living room, a kitchen we could use, and WiFi. There was even a large-screen TV in the living area where we watched some World Cup matches.
Sightseeing
We could have enjoyed ourselves here even if we had not had an ancestral connection to the area. The region is very pretty, both Fjällbacka and the other coastal villages and the inland landscape.

There is a world heritage location at Tanum with petroglyphs created somewhere between 1800 to 500 BCE by the bronze-age inhabitants of the area. We saw many petroglyphs, which had been colored red by the museum folks to make them more visible. I wonder if our ancestors ever saw them.

While riding on a rural road, Al even saw a moose in a deep, wooded gully alongside the road. There were other activities, such as fishing, taking a cruise among the islands, or spending time in Göteborg, that we could have enjoyed, but did not have time for.
---


Fjällbacka's harbor seen from our hotel

---


Fjällbacka's waterfront seen from Kungsklyftan (The King's Cleft)

---


Gail walking in Kungsklyft above Fjällbacka

---


Eunice and Mike planning our itinerary

---


Typical landscape in this region, fields surrounded by
steep-sided rock hills crowned by trees

---


Fjällbacka's Waterfront

---


At the Bronze-age Petroglyph site at Vitlycke

---


Ships and the men crewing them were a common subject
of the petroglyph artists

---


Dancing Girl Petroglyph

---


Our bronze-age ancestors were not prudish
Churches and Churchyards
Of course, we visited the churches and churchyards that are associated with our ancestors. On Friday, we went looking in the churchyards at Kville, Mo, and Naverstad for gravestones of our relatives. In Sweden, there are no municipal or private cemeteries. Everyone has to be buried in the churchyard. We knew that Fredrick Olofsson had been buried at Kville, but could not find his gravestone. Later we learned that if a grave is not kept up, the stone will be removed.
Mo Kyrka was the home church for Olof Andersson's family. It is on the west side of Lake Bullaren, so the family probably took a boat across the lake on Sundays. The stone for Fredrick's older sister, Anna Maria Långström, was still in place at Mo Kyrka and someone was even planting fresh flowers for it. On Saturday, we took Monica and her family to see her ancestors grave.
Al's grandfather, Victor Emanuel Holm, was baptised at Naverstads Kyrka in the middle of January 1879. We don't know why this was not done at Mo Kyrka. Maybe the weather was too stormy to cross the lake.
Sunday was our day to see the inside of Mo Kyrka and to attend a 2PM service at Naverstads Kyrka. The visit to Mo Kyrka went very well thanks to Brita. When we got to Naverstads Kyrka, we found a handful of parishioners filing out. The time of the service had been changed without our knowing. However, the pastor and organist stayed late to lead us in three Swedish hymns.
---


Mike and Cynthia at Kville Kyrka, where Fredrick Olofsson was buried

---


Eunice, Brad, Mike, Cynthia, Dan, and Al at Mo Kyrka,
the home church of Olof Andersson's family

---


Monica and her family at the grave of her great-great-grandmother,
Anna Maria Långström, in the churchyard at Mo Kyrka

---


Inside Mo Kyrka: Dan, Brad, Gail, Al, Laila Falk, Brita Ivarsson,
Mike, Jeannie, Eunice, and Cynthia

---


Naverstads Kyrka with its separate 1669 bell tower

---


Ceiling art, organ pipes, and paintings of Jesus and his Disciples in Naverstads
---
The Gathering of Cousins
Gerd, her daughter Linda, and their families arrived Friday afternoon. We got together with them that evening, and spent until midnight getting acquainted.

On Saturday, Monica and her family, and Lars-Olof and his group joined us. We had lunch and got to know one another. Later we took our newly found cousins to see Häljebo and the Mo Kyrka.
---


Gathered for our Saturday lunch

---


Knud and Brad comparing mustaches

---


Linda, Gerd, Knud, and Per

---


Markus, Ulrika, and Lars-Olof
---

"Official" photo of our reunion, on the steps of the Villagården building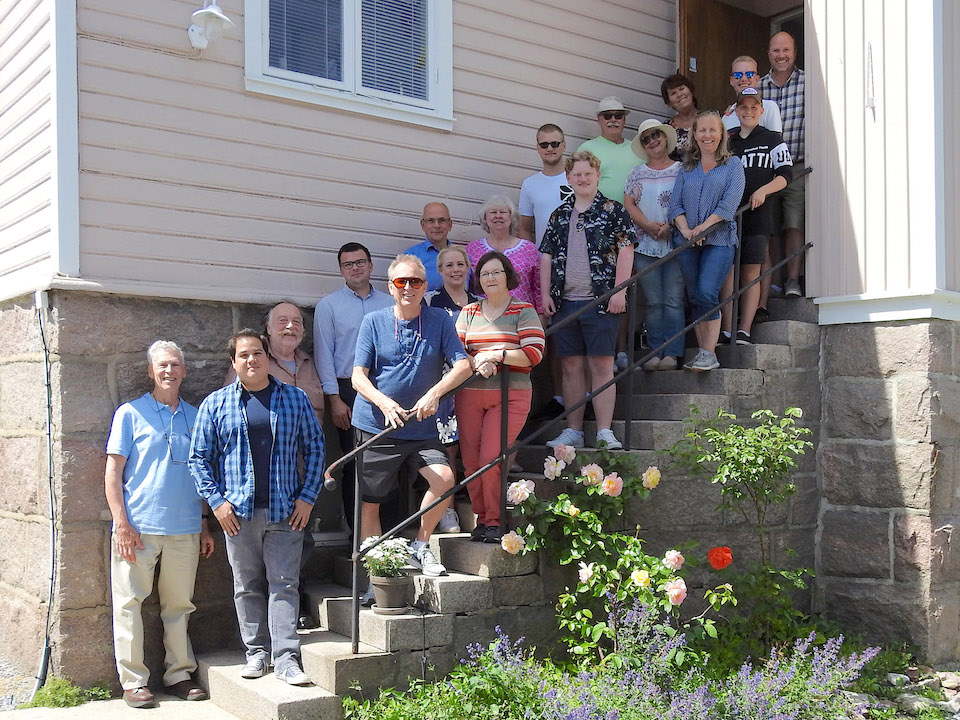 ---
The Ancestral Farm
We visited the Häljebo farm three times, once on each of the full days we were in Sweden. On Friday, we visited it to be sure we knew where it was. On Saturday, we took our Swedish and Norwegian cousins to see it. On a chilly Sunday, Rolf gave us a tour and showed us where the vanished farmhouse had been. Rolf told us that, in his time, the farm had mostly been used for grazing.
---


Dan, Mike, and Eunice at the approximate location of
Olof Andersson's home at Häljebo

---


Rolf shows us a footing stone for the old home

---


The root cellar may date from when our ancestors lived here,
even though the old home is gone

---


Rolf's old photograph of Victor and Jenny Holm with his father and
grandmother gave us assurance that we had found the right farm

---


Cousins at the location of the old home

---


Dan, Al, Mike, and Cynthia with the farm's field behind

---


The farm buildings today

---


At the site of Häljebo's old house with the new one in the background.
The new one has a color common to many Swedish houses.
Panorama of Häljebo's field

Reunion Conclusion
Our gathering ended on Monday, June 18. Mike, Jeannie, Cynthia, and Eunice headed back to Oslo and a visit to the Viking ship museum there. Brad and Dan remained in Fjällbacka for another day while they met with relatives of his Schevenius grandfather in nearby Humburgsund. Gail and Al moved inland to Dingle and remained in Sweden for another week, meeting relatives of his Sörqvist grandmother and seeing more sights in Bohuslän.
---
On Our Own
Between leaving Villa Evalotta and checking in at the bed and breakfast, Gail and Al visited locations where his grandmother and great-grandfather were born, but no buildings remain remain from those days. We also visited the Svenneby Gamla Kyrka. Swedes began building this church in the 1100s. In accordance with the beliefs of the time, it does not have windows on the north side. Its bell tower stands atop a cliff behind the church.
In Dingle, we stayed at Ängens Gård, a bed and breakfast built in a converted barn. The room was spacious with lots of storage, and breakfast was complete - rolls, omlet, tasty Swedish pancakes, cheeses, meats, bacon, fruit, yogurt, cereal, and more - even when only the two of us were there in the middle of the week. In Sweden there are no laundromats, so the kind owner even did our laundry for us when we were running out of clothes.
---
The old church in a scenic location
No windows on the north side of Svenneby Gamla Kyrka

---


The Bed and Breakfast in Dingle

---


At the hitching rail
Sörqvist Family History Locations
On Tuesday, Eva-Lisa Lundgren, my second cousin once removed, and her husband Åke took us visiting family history locations. We went first to Svartborgs Kyrka, where Frida's father, Carl Alfred Sörqvist, was baptized and also where Victor's grandfather Olof Andersson was baptized. Eva-Lisa's great-grandmother, Mathilda, is buried there. After that they took us to Uddevalla, first to the cemetery where Carl Alfred Sörqvist and his wife Hilma are buried. Next we went to Björkebohagen their last home (58º 22' 28.5" North and 11º 58' 1.2" East), but the only thing that remains there now is an old apple tree. Our final family history stop was Bokenäs Gamla Kyrka. This church dates from the Early Medieval Period, possibly even the late eleventh century, and it is also the final resting place of Al's great-great-great-great-great-grandmother's brother, Gabriel Gustaf de Moine. He is buried under the floor of the church in 1751.
After exploring the family history locations, Eva-Lisa and Åke treated us to a delightful lunch of salmon, potatoes, dill sauce, thin bread, cheese, and green salad. Finally, they took us back to Dingle via a scenic coastal route from Kungshamn to Hamburgsund.
---


Svarteborgs Kyrka, sitting atop a hill

---


Nearly every church had a row of paintings of Jesus and his Disciples

---


Eva-Lisa at her great-grandmother's gravestone

---


Eva-Lisa, Åke and Al at the site of Björkebohagen.
the vanished last home of Carl Alfred and Hilma

---


Gravestone for Carl Alfred and Hilma Sörqvist

---


Where the Sörqvist stone is found in the Eastern Cemetery in Uddevalla

---


Bokenäs Gamla Kyrka, seen from the south
This church also has no windows on the north side.

---


A model ship hanging in Bokenäs Gamla Kyrka
Many churches in Bohuslän have these ships.
---
Back to Tanum's Petroglyphs
The next day was cold and intermittently rainy, so we decided to stay close to our Bed and Breakfast and visit the bronze-age petroglyphs again. This time we stopped at all four locations with petroglyphs - Fossum, Vitlycke, Aspeberget, and Litsleby - and even accidentally stopped at a rest stop on the E6 freeway with a display about the bronze-age inhabitants. We also visited the reconstructed bronze-age settlement at Vitlycke. Of course, we saw many more ships with their crews, but we also saw a number of other interesting designs.
---


Based on archeological excavations, a Bronze-age home looked like this

---


"Sun Horse" at Fossum, left uncolored so the real etching is visible

---


Either a bronze-age calendar, four rows of seven dots with an 29th one above
or a bronze-age balloon salesman

---


The "Spear God" at Litsleby, maybe a precursor of Odin
Note the footprints at the left, maybe for a god too powerful to portray

Hiking On An Island

The weather report for Thursday was more positive so we drove to Strömstad, near the Norwegian border, and took a ferry to South Koster Island, which is in the center of Kosterhavet National Park. The Koster Islands are not part of the marine park, but are a nature reserve. They are said to enjoy more sunshine hours than almost anywhere else in Sweden but you can't tell that from our visit. We hiked along the shore and Al got a number of photos of birds. Freezing the swooping motion of terns was especially hard. We even saw a small Swedish Grass Snake, but did not get a good photo.

---


The catamaran ferries to the Koster Islands

---


Hiking along the shore of South Koster Island

---


A Common Tern, frozen in flight at Ekenäs

---


Strömstad's riverfront, the tower of its city hall in the background

Midsummers Day Weekend with Cousin Britt-Marie

Friday morning we drove to Stora Vägen to visit with Britt-Marie Nordqvist. She planned to take us to Tjörn Island for the Midsummer's Day holiday, but by the time we got there traffic to cross the bridge was backed up. So Britt-Marie first took us to the little Stenungsunds Hembygdsföreningen Museum where she volunteers, and then on the ferry to Ourst Island. On Ourst, we stopped at the house owned by Britt-Marie's daughter, Malin; Malin had planned to join us for the holiday, but she had to stay in Switzerland for work. We also visited an unusual old church at Halleviksstrand and a Midsummer's Day celebration at Stenugsund. Back in Stora Vägen, we celebrated the holiday with schnapps and beer, but not too much of either.

The next day Britt-Marie took us to visit Tjörn and the scenic shore towns of Klädesholmen and Skärhamn. The weather turned sunny that day to make for a better experience.

Britt-Marie also gave us old family photos and letters sent by Victor Holm and Aurora Holm to Swedish relatives. Perhaps the most interesting of the family history information was that Al's grandmother's grandmother had been sent to debtor's prison in 1876. Her husband had run off to Norway and it was hard for her to raise her children.

---


Brit-Marie with a traditional dress in the museum

---


A 341-year old book in the museum

---


Gail and Brit-Marie at Halleviksstrands Kyrka

---


Dancing with children around the Midsummers Pole

---


Swedish coastal scenery at Kladesholmen on Tjörn

---


The harbor at Kladesholmen

---


A beautiful day at Kladesholmen

---


Al, Brit-Marie, and Gail at Skarhamn

A Day in Göteborg

We visited Göteborg on our last day in Sweden. At Britt-Marie's suggestion, we avoided the problems of driving and especially parking in the city by driving to the airport and taking the airport bus into the city. In the city we visited the Stadsmuseum, where we learned about the history of Göteborg, and we walked along the waterfront. Göteborg was built by the Dutch in the 1620s as a nearly circular city on the banks of the Göta River with a massive wall, a moat, and a canal into the heart of the city for cargo ships. The city wall is gone, but the canal and much of the moat survive.

---


At Göteborg's canal

---


Looking the other direction on the canal

---


Viking trading ship remains at the Stadsmuseum

---


Barken Viking hotel ship on the Göta River and the Lipstick Building

On Monday morning, June 25, Gail and I caught a 6:35am SAS flight to go to Germany.

---

---

Responsible: Albert Holm
Created: 15 July 2018; Updated: 17 April 2019