LEFT: Aurora Hovey, with Dennis (love those little feets) & Tim Bishop (Tim caught his first fish, a perch, this day), on the boat dock at Carl's Place, Willard Lake - I think probably 1957.
| | |
| --- | --- |
| | RIGHT: My Grandpa Carl Holm, taking Fuster Alida and Fuster Anna fishing on Willard Lake. I'm not sure when this was... probably also about 1957. I remember them both being at camp, and Grandpa laughing a lot. |
Linda Beacham posted on Saturday, March 28, 2019

Thought I'd share this with you.

Daughter of Carl Johann Holm and Violet Whiteman. She was half Swede, one quarter Norwegian, and some Irish mixed in. And you know the Irish are mainly a bunch of shipwrecked Norwegians.

Just over 5 ft. tall, she was one tough woman, I tell ya. In memory, and in my heart, forever.

My mom, Charlotte Holm, went to her ancestors 2 years ago today. Here she is, in her late 70s, as I like to remember her: in her 17' Lund (on the Winnipeg River, where she loved to canoe), wearing her goofy fishing hat...and one of her many feminist T-shirts reading "Support Your Right to Arm Bears". She looks here "as happy as if she was in her right mind".

A true friend, and a sister
---
Linda Beacham posted on Friday, April 19, 2019

My grandpa [Carl Johan Holm] was born today...back in 1895 in Sweden.

He was a master carpenter and stone mason, and he built this beautiful 10 ft. cedar strip, canvas covered duckboat for my mom when she was about 10 years old. She gave it to me. I used it on Lake of the Woods with a 3 h.p. motor on it, back in the late 50s, early 60s. I have passed it to my grandgirls Mya and Emilia. "Peanut" is now in SW Ontario, and has been restored to mint condition.
Michelle Lunny posted on Facebook 20 Apr 2019
... Many family stories of Uncle Carl [Carl Johan Holm]. One of my favourites my grandma, Lena, told me that in later years when he got up in the morning he'd say to Auntie Vi, "Well Vi, we're still perpendicular" with that wonderful Swedish cadence.
Linda Beacham commented
Michelle Lunny, Yes. He never lost that accent. Beautiful! And he'd make jokes about it, too. One of my favourites: "I yust learned how to say yam...and now dey call it yelly!" That lovely, lovely "lilt" in his voice. SO many stories.
His older brother Victor was VERY different...quite serious. He thought Yogi Yorgessen songs were "yust AWful!". Grandpa loved them. I love them still.
Michelle Lunny, reunion time again? I'll bring my guitar. Reminds me of something else Grandpa used to say: In a plaintive voice, "I brought my accordion to the party...and no one asked me to play!"

Linda Beacham posted on Friday, February 7, 2020

Hello all, I am sharing this photo elsewhere...someone is looking for old photos of Kenora's ski history. Thought I'd share it here, too. Carl Holm and Violet Whiteman in the good old days here...mid 1920s. I'm sure Grandpa made those skis himself. He made the ones I learned to ski on.

Both looking pretty dapper, yes? Love the bamboo poles.

Those skis were used both for downhill and cross-country. Apparently no worries about broken ankles. Folks were tough.
---
Tales During a Time of Covid-19
Brad Holway emailed on Friday, 4/3/2020
SOME MEMORIES OF MY MATERNAL GRANDMOTHER [Alida Carlson]
My mother's mother was a major presence in my young life. She lived with us and I spent a lot of time with her during my early childhood. She was a sweet woman but tough in her own way; she had led a difficult life. As I look back on it, I realize that she was very embittered over a number of things, particularly my grandfather's abandonment of her during the lean years of the Great Depression. She never showed that bitterness around me, though.
One of the things I really enjoyed during those early childhood days was going out shopping with her, particularly food shopping in the neighborhood. She was a purist and a traditionalist when it came to food and refused to buy any kind of meat in a supermarket. She said she couldn't be sure if the animal had been slaughtered or if it had died of some disease.
The local fish market was run by an Italian family. The older people spoke limited English; their son did most of the palavering with the customers. I remember the fish, all whole, separated by species, lined up in neat little rows. Just looking at them fascinated the young me. The customer would pick out a fish, the son would grab it and hand it to his father, who did the gutting and scaling. The fish then passed to the hands of his wife, who would wrap it in kind of an oily brown paper, ring up the sale on one of those old-fashioned cash registers and hand the wrapped-up fish to the buyer.
We bought our red meat from the local butcher. He was a big, pot-bellied German with a heavy accent who wore a blood-stained apron and always had a cleaver in his hand. I feared him at first but gradually got used to him. The butcher shop visits were fun for me because of the dog and cat that the butcher kept; he fed them both on scraps. The dog was big and scary-looking but actually rather docile. The cat was kind of skittish but not a bad sort either. Both animals let me pet them once they got used to seeing me.
What about chicken? Several blocks away from where we lived was an enclave of Hasidic Jews, where a kosher live poultry market was located. My grandmother said that one could always trust the quality of kosher chickens. She would pick out a chicken and a bearded hasidic man would kill, pluck and gut it as if he were a machine specifically made for this task. I would sit in a chair and watch the spectacle, a blizzard of white feathers. One older Hasid took a liking to me; he would pat me on the head, give me a lollipop or a piece of candy, and call me a "schoene kleinkind".
On the way home, we would stop at Perry's Candy Store, where my grandmother would treat me to an egg cream and buy the daily newspaper. She and Perry often conversed; they were evidently friends in that old neighborhood kind of way. Perry was a survivor of Buchenwald and I remember him showing the number tattooed on his arm. As I grew older and learned what that number meant, I marveled to myself that Perry was able to be the friendly, cheerful man that I remembered from those days.
Anyway, that was a bit of childhood reminiscence. It was, I suppose, a childhood of moderate deprivation in a rather dreary working class neighborhood. It did not appear dreary to me at the time, though, nor do I remember feeling deprived. That little world, that reality, was all that I knew.

Gail Carlson Mackay e-mailed on Tue 4/7/2020 10:35 AM
Hello, Everyone,
I might be the only one who remembers this Christmas in North Vancouver: We had cleared the dishes and swept the floor and joined the men. Our granny, Anna (Holm) Carlson picked up her knitting as we all relaxed in the living room. Her sons, Victor (our dad) and Errol (our uncle), started to tease her about knitting all the time because she was now an old lady. Anna was perfectly capable of holding her own when her sons teased her, and she said, "I'll show you that I am not old!".
She told my mother to come into the bedroom with her so off they went, and granny re-appeared wearing a pair of my dad's trousers. She went into the centre of the carpet and stood on her head.
We learned later that she had always done this on her birthday. I only saw her do it once more, though. Her sons insisted that she do it at the corner of the room after that.
Gail Carlson Mackay

Brad Holway emailed on Tue 4/7/2020 11:10 AM
Good story, Gail. I remember your grandmother quite well from her visits to NYC when I was a kid. She had a very lively personality and a good sense of humor.
The story does not surprise me!

Linda Beacham posted on Facebook on 4/7/2020
<! Love it! > Here's one about Anna from my memory. Can't remember if I shared before.
Anna's husband August Carlson worked for the CPR here and was killed on the track while working. Anna moved to B.C. after his death. She was granted a pension, as well as a lifetime pass on CPR trains and ocean liners. She took a trip to Hawaii once. I remember her down at the camp at Willard Lake, out on the grass with all us kids gathered around. She told us about going out on a catamaran, and learning to do the hula. She gave us a great demonstration...singing along with her dance. Full of spirit! I remember her as being like Victor, I think. Always laughing. Patricia Holm, I told you that one when I came out to Vancouver, I think.

Linda Beacham posted on Tue, 4/7/2020
My grandpa Carl was a very quiet man, not particularly sociable...though he did play a "mean" accordion (button), by ear, and played with a local dance band in his younger years. Saturday night dances everywhere.
He had a soft spot in his heart for animals...particularly cats. My mother told me that when he was a little boy, and it was time for slaughtering the pigs, he would run away early in the morning and hide away for the whole day. I think he liked animals somewhat better than he liked most people.
There were always bears around the camp when we were kids. We had to make sure all fish "cleanings" were disposed of far from the camp area, and Grandpa grew great potatoes in his potato plot...would bury fish guts as fertilizer.
Every once in awhile, not often, a young bear would become a "nuisance", and my grandma would get her knickers in a twist, worried about the campers's kids getting hurt. And she'd want Grandpa to shoot it. He hated doing that. But he would. He shot a young bear once, and wounded it badly, so had to track it to kill. He did that, but was so upset by the whole process, that he said he would NEVER do it again. And he never did.

Linda Beacham posted on Tue, 4/7/2020
Just wanted to share with you. Up on the hill at our cemetery here in Kenora, there is a large stone marking a mass grave from this pandemic, I believe. Or several pandemics. Cholera and typhus were also rampant in the area, and I think that is why Victor left for the U.S. One of the names on it is Emma Holm, who was our grandparents' youngest sister. She was quite young, maybe 14 or 15 years old. I think she may have lived with Farster Maria Samson. Does anyone know more about her? One of the Samsons, maybe? Any photos of her?
Emma Holm images provided by Albert Holm
Maria Samson's first husband, Adolph Anderson, and infant daughter Agnes both perished during the 1906-1912 epidemic, as well as her sister Emma. I think someone in Kenora told me that Emma worked as a maid in a hotel, but I don't remember who told me that or when.
Emma before she left Sweden
Front of the monument - Maria's husband
and daughter are the first names under " 1908"
Back of monument - Emma's name
is on the left side, fourth from the top of the image

Wendy Sandor emailed on Tue, 4/7/2020
I suspect Gail will also comment about this but our dad Victor (Anna Holm's son) also worked with stone - he built many beautiful rock fireplaces and window boxes - one was featured in our local newspaper after a flooding creek washed away all the dirt from under it. It was still attached to the house.
Another time when he was collecting river rock he asked my mom to drive the flat bed closer - she didn't know much about driving and I guess put the truck in neutral and coasted backwards down a hill - fortunately it coasted to a stop.
Another time he noticed a tire passing him as he was going down Lonsdale - we live in mountain country - and realized it was his tire. Driving in North Vancouver was simpler then.
He also worked with dynamite - and blasted many of the original road beds in the Highlands in North Vancouver - I can remember it raining rocks!
Wendy Sandor
---
Brad Holway emailed on Tue, 4/7/2020
I just recalled that my grandmother [Alida Carlson] would often make fish-roe soup. Did any of your "old timers" do that?

Gail MacKay emailed on Tue, 4/7/2020
Anna did not, Brad, but she did make a meat stew with prunes. She also made palt, kaka, krans, hazelnut torte, and head cheese and of course, we had Viking sushi (pickled herring) ...what else, Pat and Frank?

Cathy Lammers emailed on Tue, 4/7/2020
I remember my Aunt Aurora use to make potato balls ( sinkers) as my brother calls them.

Brad Holway emailed on Tue, 4/7/2020
Most of the things you mentioned were not on the menu for me, Gail. We did often eat pickled herrings on flatbread, though. So far as palt, I actually remember eating it for the first time when your grandmother came to visit us during the New York World's Fair of 1964-65 (she was the cook). My other "palt" experiences were in BC - once with Dougie & more recently at Robin & Ed's. I do like it, for sure (Dan absolutely loved it).
One thing I hated was [sylta]. Did you ever eat that?
My grandmother also made a dumpling soup out of chicken stock, with lots of sliced onions floating around in it. I really loved that & now wish I had gotten her recipe, or at least watched more closely while she made it.
Another thing I liked was the way she made potatoes. Basically, they were the mashed potatoes you find all over North America with some chopped onions thrown in. She would then pan-fry them over high heat until they were black & crisp on the outside. I guess you could have called them "potato fritters". I'm not sure if this was traditional or something she made up.
How about kottbullar? Did your grandmother make those?

Albert Holm emailed on Wed, 4/8/2020
Aren't food memories wonderful?
I don't recognize most of the dishes you mentioned. My grandfather Victor and Jenny, his 2nd wife, used to eat filmjölk, a milk product like yogurt. I never was brave enough to try it. Christmas eve was our big holiday when we'd feast at Victor's. Jenny made flat bread, Swedish meat balls, whole fresh baked ham or roast turkey with decorated drumsticks, cranberry sauce, mashed potatoes, lutefisk, and salt cod. Aunt Greta and her husband Murray would bring venison. I especially liked the flat bread (Kake Brod). In his memoir, my grandfather wrote that it was a big hit in a work camp when he made it.
Do we have any recipes stashed away for the foods we are recalling?

Gail MacKay emailed on Wed, 4/8/2020
This recipe was given to me by my aunt, Dagmar Leonard, Frank Leonard's mother. It came from Anna (Holm) Carlson:

PALT

Grate 5 pounds russet potatoes.
Take 3 big double handfuls, and squeeze out the liquid.
Add 3C flour, and (in Dagmar's words) mix the daylights out of it.
Salt and pepper 1/4C chopped pork chops.
Take 1/2 potato mix and put meat in the centre. 
Roll each into a ball and then into dry flour.
Place in a big pot of salted boiling water and simmer 2 hrs.

We ate this with butter, but I have had it with sour cream, and I think we all agree that sliced and fried is the best.

Cheers,
Gail
---
Albert Holm emailed on Wed, 4/8/2020
This is just a little observation. My grandfather, Victor Holm, had a flagpole in his front yard. On the Swedish holiday Midsummers Day he would fly both the American and Swedish flags. While there was a flag pole at school, I did not know of anyone else who had a flag pole at home. Many years later when I visited Sweden in 2018, I was surprised to see that many homes had a flag pole. Some flew the Swedish flag, but more flew a pennant with the colors of the Swedish flag. Now I understand my grandfather a little better.

Brad Holway emailed on Thurs, 4/9/2020
Fredrik the Beekeeper
This is a quick little story that my grandmother told me. When she was about six years of age, she became very ill and likely suffered a close brush with death from numerous bee stings.
You see, our great-grandfather Fredrik was, among other things, a beekeeper. He had several hives full of the little critters. Of course, he had been stung many times and had become immune to the toxins. She recounted that he had a long white beard and that the bees would crawl around in it.
I imagine that she must have seen this as a child and reasoned that the bees posed no threat. She evidently did something to rile up the bees and suffered the consequences. I guess she was lucky to have lived to tell the tale!

Albert Holm emailed on Sat, 4/11/2020
Whether this was a leftover from WW2 Victory Gardens, from surviving the Depression, or just long standing practice in the old days, many working people helped make ends meet by providing some of their own food. One of our friends kept cows in a shed behind the house, another kept chickens, and grandpa Victor had geese as well as farm crops. Many people farmed an acre or two. One Friday evening in spring after getting paid, my dad [Carl Gustav Holm] helped old Martin Martinson, who lived on US2, plow his small field. Dad drove grandpa's Allis-Chalmers tractor. While he was driving, his wallet fell out of his pocket unnoticed and was covered over by the dirt from the plow. It was gone for good; a search revealed nothing. Years later, another plowing of the field brought the wallet back up to the top. It had decaying bits and pieces of the $50 still in it.

Jim Baker emailed on Sun, 4/12/2020
There are a few things I remember about my grandfather Victor and Jenny. When we were very young, Victor would drive his tractor from the farm, through the backroads and stop for a visit us in Stambaugh and we would climb all over that tractor. Somewhere there are pictures of us sitting on that tractor. I seriously think it had to be 5 miles one way on a tractor but he always had a smile when he showed up . It must have taken an hour to go one way into our town.
There were times when I would get a chance to stay overnight with Victor and Jenny and would sleep in the bedroom on the second floor. The room next to that bedroom held Jenny's rug loom and she would make rugs from old fabric she would gather. I know we had many in our house. That loom is now in the museum in Caspian.
In the morning the typical breakfast for me was not kaiser rolls and cheese. They seemed to have Kellogg flakes on hand but, no cain sugar, only brown sugar. I don't think Jenny understood what I wanted because Victor had sugar cubes with his coffee and I had brown sugar on my flakes.
There was a period when Victor became sick and then hospitalized, that I don't have much memory about but, we did visit Jenny almost every weekend and go to visit him in the hospital when he was admitted. I do remember Victor in his wheelchair at home, singing this song in Swedish. "The Amazing Young Man on the Flying Trapeze". In just typing this, floods my memory of that time. The farm, Albert's family just down the road.

Linda Beacham posted in Facebook on Sun, 4/12/2020
The first (and maybe only) time I saw my grandpa Carl really laugh...tears on his cheeks...mouth open...was on a visit to Iron River when I was 9. A HUGE adventure in those days! 2 days of driving, and a night at Aurora's house high up on the hill in Duluth. Uncle Victor was in a wheelchair. That may have been after his first amputation. Anyway, the two of them were talking a mile a minute in Swedish. I remember Uncle Victor much as I remember Farster Anna...boisterous and laughing! Wonderful memory. My grandpa was usually very quiet and reserved.

Brad Holway emailed on Sun, 4/12/2020
Of all the set of first cousins that preceded us, I think my mother was closest to Dagmar ("Dougie") Carlson Leonard. I recall them having had rather similar modes of thought about most things. During the late 1940's, my parents lived in North Tonawanda, New York, a suburb of Buffalo. Dougie & her husband, Harold Leonard, lived not far away in Toronto then. I think they did quite a lot of back-&-forth visiting during that period of time. Up until Dougie's death, they talked fairly often on the phone.

Linda Beacham posted in Facebook on Mon, 4/13/2020
My grandpa Carl LOVED using dynamite! He learned to use it when he was really just a boy working in the rock quarries back in Sweden. I think he started there at about the age of 12.
Willard Lake was where my grandparents had a camp (Carl's Place) that they ran in the summer months...had 4 light housekeeping cabins and camping spaces. I spent all my summers there with them, along with my cousin Bonny Lees. A little piece of heaven for both of us.
Willard was a trout lake...deep and cold and clean. Great fishing for pickerel too, which was what most people wanted to catch. Willard was surrounded by other small lakes that campers could portage into if they wanted. Cardinal Lake was at the south end of Willard, a short walk through the bush that followed a rocky stream of water.
In the early spring, the suckers would "run". They'd swim into that moving water to spawn...mainly in a deep pool that had formed in the centre of the stream. Now, we looked on suckers as "cull" fish. They are bottom feeders that will feed on the eggs of other fish.
We didn't eat them. Looking back, I'm not "happy" with what we did. They are great eating in the cold weather, and indigenous peoples here would never have wasted them like we did. The first time I ever ate sucker was at a Spring Feast I attended just a few years ago...and I thought I was eating lake trout. VERY rich protein, and delicious!
We would go...adults and kids...whoever was around on a nice sunny day, and armed with landing nets, jerrymandered spears, etc., down the lake to the Cardinal Lake portage. We'd spear or net suckers, and throw them back in the bush. A feast for the bears, ravens, whatever. The rocks we climbed around on were slippery, and the water was still bone-chillingly COLD!
Willard was always cold, even in the hottest summers. Some kid ALWAYS fell in the water during the excitement! (Bonny Lees...)
We'd be having a wonderful time. Grandpa didn't come for the "first act". He'd come later...sauntering up the path through the bush. Loaded and ready. He'd have a couple of sticks of dynamite with him.
He'd quietly light one of the sticks, and lob it gently into the centre of that pool. And we'd wait. There would be a muffled WHOOMP!...the water would rise and swell and break. And the suckers, stunned, would come floating belly-up to the surface. HUNDREDS (to my child's eyes) of them.
And we'd get busy with the nets again. Wonderful memories.
Oh my. It's that time of year again here in Kenora. The snow's almost gone. The suckers will be running soon.
Bonny Lees added to Linda's post
I remember balancing precariously on a rock in the middle of that pool... I'd speared a sucker but didn't want to touch it (because, slimey). You reached out your long-handled net - I reached out my long-handled (forked) spear... you pulled harder than I did. I was wearing a bulky sweater, which immediately became MUCH bulkier, and longer - stretched down below my knees, sleeves hanging to my ankles... Made it back to shore, with a lot of help and amid much laughter from all witnessing my floundering... proceeded to try to disentangle myself fom the sweater... Then - your father yelled, "Bonny! Catch!" Saw a sucker flying through the air towards me... turned to run... straight into a tree...and the sucker hit me in the back of the head! Much more jocularity ensued. Oh my wounded teenaged pride. Remembering too that when we got back to camp, Grandma wouldn't let any of us in the cabin 'cause we all smelled SO bad. She put soap and towels out and we all had to strip off outside and bathe in the icy lake.
I don't recall Grandpa strolling in with dynamite. I remember being told that the deep hole where the suckers were hiding had been formed when Bill decided that spearing and netting took too long and tossed a stick of dynamite in to speed up the process. Remember also wee William Holm, putting the "little ones back for next year"

Wendy Sandor emailed on Mon, 4/13/2020
My clearest early memory of my grandmother Anna Holm was when we would take her to the CPR station in Vancouver when she was headed east - and when we would pick her up on her return - it seemed like she was going on such an adventure. The CPR station was an exciting place to be. On her return if it was the right time of the year she always brought back an oval wooden basket of wild blueberries from Kenora. I wish I had one of the baskets now. Although she was always Granny when we spoke with her, we would refer to her as Granny Carlson and still do!

Linda Beacham posted on Tues, 4/14/2020
I don't remember Farster Maria well, at all.
My mom and her sister and brother used to visit "the farm" a lot when they were kids. I was there maybe once. I remember her being at the camp at Willard a few times, but she was quiet. She had 8? children?
I would love to know more about her, too. My mom was the family "historian" here.

Linda Beacham posted on Tuesday, 4/14/2020
My mom had great stories to tell about "the farm"...Samson's. Horses, cows, a loose bull on the road one day when mom and her sister were coming along the gravel road for a visit. And a dog that they could say, "Dog's name...go get the cows!" And he would. They'd soon hear the bell on the "head" cow, coming home to the barn.

Judy Oberg posted on Tuesday, 4/14/2020
I remember visiting Grandma Samson on the farm. The boys Uncle Alf and Uncle Bud having coffee at the kitchen table with Mr. Norlen. Dad always let us have a sugar cube treat. The house smelled of Swedish rye bread that Grandma msde

Brad Holway emailed on Wed, 4/15/2020
Maria Samson & Anna Carlsson came to New York to visit my grandmother when I was a kid, around 1960, give or take. I remember Maria as being very sweet, though on the quiet side. That was the last time all three sisters were together. Anna visited once after that, for the 1964 New York World's Fair.
Correct me here if I am wrong, but I believe I am probably the only person to have met all five of the siblings who lived into their mature years.

Linda Beacham posted on Wed, 4/15/2020
Auntie Ebba I knew. I didn't know she was my aunt, though, not when I was little. She lived just across the lane from us in Lakeside. In those days, kids often called an adult "Auntie"...out of respect. I think great grandmother Adela lived with her after she came to Canada.

Albert Holm emailed on Thursday, 4/16/2020
Wendy's story about her parents' adventures with trucks makes me think that we might have other vehicle stories waiting to be told. Here are some involving my grandpa Victor.
Grandpa grew up in an era of horse carts and walking. I think he had trouble adjusting to the rapid evolution of the car. He rode in his first automobile in 1909 in Gothenburg when he was on his way to America. It was a "tricycle which had a petroleum motor. It went put-put-put."
When he drove, grandpa looked straight ahead, not left or right, not in the mirror. In the late 1930s, my dad got a job in construction. Not owning a car, many times dad walked all the way home from work. There were times while he walked when grandpa would drive past him, probably without even seeing his son trudging along . That really upset dad.
In the old days the back seat doors opened backward. In the early 1950s grandpa was riding in the back seat of my dad's car on a trip to Marquette to visit my brother Carl, who was in the hospital with rheumatic fever. While on the road, grandpa decided that he needed to spit so he opened his door a crack to do it. The air rushing past the car caught the edge of the door and flung it wide open, nearly tossing him out of the car.
Jenny, his second wife, would visit a friend who lived in a house on US-2. Grandpa would park his car on the highway while he waited for Jenny to come out from visiting the friend. In the late 1950s, a traveling salesman came up upon grandpa's car suddenly and hit it from behind. It is lucky that he wasn't killed by automobile.

Gail Mackay emailed on Friday, April 17, 2020
I thought you would like to see this image of the Kenora Rowing Club. My Dad, Victor, and his brother, Errol, (spelled Arol in the photo) were on the team which won the Sir Thomas Lipton Cup in 1930. We have the 3 gold medals which Dad won - l930, l932, and l936. In the 1936 race, Dad had not planned to row, and, indeed had not worked out with the team, but the scull was short a rower in the bantam8's (now called lightweight), so Dad participated and they won the bantam8's.
Fast forward in our family: Tess Mackay-Pettyjohn, Victor's great-granddaughter, rows varsity for University of Victoria.
Cheers,
Cousin Gail Mackay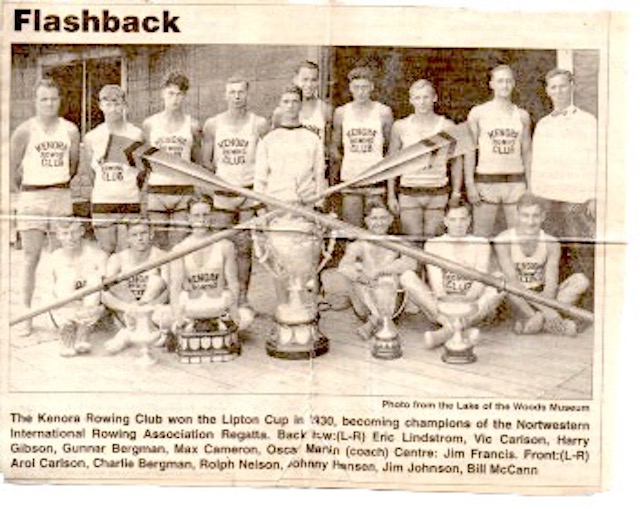 Gail Mackay emailed on Saturday, April 18, 2020
Mom, Dad, Wendy, and I moved to Vancouver when I was about 3 yrs. old, so would have been about 1941. Anna Holm Carlson and all four of her children (Dagmar, Errol, Victor and Eleanor) moved to Vancouver from Kenora. Errol was married to a lady named Vonnie. He worked in a bank. I don't remember quite when Errol went to Sweden. Errol joined the Jehovah's Witnesses in Vancouver and divorced Vonnie. Because he was Swedish-speaking, he was asked to go to Sweden to what he called a Jehovah's Witness commune and this is where he met his second wife, Sissy.

Linda Beacham shared on Facebook on Sunday, April 19, 2020
Just thought I'd share with you, in honour of my grandpa's birthday today. He was born in 1895.

I believe this photo was taken in Sweden after he retired from the mill here in Kenora. It was the trip of a lifetime for them both!

Grandpa always wore one of those working-man "pork pie" hats. And NEVER a suit if he could help it! He called it his "monkey suit".



Bonny Lees commented Suits were for weddings and funerals only, according to Grandpa, and he avoided both whenever possible. I remember him grumbling over that "damned monkey suit" at Bill's wedding... said nobody would even know who he was.

He had 3 hats as I recall... the tweed pork pie, a felt fedora, and his green work-a-day carpenter cap, with the brim pushed up.



Linda Beacham added He was SO young when he first came to Canada. 17, I think, carrying all his earthly belongings in an old trunk I still have. Landed in Halifax, came via CPR passenger train to Kenora.

He did go home once, before he married, to help his parents build a new house. I have a few photos: the old folks, his sister Alida, and Brad's mother (name?).



Bonny Lees commented: Remember that Grandpa always had a shot of brandy, every morning, before breakfast? He called it his "cough medicine". Upon returning from Sweden, he told the story of trying to buy some brandy while there. He said he'd had trouble making himself understood - either the dialect had evolved or was just different from the Swedish he spoke. After many attempts, and much explaining of why he wanted the brandy, he was finally directed... to a pharmacy. The pharmacist had a good laugh over it and redirected him to a vendors. Following Grandpa's death, Grandma began every morning having, as she put it, an "eye-opener with Carl".

Carl and Violet (Whiteman) Holm
Bonnie Lees commented on Facebook on Saturday, June 20, 2020: Quite a dapper pair there, aren't they?
I remember well Grandma's grey skirt and coat, and her lace up "high" heeled shoes. And Grandpa's pork-pie cap.
That was his tweed suit, almost as hard to get him to wear as the black monkey suit. I honestly don't remember ever seeing him in a plaid casual shirt, or a sweater vest, except for this photo.
I' m sure your memories, like mine, are full of images with green work pants, shirts and cap, brim pushed slightly up, powdered with sawdust.

Gail Mackay emailed on Sunday, April 19, 2020
Hi, Linda and Bonnie,
I am sure Brad will tell you his mother's name was Peggy (I do not know if it is actually Margaret).
When August Karlsson, Anna's husband and father to Victor and Errol, was killed by the train, Uncle Carl did everything he could to help the boys process this dreadful situation. He took them fishing, and taught them carpentry. For the rest of my Dad's life, he talked about his wonderful uncle.
Cousin Gail

Michael Holm emailed on Sunday, April 19, 2020
I wonder if that house Carl helped build [for his parents] is where we found the entrance stone to the old house when we were there?

Albert Holm emailed on Monday, April 20, 2020
The entrance stone that we saw at Häljebo might have been from the house that Carl Holm built for his parents. Or he might have built that house on a different farm. Since our visit in 2018, we have deduced that Fredrik and Adela moved at least once before he died. They last lived on a farm called Hällekårret, which we think was located near the road between Kville and Hamburgsund. Here is a photo that my grandfather Victor had of Adela Olofsson and her granddaughter Gunborg/Peggy at Hällekårret. In the background you can see their home. And here is another photo that Linda had of Carl building the home for Fredrik and Adela. To my eye, the houses in the two photos look the same. That could be because it is the same house, or it could be because the houses were built to the same pattern.
I think the entrance stone that we saw at Häljebo was from Olof and Eva Andersson's house.
Granddaughter Gunborg/Margaret and Adela Olofsson
The house that Carl Holm built
Adela and Fredrik Olofsson stand in front of it.
Linda Beacham posted on Facebook on Monday, 4/20/2020
That's my grandpa up in the attic area.
I know when my grandparents went to visit (where, and with whom, I don't know)... the "word" went out to all that "Karl from Hallekarret ( the k pronounced "sh?) is here!" And people came to visit.
---
Brad Holway emailed on Saturday, 4/18/2020
Let me ask all of you a question. Did your "old timers" tell you stories about trolls, elves & that sort of thing? My grandmother did.

Bonny Lees posted on Facebook on Sunday, April 19, 2020
There was some story about some kind of troll or ogre, told as an attempt to keep me "in line". Whatever it was, it scared the beejeebers out of me... so much so that I used to leap from the doorway onto my bed so the creature couldn't grab my ankles and drag me under.

Albert Holm posted on Facebook on Sunday, April 19, 2020
I don't recall ever being told stories about trolls, elves or that sort of thing. However, my grandfather Victor wrote about something like that in his memoir. "I learned to climb the Kast Mountain though it probably was risky so steep as it was? They did not want me to climb or go to Änghagen so they said it was a bad old man between the southern end of Lake Bullaresjön Vassändan to Sundshult and carried the "head" under his arm!! Perhaps there yet?"

Brad Holway emailed on Sunday, April 19, 2020
A DARK TALE MY GRANDMOTHER TOLD ME WHEN I WAS A KID
Let me start off with a little bit of historical background. After Scandinavia was Christianized at the end of the Viking Age, many of the old pagan legends and superstitions persisted. Among them was the belief in elves, trolls, dwarves, etc.; once Christianity was adopted, the locals felt a need to incorporate them into the new Christian cosmology. People in the Middle Ages came to believe that these beings were "The Children of Cain" and had no souls. They believed that these quasi-humans would kidnap or kill children and steal their souls, which were still in a state of innocence. Country folk believed these things until relatively recent times. Crib deaths and disappearances of infants and small children would be blamed on elves, trolls or dwarves. Among the ways that the soul-stealing would occur was that these paranormal entities would lure the children into a dance and dance them to death. OK, here comes the story. This is one that my grandmother says the "old-timers" told her when she was a young girl, so I guess it supposedly happened during the early-to-mid 19th Century. Whether she herself believed the story, I do not know.
A young girl of about six years of age mysteriously disappeared. A search was carried out for her by family and neighbors, to no avail. If you know about Bohuslan, off the coast are many rocky little islands, most of them uninhabited. There was an old goatherder who would take his small herd of goats out to one of the islands on a rowboat every morning and pick them up later in the day for the evening milking, after they had grazed. Two or three days after the disappearance, he told the girl's parents that, on one island that he passed, he had seen a young girl dancing in a circle with several figures whom he described as "little old men with long white beards" (elves? trolls? dwarves?). The girl's parents were somewhat incredulous but went to search the island anyway. They found the girl's corpse there.
True or not true? Just a story to scare kids to keep them from wandering off? Paranormal? Foul play by the old goat-herder? Some other explanation? We will never know. The story DID creep me out, though....
---
Brad Holway emailed on Sunday, April 19, 2020
Keep the stories coming!
Here's a bit of family history some of you may you may not know. After Fredrik's death, the old homestead was sold. My mother, grandmother & great-grandmother Adela embarked for North America on the Gripsholm in 1932. Adela debarked @ Halifax & went to Kenora by rail. By this time, my grandfather, Adolf Schevenius (known as John Carlson in the USA), had left Kenora for New York City, where he was doing well financially as a carver of grave monuments. He had worked as a quarryman in Sweden and had evidently become a rather skilled sculptor by this time. So, my mother & grandmother continued on to New York.
In answer to your question, Linda, my mom's birth name was Gunborg Alvina Schevenius. She legally changed it to Margaret Alvina Carlson. Most people who knew her called her "Peggy".

Linda Beacham posted on Facebook on Monday, 4/20/2020
There is a story I would like to share about our Great Grandmother Adela...from my mom, via my Grandma Vi. How I would LOVE to go back in time, and have a conversation with her! Farster Anna once told my grandma that her brother Carl was "a bad boy". I cannot imagine! However, I think that may spring from the fact that he read Darwin's "Origin of Species" at the tender age of 12, and from that point on refused to attend church. And in my memory, he never did. Only for funerals and weddings would he "darken the door" of any church.
When my Aunt June and my mom Charlotte were born, he flatly refused to allow them to be baptized. My grandma Vi had been brought up Salvation Army, and his refusal to have his children "Christianized" was painful to her. And a matter of family and community scandal, of course.
When our great grandmother Adela immigrated here, she lived with one of Maria's daughters (Ebba) just across the back lane from my grandparents' house in Lakeside. A short time after she arrived, she asked for a private conversation with my grandpa. So he went to visit.
He never told anyone (including my grandma) exactly what his mother said to him that day. But...the girls were duly baptized in the old Lutheran Church in Lakeside. And so was Bill, in his time. They all attended Sunday School, too! I love that story.

Albert Holm emailed on Tue, 4/28/2020
Here are three stories of bear encounters.
The first one truly involves Old Timers, my dad and aunt.
In rural Bates Township, Michigan, raspberries grew wild and abundantly. Children were often sent out with pails to pick them. Lots of berries would be eaten right off the bush, but some would come home to be made into pies and to be canned for use on pancakes during the long winter. My dad, Carl Gustav Holm, told of one day when he was picking berries in a clearing in the wood. He was working on one side of a clump of bushes. When he worked his way around it, he came nose-to-nose with a black bear working its way around the bush the other way. Startled, both dad and the bear fled in opposite directions, fortunately for the smaller of the two. I have also heard this tale from my Baker cousins, only in their story, it was their mother, Greta, who was berry picking with the bear. Both dad and Aunt Greta are gone now so the details can't be confirmed. Probably dad and Greta were picking together, and they encountered the bear together.
The second bear story involves me. However, since although I have no memory of it and since it was told to me by my parents, I'll classify it as a tale from the Old Timers.
Late during WW2, my dad had taken a job at a GM defense plant in Saginaw. One day we visited the zoo there. In those days, zoos were a lot less animal- and people-friendly. Animals were kept in simple cages. I must have been 1 1/2 or 2 1/2 years old, and wanted to feed the bear some peanuts. I am told that, instead of throwing them into the cage, I went up to the bear cage and stuck the peanut, with my arm, into the bear's mouth. I still have that arm and am grateful the bear did not enjoy a little meat with its peanut.
The third bear story involves me and my family directly. Although I'm not sure I qualify as an Old Timer, I will share this story as a contrast to the two stories above.
This encounter was decades later, during the summer of 1981. Douglas was 3 1/2 years old and Gail was pregnant with CJ. We were visiting mom and Murray in Bates, and decided to take a walk. We walked south on Passamani Road from their house past the house my grandfather used to live in and past the little cabin where Aunt Svea had lived with her husband. Then a black bear walked onto the road from the brush on the right side of the road ahead of us. A larger black bear followed the first. We guessed the first was a yearling cub and the second was the momma bear. The smaller bear walked into the brush on the left side of the road, but the momma turned toward us and began to walk our way. We backed up. The bear came on. We backed up. Then a car came down the road from behind us and the momma bear vanished off the side of the road. That was it for us. Back home we went. That evening we went into Iron River to have dinner at the Hungry I Italian Restaurant. The waitress there recognized us. She was the person who drove the car that scared the bear. We made sure to give her a good tip.

Brad Holway emailed on Tue, 4/28/2020
MY GRANDMOTHER (YOUR AUNT ALIDA) DURING THE GREAT DEPRESSION
My grandmother was the last of the siblings to emigrate, settling in New York City in 1932. She went there to join my grandfather, Adolf Schevenius, who had legally changed his name to the more American-sounding "John Adolph Carlson", a quarryman-turned-sculptor who by this time was making good money carving grave monuments. The marriage broke up after a year or two. My grandmother and mother wound up renting a bedroom in an apartment occupied by a family that was also evidently down on their luck. It was seven people crammed into a four-room apartment. The situation was pretty bleak, though not uncommon for the time.
I don't know how this happened, but by a stroke of luck, my grandmother connected with a family named Vasa. Mr Vasa was a chemist by education and a pharmacist by trade. He was a member of the former Swedish Royal Family, the House of Vasa, and was married to an American Jewish woman. I imagine that for the "Royals" a century ago, marrying a commoner, much less a Jewish one, was not in the accepted playbook. I suppose he was sort of "packed off" to America and forgotten. The Vasas, though not rich, were quite well-to-do. They lived in a big Victorian house in a pleasant neighborhood and owned a small chain of drug stores in Brooklyn and Queens. Mr Vasa was, of course, a busy man. Not being around the house much and his wife not being a speaker of Swedish, it was evidently important to him that his kids acquire fluency in the language. So, my grandmother was hired as a nanny or governess. She spent several years in the employ of the Vasas. She became rather close with one son, Ralph, who inherited the business but died at a young age.
My grandmother's domestic job didn't pay badly. Within a couple of years, my mother joined the work force, initially as an elevator operator in an office building in downtown Brooklyn. They were able to move out of the tight quarters and into their own apartment by 1938 or thereabouts. <! From Ancestry.com, Ralph L. Vasa, born 30 Dec 1918, Brooklyn, New York City, New York, USA; died 14 May 2000, widowed white male retired OPTOMETRIST for the U S NAVY, born 30 Dec 1917 in New York; addfress 60 GRAMERCY PARK, Out of State, New York Death Place Farmington, Hartford, Connecticut, Spouse: Irene; Father's name: Nathan Vasa born in Russia Mother's name: Reghiea or Regenia S Schwartz born in Austria Hungary >
Brad Holway added on Wednesday, September 23, 2020
Ironically, though my grandmother never lived in Kenora, my grandfather DID. As I think you know, he was a stonemason by trade. He lived in Kenora from about 1922 to 1928; I think he lived with Uncle Carl. A friend of his from Sweden who was living in New York City at the time told him there was money to be made there carving funerary monuments. He relocated there and did quite well financially despite the Great Depression.
More from Brad Holway on Thursday, September 24, 2020
My grandfather's name was Adolf Schevenius; in the USA, he went by the name of John Adolph Carlson. I think he was known in Canada as Adolph Carlson.
I rechecked my records on ancestry.com. My grandfather arrived in Canada in 1923 aboard the Empress of Scotland of the old Canadian Pacific Line. He departed Kenora for New York City around 1928.
Aunt Anna's daughter, the late Dagmar Carlson Leonard, lived in Kenora during the 1920's and recounted several anecdotes about his stay in Kenora to me. Vicki, Sharon & Shirley also know of his stay there. I'm not sure what kind of work he did while. in Kenora, but I doubt if it was in the stonemasonry trade. He was a quarryman in Sweden; according to my mother & grandmother, he "worked with Uncle Carl" in Kenora, so I suppose he may have done whatever [Linda's] grandfather was doing at that time. He most likely sharpened his masonry skills in New York later. By the time I was a kid, he referred to himself as a "sculptor" or a "master mason". I think the masonry trade has "apprentice", "journeyman" and "master" levels, dating back to the old mediaeval guilds.
As an aside, I sometimes try to picture what life was like for working class immigrant people in Kenora during the early 20th Century. Based on the stories Dagmar told me, it was evidently pretty basic and rustic. I'm sure your grandfather's recollections would corroborate this.
Linda Beacham replied on Wednesday, September 23, 2020
I'll see what I can find. Like I've said, I didn't know he was here at all...assumed he had come directly to New York.
My grandpa Carl also began his "adult" (age 12, I think) career in the rock quarries in Sweden.
He was a stone mason and built many, many fireplaces in homes and camps here, including the one where my dad still lives. Lovely green stone. I believe he built the huge fireplace at the well-known Minaki Lodge north of here.... a retreat for the rich back in the heyday of CN Rail. The place burned to the ground several years ago. It has been partially rebuilt, and I think the fireplace is still there. You can Google, I think.
So yes, it's quite possible your grandfather worked with him. I have a few photos of grandpa with some fellas who worked with him. I'll take a look.
Yep. It was rough. I know Grandpa said when he got here (I think he arrived in winter by CP Rail from Halifax), it didn't look anything like the ads for Canada he had seen in Sweden. Tarpaper shacks were pretty common.

John Baker emailed on Tuesday, 4/28/2020
Maybe someone can help me with this.
When I was in the Army in 1967 stationed in Fort Monmouth, New Jersey, my mother, Greta Holm, told me about her cousin who lived in Jamaica, NY. She asked if I would call them and see if I could visit them on a weekend. I did and low and behold I was able to visit for a weekend. It was a nice visit but a bit strange because we did not know each other. When my visit was over, the Father, I cannot remember his name, drove me to the bridge between Manhattan and Jamaica and dropped me off. He was a City Bus Driver, so I did not have to pay a fare. When we got to the bridge, he told me that it was the end of the line for him, and that he had not been to Manhattan since the War, WWII that is, and did not plan to go any further.
Does anyone remember the name of that family, cousins of Greta Holm?
John Baker
Brad Holway replied
That was my father, Al Holway. I was the kid, about 15 or 16 back then. You gave me a chuckle, since my father hated driving in Manhattan. He did go in by subway occasionally, though.
John Baker added
Brad,
I remember you, but not much else from that weekend 53 years ago. I appreciated the hospitality and the time, even if for a weekend, to get away from the Army for awhile. My next stop was Vietnam and then Germany.
John known as Pete back then.

Gail (Carlson) Mackay emailed on Wednesday, 4/29/2020
This is a story my Dad [Victor Carlson] told me:
Do you all know what surströmming is? Have you ever smelled it or eaten it?
When our Dad was a youngster, he and his best friend were watching the neighbours enjoying themselves at a dance in a hall in Kenora on a Saturday night. Dad and his friend took it into their heads to add interest to the dance, so they found a barrel of surströmming, brought it to the hall, opened the doors, and rolled the barrel onto the floor. To the boys delight, and the dancers chagrin, the barrel broke apart, strewing the rotted fish everywhere. As Dad said, "We sure hightailed it out of there!".
Gail (Carlson) Mackay

Linda Beacham posted on Wednesday, April 29, 2020
Following Al's lead here, a bear story:
When I was just 4 years old, my mother went out to work, and for the next 10 years, I got to spend all my summers at Carl's Place (a small tourist camp) on Willard Lake with my grandparents Carl and Vi Holm. I remember that first summer so well.
Grandpa worked at the paper mill in Kenora and was only at camp on weekends. It was a cold summer, very few campers that year, so Grandma and I were alone much of the time.
We stayed in a tiny little cabin, maybe 10 by 12 feet, if that. There was only room for a double bed, a small table and chairs. The cook stove (there was no electricity) was in a lean-to at the back of the cabin outside. There was only one door, with a small wooden stoop. Beside the stoop, and directly under one of the three small windows, was the ice box where all our food was stored.
One night, pitch black outside, and no campers at all, Grandma woke me up from a sound sleep. She said, "Now, I don't want you to be scared, but there's a bear outside trying to get into the icebox, so we're going to make a lot of noise, OK? And try to scare him away". She handed me a metal pot and a spoon, took the same for herself, and we proceeded to yell and bang those pots as loudly as we could. The bear didn't care...kept banging, digging away at the ice box. And we couldn't get out.
So. Next, she got grandpa's shotgun down from the wall, and told me she was going to shoot through the opposite window that faced toward the lake, and away from the bear. Really exciting! And she fired! Well, that rousted the bear. Gone. Then we dragged the dog, Ginger, out from under the bed, and headed for the truck parked just outside and headed up the road to the highway where there was a small hotel where we slept the night.
When we came back in the morning, the icebox was in bad shape, and there was food everywhere! Grandpa was NOT pleased when he arrived for the weekend. Grandma had opened the window of course, but had forgotten to open the screen....blown to smithereens it was! They were very "cool" people. Took all things in stride. No fuss. The best summer of my life.
Bonny Lees commented
I have loved that story for all of my life. Are you sure the dog wasn't Chip? Our spaniel was named Ginger, but Grandma & Grandpa's dog was Chip, yes?
Linda Beacham replied
Bonny Lees, Yes, I know. No it wasn't Chip. He came later. Pretty sure it was Ginger...little brown spaniel type. I have NO idea why she was there.
Bonny Lees commented
Hmm. Our Ginger grew to be reddish-gold, like Sheba after her, but... the dog that we named Ginger DID come from Mandel's store, where she had been abandoned as a pup by some heartless soul(s). Maybe Grandma had rescued her from there, and it was before we had officially adopted her, or maybe we'd left her at camp for some reason. Puzzly, puzzly.
Bonny Lees posted on Facebook on Wednesday, April 29, 2020
Remember the clotheslines up by the shop behind our little cabin? Grandma had rows and rows of sheets hung out to dry, and she'd gone out to collect them. She had a basket just about full, and when she undid the clothespins on another sheet and the end fell away, there was a bear sitting on the other side of it, dog-like, watching... whatever bears watch when sheets are blowing in the wind. Grandma shrieked, scooped up the laundry basket and ran into the nearby outhouse - you know... the old smelly one... where she stayed until someone finally heard her calls for help. Or Grandpa came looking for her - I don't remember which. She didn't know that the bear was long gone, so she was stuck in there for quite awhile... long enough that she had to rewash the sheets to get that fresh, sunshine smell back into them.
Charlotte Brown shared photos of cabins at Willard Lake on Saturday, May 2, 2020

Wendy Sandor emailed on Thursday, 4/30/2020
Here's another animal story
Our parents moved to a bush property on the edges of Hope, B.C. in the 60's. One day our dad (Victor Carlson) heard a commotion outside their house. When he went to see what was happening he found a Conservation Officer with a pack of dogs. The Officer told him a cougar had been spotted in the area and they were trying to locate it. Dad told the Officer to take his dogs and leave the property - if the cougar was there, he was welcome! My parents never did see the cougar but saw numerous bears and some bobcats.
Wendy Sandor

Wendy Sandor emailed on Thursday, 4/30/2020
more stories about my dad
Dad's property was 160 acres most of it second growth timber - although when they bought it many of the trees were maybe 20 years old. My dad had a thing about trees and he felt that they should be allowed to just grow. If they fell over because they had reached the end of their life time, they became a nursery for new growth.
Over the years he became a little more practical as they were living on a limited income so he did do some very selective logging plus he bought a hand mill and harvested the large maples that were on the property and used the lumber to build their home. He also replanted many trees. After my parents passed away, the property was sold and the new owners strip logged it - I bet they made enough to cover the cost of the purchase - I'm glad my parents didn't see it.
Wendy Sandor
Linda Beacham commented on Facebook
Wendy's dad sounds like a man after my own heart. Great stories!
I have just a small piece of property, and my neighbour is always bugging me to clear out the dead brush between our properties. It's not happening. The "dead" stuff is giving back, in so many ways.
SO sad to hear about the strip logging!
It breaks my heart to see what has happened at Willard Lake. I can NOT go there anymore...makes me want to cry when I see it. I haven't been there for many years now.
---
Albert Holm emailed on Sat, 4/11/2020
Do you have old family photographs? My grandmother Frida Sörqvist Holm had a photo album that a friend had given her in 1904. Click here to see it, It is filled with old photos in formal, studio settings. The most recent photo is from 1916. I do not know who many of the subjects are, but some of them are of my grandfather, all of his siblings, and his parents. Others are of Frida's family members. The photos with known subjects were identified by Aurora Hovey, Peggy Holway, and Elsa Nordfält. Elsa was Frida's grandniece and she appears in one of the photos as an infant. I'm sure that at least one of the identifications is wrong, but it is not anyone in our family. If your pass your cursor over a photo and it turns into a hand, clicking on the photo will show you the identification of the person or persons and an enlarged view of the photo. You can also use control-click to download a copy of the image if you want a personal copy.

Sharon Samson shared six photos on Facebook on Saturday, May 2, 2020
Second wedding photo has a date of 25 April 1908, don't know if it's valid or not. Photo with house says "Carl's mother, Clara, Alina, Gunborg 1921".
Maria Holm before she left Sweden
Maria Holm and her first husband, August Anderson

Wedding picture of Maria Holm and John Samson
Anna Carlson, Brad Holway, and Maria Samson

---


Anna Carlson and Maria Samson with totem pole
in Stanley Park, Vancouver, B.C.

---


Clara, Gunborg/Margaret, Alida, and Adela

Linda Beacham: That's the house that Grandpa Carl came home to help build.

Albert Holm: Brad's mother, Peggy, was originally named Gunborg Alvina Schevenius, so that would be her second to the left. Peggy was born in 1919. It looks like the photo was taken later than 1921. Could it be 1927?

Brad Holway: ... 1927 (or even 1929) is the likely date. "Clara" is probably my grandmother's sister-in-law (& my great aunt), Klara Schevenius, who married a man named Henning Karlsson. I met Klara many years ago, back in 1972.
Albert Holm posted on Saturday, May 2, 2020
Here are the three sisters, Anna Carlson, Alida Carlson, and Maria Samson, standing in front of the same bush as the photo with Brad above.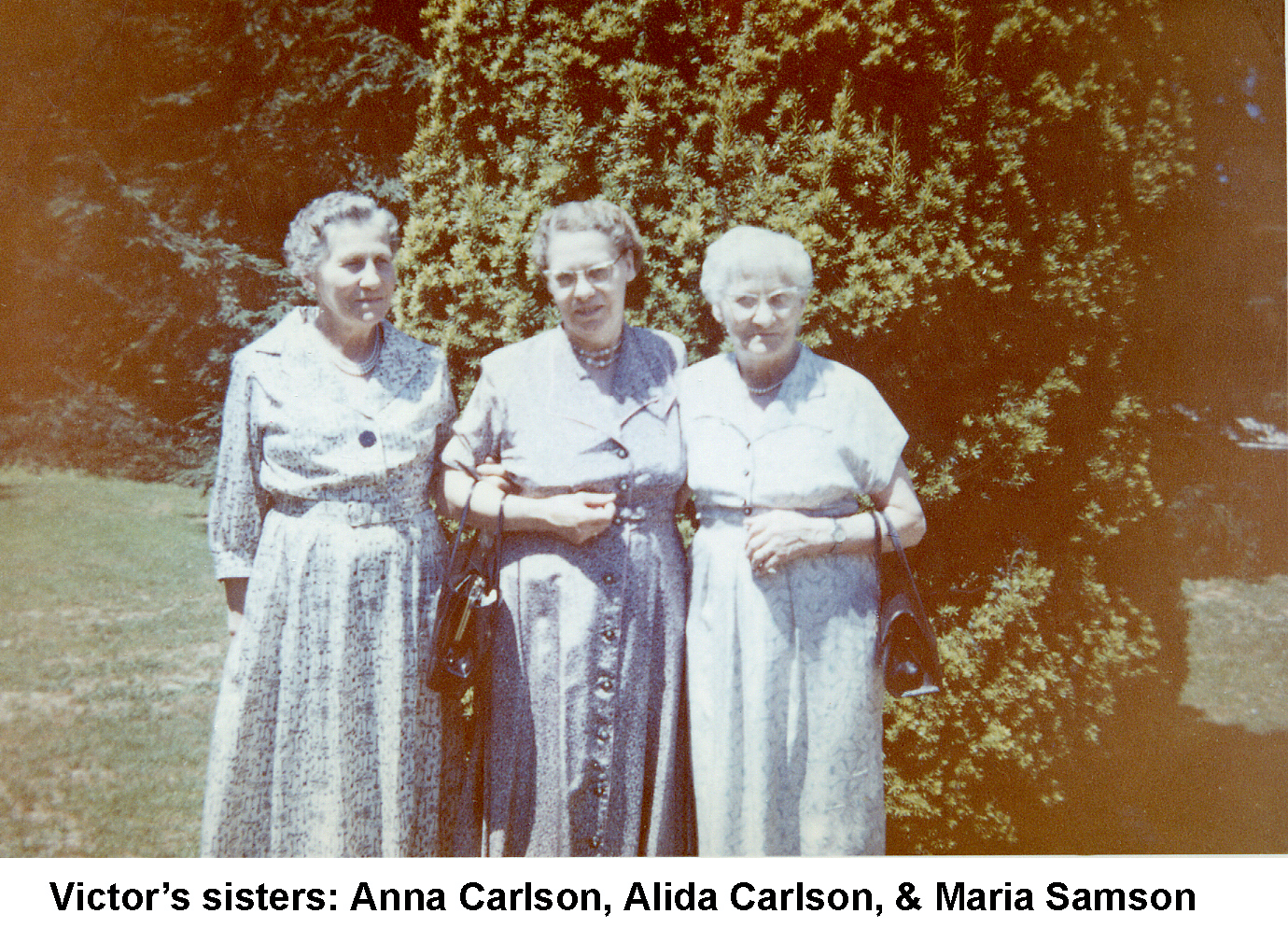 ---
Old Timer and Not-So-Old Timer Tales
Linda Beacham posted in Facebook on Friday, May 15
Another (almost a bear) story.
Not an "old timer" story, except many of us may consider ourselves as getting there. Thought you might enjoy.
When I was 9, I travelled from Kenora Ontario to Iron River Michigan with my grandparents Carl and Vi Holm. In those days with the speed limit being about 30 mph, and very narrow highways, this was a truly grand expedition! We stayed at Uncle Victor and Aunt Jenny's house, maybe a week.
I met Terri and Cathy, and their brothers...names I don't remember except for Wayne.
A day or so before we left for home, there was a big family gathering at Uncle Victor's house...huge dinner. The two girls and I got bored after awhile, and decided to walk down the road to Terri's house to listen to records. Some time well after dark, the phone rang, and we were told to make our way back...people were getting ready to go home. So we set off. I remember it as a very dark night, no moon, and there were no houses on that road, and no lights. Just bush, both sides. We were busy entertaining each other with bear stories...one about how Uncle Victor had shot a very large bear in the apple orchard next to the house the previous spring. So we were nervous, a bit.
We had Terri's dog with us...a big shepherd, I think...and he was walking ahead of us on the road. Suddenly he stopped dead, on full alert, the hackles on his back raised, and we could hear the rumble of a growl beginning. Down the road ahead of us came this huge black thing, kind of swaying from side to side, like a bear raised up on its hind legs.
Panic broke out,
I remember Cathy and Terri standing in the middle of the road with their arms around each other, screaming bloody murder! I tuned back toward Terri's house running, slipped on the loose gravel, and just laid there in the road with my arms over my head, waiting for my world to end. Suddenly, there were gales of laughter! The boys knew we were coming, so one of the big boys was carrying one of the younger ones on his shoulders down the road to meet us. They had decided to have a little fun with us.
I don't remember the aftermath, but I do believe we parted still friends. Great memory!

Gail Carlson MacKay asked a question on Friday, May 22, 2020
I wonder if any of the cousins have a dimple in the chin... cousin Robin O'Brien calls it "the mark of Carlson". I don't know whether it comes from the Holm side or the Karlsson side of our branch of the family. I have the identifying dimple.
Brad Holway, Wayne Holm, and Albert Holm replied that they did not have the dimple.
Patricia Holm replied on Friday, May 22, 2020
We all have the dimple, we call it "the family trademark". Mom said it came from her father's side, Erik August Carlson. My grandchildren and great grandchildren also have it! I'm not on FB so I enjoy these family related emails.
Pat
Casey Tolhurst e-mailed on Tuesday, June 9, 2020
Just an update on that dimple business that Gail brought up.
I remember her father Victor really excited about my son Evan having 'The Chin Dimple'. He was over on Gabriola Island to visit his sister Eleanor, my mother. We all have it, and my granddaughter Quentin born just 4 days ago to Alaina has it.
Also, Auntie Dougie, Victor's other sister, told me about another Carlson trait. She, her mother Anna Carlson (Holm) and others I do not recall, had a split finger nail on their middle. Runs in the family like the dimple.
A dimple in the chin. It's funny what is important to us.
Casey

Linda Beacham posted on Wednesday, December 16, 2020
Looking at this old family photo and thinking. My grandma Vi (Whiteman) Holm is not in the photo, but I know she's there in spirit...probably holding the camera. She loved taking photographs, and making movies! She had a movie camera (8mm?) and I have more than an hour of footage on VHS...no way to watch it right now since my player bit the dust.

Wonderful stuff. Sweden footage, a trip out to the mountains and Vancouver, footage of everybody taking up ice in the winter at the camp on Willard Lake.

Grandma did tend to be a bit forgetful. Sometimes there is footage of an indoor family celebration where she forgot she had the camera on telephoto! Shots of everybody's stomachs.
She edited her own film...knew how to splice film and all that, but hated to throw film out. Oh...sweet memories!
Anyway, just thought I'd share. I have no idea who I could trust to convert to what format!!
---
Language and Music
Albert Holm emailed on Saturday, May 23, 2020
Aunt Aurora wrote that she "was born in a little Swedish settlement on the outskirts of Kenora". She also says that her family moved to the U.S. when she was six and a few years later she started grade school and "learned how to speak English". That suggests she spoke only Swedish until she was about 8. Here's a link to Aurora's essay.
I wonder if the Lutheran Church in Kenora held its services in Swedish. Errol Carlson, born in Canada, spoke Swedish well enough to move to Sweden for the Jehovah's Witnesses. We've heard that Karl Johan Holm spoke with Swedish cadences.
Do you have any English language stories?
Linda Beacham commented
Albert Holm Wonderful story from Aurora here! Thank you. I didn't know her first name was Karin. That's my youngest daughter's name as well...with an "i". Her dad insisted...that's the Dutch spelling, too.
Wayne Holm commented
Aurora's story talks about the wagon to school, I think I remember Dad telling that story too.
Albert Holm added
I've a picture of Dad sitting in a replica of the school wagon when he visited Port Wing many years later.
Chris Holm asked
What is the family tie to Port Wing? I remember my dad talking about it, but I can't remember the details. I am riding his Harley to Red Cliff with a friend (depending on Covid of course) and thought about riding over to Port Wing.
Albert Holm answered
In 1919, Grandpa Victor moved his family from Victoria to a rented farm in Port Wing, Wisconsin. Your dad wanted to know where the farm was so he could visit it. My dad took us there once but I haven't been able to find where it was. The family continued to grow on the farm at Port Wing. Their little home had three rooms downstairs and one big room upstairs; they filled the house. Aunt Greta, who was also called Gretchen, was born there in 1920. Frida and the children did much of the work. The children attended South Shore Community School at Port Wing, about 4 miles from their home.
Unfortunately the farm did not do well enough to provide for the family. In the winters Grandpa worked as a laborer in Chicago to bring in extra income. By winter 1922, the situation had become very difficult though they still had food such as "sylta", a preserve made of hog's head and beef. They had a Christmas tree, but there was no money for presents. Svea was told to tell the other children that there was no Santa Claus. Three days after Christmas, on Thursday, December 28, Grandpa started work near Iron River, Michigan, at the Rogers Mine. In August 1923, he moved his family from Port Wing to Iron River on a brand new 1923 Model T Ford touring car.

Patricia Holm emailed on Friday, May 22, 2020
...Of course no ESL [Anna Holm Carlson] came here aged 16 and was working as housekeeper nanny. In fact Dagmar Marthy Carlson was named after a little girl she cared for, Marjorie Baxter. I would think they didn't know how to spell it so that was their guess. Auntie Dougie told me this herself. Back to learning English, at first everything she heard was a blur, all words running together but she listened carefully and also read ( or tried to! ) English newspapers! Arol was named after a character in a book she was reading.

Brad Holway emailed on Saturday, May 23, 2020
In regard to language, my grandmother would often combine Swedish & English in one sentence. According to Dougie (Dagmar Carlson Leonard), her mother (Anna Fredriksdotter Carlson) did the same. Did your "old timers" do this?
By our generation, the Swedish language was pretty well lost. To my knowledge, Frank Leonard & I are the only cousins of our generation who speak it at all (correct me if I am wrong here). If I recall correctly, Frank speaks a kind of formal Swedish which I think he learned through taking courses in it. My own is a fragmentary "kitchen Swedish" - I consider myself semi-literate in the language at best. It is also based on the old regional dialect which has effectively died out. As Al can testify, during our visit to Sweden in 2018, Swedes we met, though they understood me, quickly switched over to English.

Albert Holm emailed on Monday, May 25, 2020
How about Swedish and music? Or just music alone?
We've shared tales about Carl Johan Holm playing "a mean accordion", Anna Holm Carlson singing (and dancing) a Hawaiian hula song, and my grandfather Victor Holm singing "The Amazing Young Man on the Flying Trapeze" in Swedish.
My grandfather enjoyed singing Swedish songs. He even recorded some of them. Check here to hear two of them.
I wonder if Brad or Frank Leonard can understand the words he is singing.
Do you have other stories of the Old Timers and music, or even the "Now Timers"?

Jim Baker emailed on Monday, May 25
Those songs that Victor was singing bring back a ton of memories. My father had a record recording machine and I believe it was he that made the records. He would sing that first song to me and kind of bounce me on his knee and I would laugh and laugh.
Great memories.

John Baker emailed on Monday, May 25
Albert, I remember your father playing the harmonica. I also have a recording of Victor singing "A Bicycle Build for Two" in Swedish.

Gail Carlson Mackay emailed on Monday, May 25, 2020
Our Aunt Dagmar (Frank's mom) taught me a verse of Nikolina once when we were washing up dishes, and I still sing it (poorly, I might add).
Our Dad, Victor, loved the opera star Jussi Bjoerling and often sang Rigoletto with him from a vinyl. Music must have been a big part of the family, as I have the violin which Eric August Karlsson made. Dad played a trombone, Mother played the mandolin, and Wendy and I played the piano - early jam sessions before the distractions of technology.
The violin is unfinished, so my daughter, Theresa, took it to a violin maker who told her that the cost of varnishing, etc., would be more than the violin is worth. It begs the question, though, doesn't it? Value is in the heart of the beholder.

Casey Tolhurst emailed on Monday, May 25, 2020
I'm Casey Tolhurst, son of Eleanor Tolhurst (Carlson) and grandson of Anna Carlson (Holm).
Speaking of music, I have performed on double bass for almost 50 years in Vancouver. I currently play with the Fraser Valley Symphony and North Shore Chamber Orchestra, as well as countless jazz groups. I estimate I have performed at least 5000 professional engagements.
Many years ago Dagmar Leonard (Carlson) kindly gifted me her 100 year old German violin. We called her auntie Dougie. As a youth she would take the train from Kenora to Winnipeg for violin lessons. This is a 3 hour one way train ride of 191 km. Her father Eric Carlson worked for CP Rail so I assume they got a break on the fare. Incidentally my son Justin Tolhurst runs a CN train in northern British Columbia.
As well as gifting me her violin, she gave me a classical guitar, which my daughter plays. The story goes that in the mid '60s auntie Dougie and auntie Minnie (Victor Carlson's wife) decided to learn guitar together and both bought guitars.
Here is picture of auntie Dougie violin. It is in perfect playing condition with fresh strings the bows rehaired. My daughter played it as a teenager.
The other picture is from an article in the North Shore News about last years concert for the Vancouver Symphony "Day of Music". We played the debut of an original composition with the composer conducting. The third picture is myself at one of many jazz gigs, which are always fun.
Cheers
Casey Tolhurst

Al Holm posted on Thursday, May 28, 2020
More family music. I don't play myself, but my brother, Carl David Holm, played bass guitar in an Upper Peninsula band called the Excels. He started off playing an instrument that dad made for him until he earned enough to buy a Fender bass. I think he and his bandmates initially were influenced by the Ventures. They started off playing bars in the area, but eventually were well known enough to get gigs in southern Michigan and make a few records. Carl dropped out when he started college, but the band went on for a few more years. Two years ago they were inducted into the Michigan Rock & Roll Hall of Fame. Go to this website, http://www.albertholm.com//FamilyMusic/CarlsMusic.html, to see some photos and listen to a couple of the songs he played.
Chris Holm commented on Thursday, May 28, 2020

That [homemade] guitar is hanging on my wall. I am going through the process of having it reconditioned and hope to play it some day.



Charlie Seehase e-mailed on Thursday, May 28, 2020

I just want to add [Carl Gustav Holm] made a guitar sometime before I was born, Rose Seehase told me how well he could sing .



Linda Beacham posted on Friday, May 29, 2020

Lots of musical talent here! Awesome. I studied classical piano for many years, taught myself to play guitar (not especially well, but I love to sing, and my mom and I often sang together). I tried violin for awhile, but gave it up...very embarrassing. SO much fun!

Bonny's brother Dennis plays with a blues band out in Calgary. Bass guitar?

And her brother Tim was a great Bluegrass player...guitar.

Bonny Lees posted on Thursday, June 4, 2020

Dennis Bishop plays bass with Calgary band, Das Corazones, both guitar and stand-up bass, and performs some vocals. Currently, most of the videos posted are done by the lead singer alone, but there are some of the entire band. Dennis has posted one (audio only) of their recent performance as one of only two Canadian bands invited to participate in a worldwide internet event.
Tim died tragically in 1991, before social media platforms came about. Otherwise, he would have been an internet personality for sure
Bonny Lees posted on Friday, June 5, 2020
Thank you for these, Albert Holm. I have seen the YouTube promo before, but had never checked out [Das Corazones's] webpage.
Dennis began playing guitar when we were in our early teens, after our mom gave him a guitar she'd purchased via mail order catalogue from Simpson-Sears. Tim soon started plunking away on it too.
Both of my brothers learned to play by ear, lifting the needle on the record player to repeat sections over and over... and over and over again, until they felt they'd got it right. Both of them credit Linda Beacham with teaching them their first chords.
Dennis, who started high school at 12 years old, says his interest in guitar was due to his interest in attracting girls. And it worked. I have very clear mental pictures of him sitting cross-legged on a beach or lawn at various places around Kenora, with numerous girls sitting around him.
Bonny Lees posted on Monday, June 8, 2020
I stand corrected! I just got off the phone with Dennis Bishop. I told him about this thread and about my statement re: playing guitar to attract girls. He said that that came later - that Linda Beacham was his original inspiration.
Linda Beacham posted on Monday, June 8, 2020
Good old Buffy Ste Marie here!
I did enjoy serenading. Lol! I remember being invited to entertain a family of campers from Winnipeg around their campfire one night. I told grandpa and grandma the next day that the mother had said I should take voice lessons. And grandpa chuckled about that. It took YEARS for me to understand why that was funny. His "dry" sense of humour.

Albert Holm emailed on Thursday, June 4, 2020
Thinking back to Brad's statement about Swedish, "To my knowledge, Frank Leonard & I are the only cousins of our generation who speak it at all." In my case, that certainly is true. I tried to learn a little with Berlitz before our 2018 trip, but it was too little, too late. When translating letters from Swedish cousins and grandpa Victor's memoir, I worked my way slowly through with dictionary and grammar book, but Google Translate was a lot faster, though not always accurate. My grandpa and dad conversed in Swedish, but I paid them very little attention. I only remember four words or phrases from those days: "Farfar" for my grandfather, "tack så mycket" because it's good to be polite, "brännvin" (brandy) for some reason or other, and "femtiofem" (fifty-five) just because it sounds good.

Linda Beacham commented on June 4, 2020
I have a few words, phrases in my head as well. I know my mom (Charlotte) once asked my grandpa why he didn't teach them Swedish. He just said, "Oh, I didn't think you'd be interested". Too bad, but probably right. My mom said he subscribed to a Canadian Swedish-language newspaper. He would read it in the evenings, and there were always jokes in it. He'd be laughing away to himself, and when everybody wanted to know what he was reading, he would try to translate into English. Often, the humour just didn't "work". In English, it wasn't funny.

Bonny Lees commented on June 4, 2020
I asked both Grandma & Grandpa to teach me the language. Both of them "rebuffed" me, saying things like, "Oh, it'd be too hard", or "You'll never need it". I now believe they kept me deliberately in the dark about their "secret language". They used to speak in what I think of as "Sve-Norskish" when they didn't want my big ears knowing what they were talking about. He speaking Swedish and she speaking Norwegian(ish. They talked a lot about "grown-up" stuff that they didn't want me to know about and possibly/probably repeat "inappropriately" in my typically chatterbox fashion. Too often, as it turned out, their conversations were about upcoming (impending) doctor's or dentist's appointments for me, at which I would be subjected to (GASP!!) needles.

Linda Beacham commented on June 4, 2020
There was a little rhyme my grandpa used to do with little kids. He'd "walk" two fingers up your back, and then tickle your neck. He loved little kids. It went like this (NO idea of spelling):
"Komer en jaeger,
Op over bakken,
Tilley-oh-tooley,
Oh nickety noggan!"
Can anyone translate? Fix the spelling? I think "jaeger" is spider (?).

Bonny Lees commented on June 4, 2020

Oh my... I DO remember that!!

Albert Holm commented on June 4, 2020

Great memories! My Swedish is not good, but could it be a mixture of Swedish, English, and nonsense words?
Kommer en jaeger - Comes a hunter
Op över backen - Up(?) over the hill
Tilley-oh-tooley - ???
Oh nickety noggan - noggin is an informal way to say "head"
Anna Andreasson commented on June 4, 2020
Kommer en jägare (yes Albert)
Upp över backen (yepp, up over the hill)
Tilley - oh - tooley (nonsense words, sound very nonswedish)
Oh nickety noggan (nonsense words, sounds very nonswedish)
Linda, Lovely rhyme and story



Gail Carlson MacKay emailed on June 5, 2020

Hello, Family,
Our Granny Carlson used to tease our toes with a Swedish version of "This Little Piggy". It seems that I am the only one who remembered her this, but I don't recall the words. Do any of you know the words?
Cousin Gail

Robin O'Brien replied on June 5, 2020

I remember this rhyme. Each toe was tweaked, starting with the big toe, "This little piggy went to market, this little piggy stayed home, this little piggy had roast beef, this little piggy had none, and this little piggy ran all the way home", ending with a tickle and everyone giggling on the "all the way home".
Robin

Robin O'Brien added on June 5, 2020

I remember when your grandmother visited New York @ some point during my early childhood. She did a little routine with that "Itsy Bitsy Spider" poem.

Gail Carlson MacKay added on June 5, 2020

I meant that these verses were said in Swedish.



Bonny Lees posted on Saturday, October 17, 2020

Our grandmother [Violet Holm] told me that I would "grow out of all this rock music stuff", including the Beatles AND Joan Baez, and would learn to appreciate "good" music, like the stuff they played on adult skate nights at the local rink. You know... The Skater's Waltz, The Blue Danube... she was partly right. Some rock I never did grow into, but I still like a lot of the older stuff, BUT, I did grow to appreciate quite a bit of the classical stuff she liked.

As for electric guitars... my brother plays a mean bass, in a whole lotta genres.

Linda Beacham added on Sunday, October 18, 2020

Lol! Grandma.

You know she got herself in deep doodoo at the seniors' apartments? She would take her little boom box up to the dining room, and insist that no one talk while the Swedish music (usually accordion) was playing.

Oh my

Bonny Lees comments on Sunday, October 18, 2020

Gotta luv her!

I know she had radio/tv "volume wars" with the woman in the room adjoining hers at Pinecrest. One or the other was always cranking up the sound on whatever they were listening to... to the point that everyone up and down the hall was bitching about all the racket.

Thank all that's holy that she finally got a private room.



Linda Beacham shared on Tuesday, November 17, 2020

I thought I'd share this with you. My grandpa Carl loved Yogi Yorgesson; his brother Viktor thought it was "yust awful!", he said. My mom [Charlotte Holm Beacham] told me that story.

Every Christmas, my whole family would treat ourselves listening to Grandpa's 78rpm records of Yogi. I still do...every year on CD. Sweet, sweet memories.
"I yust go nuts at Christmas" by Yogi Yorgesson

At the family reunion in Vancouver, some of the family heard my own rendition of "Lena's Wedding". A capella.

Linda Beacham added to the story on Wednesday, Nov 18

I was told, at the Vancouver reunion, that my Swede accent was pretty good! Lol! We "oldsters" grew up listening to it. Lovely. I can still hear my grandpa's voice in my head. And some of the things he laughed about...including his own accent. One of his sayings: "I yust learned how to say yam...and now dey call it yelly".
And, "Yump, Ole, yump!
Ole: How can I yump ven dere's no place to stood?".

Oh my.

Bonny Lees contributed to the story on Wednesday, Nov 18

Grandpa came in and sat down at the dinner table one night, all red in the face, and said, angrily, "I spent 50 years in this country learning how to say yug... and now they go and call the damn thing a CROCK!"... and pounded his fist on the table. Until I heard your "yam" story, I really did think that he WAS mad. Now I think he was red in the face trying to keep himself from laughing, especially at how high I jumped when his fist hit the table

Linda Beacham added more

Another funny story my mom told me, having to do with Grandpa's accent: Grandpa was building a stone fireplace for us, and he sent my dad [Leonard Beacham] to the hardware store in town to pick up a "timble" for the chimney pipe. So off Dad went...asked the guy behind the counter for a 10" timble. The guy looked at him strangely for a minute, then went off and came back with a chimney thimble.

Folks around Kenora were used to the Swede accent. My dad felt a bit sheepish.

Bonny Lees added a touching story on Wednesday, Nov 18

My mom [June Holm Bishop] told me that when she was really young, it made her sad that Grandpa couldn't say her name "right". When she was a teen, she was really angry that her parents named her something that he couldn't say. After he died, she was heartbroken that there was no one to call her "Yune" anymore.
---
Christmas and Other Holidays in America
Brad Holway emailed on Friday, May 29, 2020
I'd be interested in knowing what traditional svenska Xmas foods, drinks, customs, activities, decorations, etc., were preserved in the various households in which we were raised.

Ralph Holmberg posted on Saturday, May 30, 2020
On Christmas Eve we all had a small glass of Mogen David wine regardless of our age. ??

Cynthia Sabinske emailed on Thursday, June 4, 2020
I have enjoyed reading the recollections of our relatives remembrances! My Dad, Eugene Holm would purchase Mogen David wine at Christmas, we could have a taste but I did not care for it. I did not realize it was a tradition from the Holm side of the family. I have truly enjoyed the stories! I appreciate everyone's sharing!

Al Holm posted on Saturday, May 30, 2020
Christmas Eve was our big family gathering, but I think only the grown-ups had Mogen David, and beer, and hard stuff. My Mogen David was on Thanksgiving. On Christmas Eve, the family would gather at Grandpa Victor's. My family would walk the 1/8 mile from home, Aunt Greta and her family would come 4 1/2 miles from Stambaugh, and Aunt Aurora would come in by Greyhound from Duluth. The first event was a hearty dinner, that I think was nearly all prepared by Jenny, grandpa's second wife. The adults ate around the dining room table, and the children ate in a nook in the kitchen. Then after clean-up, and much impatience by the children, we would all go into the living room, which normally was kept closed off by French doors. There was a Christmas tree. We opened the presents that each family brought for the members of the other families. Afterwards we went home. My family did not go to church, but I think the Baker's went to midnight mass. I remember being told that Jenny brought our Christmas Eve tradition with her from Sweden. I don't recall any specifically Swedish traditions that I've read about: St. Lucia's Day, the Jul log, the Jul goat.

Linda Beacham emailed on Sunday, May 31, 2020
I don't remember any particular Swedish customs at Christmas. One year, I remember all of us kids being given a tiny glass of pincherry wine Grandpa (Carl) had made the previous summer. Sweet. We did have Christmas Day dinner at Grandma and Grandpa's house...in the living room where Grandma had an extendable table with leafs. All jammed in: me and my mom and dad, my Aunt June and my three cousins...Bonny, Dennis and Tim, my Uncle Bill and Aunt Vernie and their little people...Willy and Frank. We did listen to Yogi Yorgesson records, which my Grandpa loved! I always think of them at Christmas to this day.
What I remember best was New Year's Eve, which I spent with my grandparents. We ate sil (pickled herring Grandpa made from scratch), and Grandma's Norwegian fruitbread. Grandpa always had goat cheese and "jetost"...Swedish hard bread. We would go out in the cold on the porch at midnight with pots and pans, and make a lot of noise! All the neighbours would be out as well, and the mill whistle would blast away, and all the church bells would be ringing. Sweet memories!

Bonny Lees posted in Facebook on Monday, June 1, 2020
Christmas dinner at Grandma & Grandpa's... the gateleg table extended, sawhorses with the door from the little bedroom as a tabletop (previous use of plywood caused unfortunate sagging under the weight of all the food)... a kid's table set up by the front door... so happy to have graduated from it to the big table.
That pincherry wine... w-a-y too sweet for me... glech!
Eating contests between still bachelor Uncle Bill and your dad, Linda... their plates HEAPED so high they overflowed. Grandma saying that Bill had a "hollow leg", so I paid really close attention before and after dinner to try to figure out which one it was.
Assembly line of women and girls clearing up and doing dishes, men taking down the tables, re-installing the bedroom door, carting sawhorses to basement... Grandpa trying to stop the boys from cranking the handle on his grinder... boys loving the siren sound it made.
78 RPM records on the record player... kids being made to dance the [schottische]... one, two, three, hop... adults imbibing in something with ice and cola... Grandma & Grandpa with small glasses of an appertif. Gassy explosions from the "contestants", who blamed each other, the women or the kids... and inevitably, some little kid throwing up.
I don't know that any of that is svenska tradition, but it was certainly ours.
I've been giggling over the chaos created by that "dancing". Imagine a room measuring, probably 10 x 10' - at most, 12' by 12'... 5 adults seated in a 1950s overstuffed couch & chair, kitchen chairs & stools scattered around the perimeter - by then, maybe Aunty Ann & Uncle Gord had joined the festivities - Ebba & Frank maybe too... and 4 little kids hop, hop, hopping all over the place... while trying not to make the record skip.

Gail Carlson Mackay emailed on Monday, June 1, 2020
When my sister, Wendy, and I were very little, we lived with our Mother (Minnie), Dad (Victor), and Granny Carlson (Anna Holm) in a small green cottage called "Smilin' Thro". It was located where the Cleveland Dam is now situated on the Capilano River. There was nothing beyond our cottage but forest. The earliest memory I have of Christmas at Smilin' Thro was of the tree which Dad had cut from the forest, made an x-shaped stand for the tree base, then placed it in the tiny living room. I was captivated by the lovely glass ornaments which Granny brought and desperately wanted to hold one and put it on the tree. My mother said no because I would most likely drop it, but Granny said it would be all right and she gave me one. I held it so tightly, I crushed it between my little hands, and burst into tears. I was devastated, but Granny said I would feel better when I saw that we were going to light the tree with candles just this once, as they did in Sweden. Dad and Granny fixed candles on the ends of the branches and lit the candles. It was beautiful, and I forgot about my tears. Obviously, lighting an evergreen tree with candles has it's risks, and as a precaution, Granny stood by the tree with a bucket of water "just in case".
Albert Holm emailed on Monday, June 1, 2020
Gail's story about candles on the Christmas tree reminded me of another one I had been told. At Christmas in Kenora, Victor and Frida had a tree which was decorated traditionally with candles. One year, their daughter Svea came too close to the candle and her dress caught fire. I don't know any more than that. How was the fire put out? Was she injured? Fortunately she survived.

Al Holm e-mailed on Tuesday, June 2, 2020
Brad asked about Christmas, especially with regard to traditions that the Old Timers brought with them from Sweden. But what about your "Old Timers " other family holiday traditions? Do you have interesting memories? What about Midsummers Day? Did your family have a connection with that very Swedish holiday?

Linda Beacham e-mailed on Tuesday, June 2, 2020
That would be interesting to hear, if anyone does have any memories of that. In our branch of the family, none that I can remember.
Easter was not "big", either. My grandma (Vi) was a believer (having been brought up Salvation Army, with a good jolt of Irish Protestantism), but grandpa was not, by any stretch. An avowed atheist he was, who would only darken the door of a church for weddings and funerals. Hated wearing his "monkey suit"...lol!..which was required for church attendance, of course.
Midsummer is very pagan, is it not? Anyway, no memories of marking midsummer.

Brad Holway e-mailed on Tuesday, June 2, 2020
I am really enjoying reading your responses. Since I was the one who posed the question, here is a brief summary of what I remember of the Christmases of the 1950's & 1960's.
Starting a couple of weeks befor Xmas, my mother would bake loads of cookies. Some were of Swedish derivation, others were Italian or German/Central European style (those were the people that ran the neighborhood bakeries in NY @ the time). She would fill tins with the cookies and gave some of the tins away to neighbors.
We had those lit candles on the tree when I was a kid, but the custom was abandoned due to fire danger. We did have those julbokkar (those straw goats, not sure of the spelling).
My grandmother would sometimes prepare some glogg for the holidays. There was generally some flatbread, gjetost & pickled herrings around at holiday season.
The 24th tended to have a Swedish touch to it, while the 25th was 100% American. I imageine that my late parents must have negotiated this.
Xmas eve dinner was usually roast goose. We would sometimes have hot fish broth @ midnight.
Thanks for your participation.



Linda Beacham e-mailed on Tuesday, June 2, 2020

I have another story to tell about my grandparents, Carl and Vi...nothing to do with holidays, but interesting, I think.

They were both very "open minded" people for their time, despite my grandma's Christian faith. Grandpa particularly.

When I was about 18 (I was 2 years away from home already), I moved south to London Ontario...and moved in with my boyfriend, without benefit of marriage. Quite scandalous then.

My grandma was a letter-writer...kept up a correspondence with family, friends all over the continent and in Sweden. She was greatly perturbed about how to address her letters to me: Mrs.? Miss?. She shared her concern with Grandpa, whose response was that he didn't see what the h... difference it made, whether we were married by some "yahoo in a monkey suit" or had just gone and walked around a rock four times.
Heavy Swedish accent. I can hear his voice to this day. Lol!

My mom (Charlotte) told me that one when she came to visit.



Linda Beacham posted on Sunday, November 29, 2020

Thinking about Advent season here...first Sunday today.
I found this video [Light in the darkness | Swedish Lucia Tradition]. I know that for many Europeans, Christmas Day is a religious holiday only. The Dutch celebrate by gift giving at Sinterklaas...Dec. 5, I think. Christmas is a religious observance only.
I never heard anything about St.Lucia Day in Sweden when I was a kid. Did anyone else?
SO beautiful!
Cathy Baker Brooks Lammers commented

I've never heard of it, but, it's beautiful. Thanks for sharing.

Gail Paton Holm added

Oh, yes! We had the honor of being visited and served breakfast by St. Lucia once

Anna Andreasson provided more information

This is very true (sorry for the word "dummies") Swedish Lucia for Dummies I love Lucia- have huge amount of saffran at home and yes, a gingerbread house that will be finished in a few more days. (but only "Lussebullarna" are for Lucia)

Linda Beacham replied

Wonderful little video! Love it! I never heard a word about it as a child. My grandpa [Carl Holm] was very "anti church". Maybe that's why. Too bad, though. Beautiful tradition.
I love stories and myth. I always have. Lucia is the female counterpart (?) to Lucifer (the light bearer). He was an angel who got himself in trouble and was tossed out of heaven, to you-know-where.
Wonderful.
He brought "light" to the world. Something like Eve who convinced Adam to eat of the Tree of Knowledge of Good and Evil.

Gerd Irene Sønsterud added more information

In Sweden and Norway we have Lucia 13 Desember

CJ Holm as Santa Lucia serving breakfast
Gail MacKay added on Sunday, December 13, 2020
My Auntie Dagmar (Frank Leonard's mother) had a Swedish girl visiting her, and one Christmas, this girl (Annakaren) dressed as St. Lucia and came to our door with saffron buns.
We did not celebrate this when we were young - I think the anti-church attitude of our parents had something to do with it.

Linda Beacham posted this question on Friday, December 4, 2020
Does anyone have old Christmas photos with the old folks to share?
My cousin Bonny Lees sent me this photo. I can't say it is a Christmas photo, but it certainly looks festive!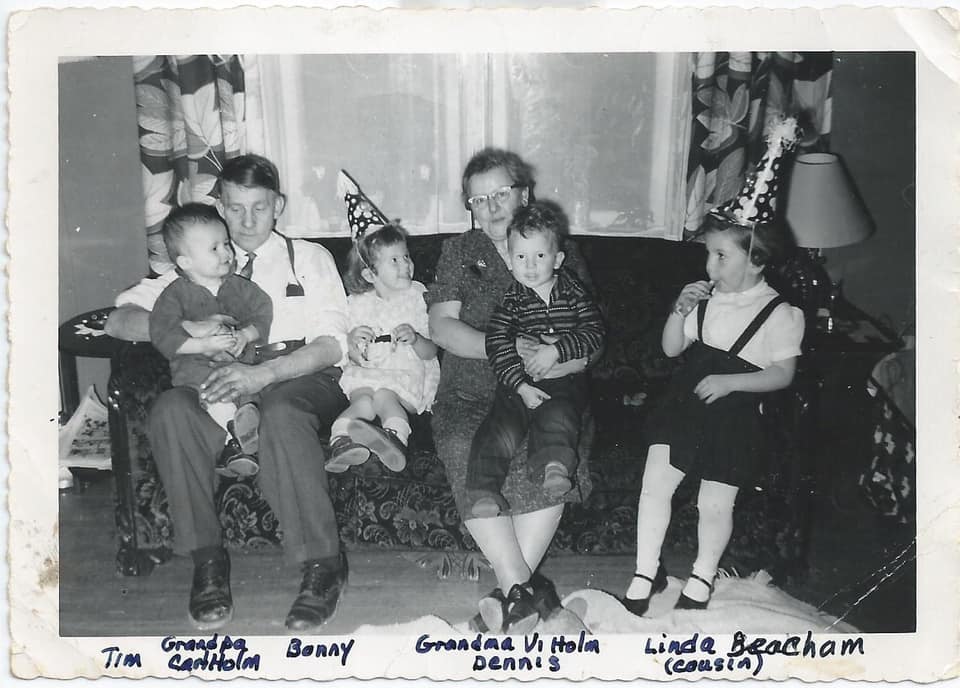 Bonny Lees provided more information on Saturday, December 5, 2020
I'm pretty sure this was a Christmas dinner at Lena & Harry's. I can't imagine Grandpa being in a shirt & tie otherwise (too festive for a funeral). I remember going there for Christmas dinner when Grandma Whiteman was still alive.
Seems to me I recall a photo of four generations of Whiteman women with us in those same clothes, featuring Grandma Whiteman, Grandma Holm, our mothers, and you and I. I think Dennis & Sandra may have it.
Albert Holm added photos on Saturday, December 5, 2020
Here are two photos, taken on Christmas Eve, probably in 1958. The first shows Grandpa Victor and Jenny sitting by the tree in their living room. The second shows from left to right are Terri Holm, Cathy Baker, Carl Holm (kneeling), James Curtis Baker in John Peter Baker's lap, Helen Holm, and Shirley Wahlberg, a family guest.
Linda Beacham contributed two greeting cards Wednesday, Dec 9, 2020
I am a pack rat. Unbelievable collection of old letters, cards, photographs. I'm coming up for air. I found these old Christmas cards sent from Sweden. The one with the little girl is from 1925, sent to Karl Holm alone. The other was sent to Karl and Violet in 1973. I can't read either sender's name.
| "Happy New Year" | "Greetings from Sweden" |
| --- | --- |
| | |
Eunice Helgeson commented on Wednesday, Dec 9, 2020
I like that someone has kept all of the stuff. Hope you will share it with the rest of us at a reunion.
Gail MacKay e-mailed on Wednesday, Dec 9, 2020
I haven't located other Christmas pictures yet, but thought these were fun. I am on the left in both pictures. The Santa one is dated 1945. I would have just turned 7, and Wendy was 8.
Albert Holm shared these on Wednesday, December 9, 2020
The photo (left) was taken in my parents' home during Christmas 1961. The people are sister, Terri, my dad, Carl, my mother, Helen, who is holding brother Wayne, me, brother Carl, and Jenny, my grandfather's second wife.
The card (right) was never mailed. It says "Happy New Year wished by Wiktor Emanuel Holm".

Gail MacKay sent an e-mail on Thursday, April 1, 2021
I just received a Happy Easter message from my cousin, John-Ture Karlsson, in northern Sweden. He sent me a picture of a granddaughter and her friend dressed as Easter witches. John-Ture said that the children go from door to door begging for candy. Did any of our Swedish relatives in the US do that?? Our Grandma Carlson never spoke of it.
This is the image of the Swedish Easter witch. Isn't it interesting that she is, in every way, identical to our Hallowe'en witch, except for the scarf?

Linda Beacham posted on Saturday, April 3, 2021

No, but I love it!
I have a FB friend who is a Danish historian, and has written some great stuff about Scandinavian folklore. I will ask her about the Easter Witch.
I'm not surprised that there is one, though.

Ralph Holmberg replied on Saturday, April 3, 2021

I was just reading about traditions of Easter in Sweden this morning. Love this photo of a young "witch".
Anna Andreasson responded
I stole this photo from my aunt. This is your relatives (that now live in Denmark) Skärtorsdagen (this thursday (?) it the most common day to go to "Blåkulla". I asked my boys if they wanted to make drawings and go to the neighbours ... with "Glad Påsk" drawings. But.. they dont like to dress up... unless it is Batman.
Glad påsk!
| Modern, young "witches" in Sweden | Old photo of our cousins as Easter "witches" |
| --- | --- |
| | |
Gerd Irene Sønsterud posted
Vi dont have this in Norway
Linda Beacham concluded
I did contact my Danish friend. She doesn't know anything about it.
And my grandpa Carl Holm never shared anything about folklore that I can remember.

<! Walpurgis Night April 30 >
Anna Andreasson posted on Friday, April 30, 2021

Have a happy Valborgsmässoafton (Walpurgis night)! ...and the most important song:

Linda Beacham posted

Lovely. And when is Walpurgis night? What happens?

Anna Andreasson replied

It is mainly about welcoming spring and the light. May fires (Majbrasor) are lit to burn the old and make room for the new. There are both pre-Christian traditions and Christians - the Christians refer to the holy saint Valborg. In pre-Christian traditions, it was considered that the boundary between the living and the dead is weak the night between Valborg and the first of May. It is also a big student festival - with a procession in different cities like Gothenburg. The students also often get drunk and the police like it when it's shitty weather this evening. It is sung a lot in student choirs. It is also Carl XVI Gustav's birthday, therefore flag day. (but we skip that). ( I used google translate...)
Valborgsmässoafton is the 30 april.

Linda Beacham

Here it's called Beltane. Also May Eve.
May 1 is May Day.
In some places, people dance around a Maypole. I went to a celebration a few years ago. Will see if I can find some photos of mine.

Anna Andreasson

I have heard that as a pagan name, is it Celtic? Would love to see photos

Photo from Av CErixsson - Taken on Skansen in Sweden 2013
Linda Beacham
Anna Andreasson Yes. Celtic. I just posted 2 [photos] here. Can you see them?
The dancers weave in and out, around each other while circling the pole. So they get closer and closer together. Everyone laughs. Great fun. Eventually the whole pole is wrapped up. There was a traditional piper playing. Beautiful!
Maypole dance. The Maypole is a phallic symbol. Fertility. [See Maypole Photo 1]
I didn't participate in the dancing. The woman holding the yellow ribbon here is a friend of mine. Celebration was at a park in Winnipeg. [See Maypole Photo 2]
This is not my photo. A partly wrapped Maypole. [See Maypole Photo 3]
| Maypole Photo 1 | Maypole Photo 2 | Maypole Photo 3 |
| --- | --- | --- |
| | | |

Gail Mackay asked on Thursday, June 10, 2021
We are coming up to Midsommer - are any of you celebrating?
Albert Holm posted on June 17, 2021
Traditionally, the Midsummers Day holiday celebrates the longest day and shortest night of the year. That would be the summer solstice, which will occur on Sunday, June 20. Sunday, June 20, is also Father's Day in the U.S. In Sweden, Midsummers Day will be celebrated on the following Saturday, June 26. So let's get those fathers out and dancing around the maypole.
Anna Andreasson clarified
Midsummer's Eve is always on a Friday and it is the day when everyone celebrates, someone has simply decided that it is always on fridays. Midsummer Day is not celebrated, it is the same as Christmas. Christmas Eve is celebrated the most.
You forgot the food, you have to eat herring, potatoes, sour cream and chives. It is in principle mandatory. Vegan herring also goes well. Midsummer is VERY big as a holiday, would say that it is number two after Christmas. Dance around the bar for all children and usually adults. Big problems with filling, some places along the coast like Smögen, well, there you do NOT want to be on the midsummer weekend. Driving a car on the weekend - stupid idea, lots of drunk driving. Giant queues to the west coast and Dalarna (where everyone wants to be).
Well, that was a bit of an honest picture.

Happy midsummer everyone!

Albert Holm replied

The food sounds tasty. What is "vegan herring"?

Anna Andreasson answered

You can use eggplant (?) aubergin There are loots of recepies if you are intrested. i can translate for you... did find some in english to.

Don't miss out, this years sill [pickled herring] flavour, corn and crab - sound rather normal.
---
Albert Holm e-mailed on Saturday, June 6, 2020
Today is D-Day. I think our fathers and uncles, even mothers and aunts, are in the generation that lived through WW II. Did any of your old timers serve in the military? Did they ever talk about it with you?
My dad, Carl Gustav Holm, did not serve in the military. He was classified 4-F. I think the classification was because of his previous heart problems, rheumatic fever as a child. Late in the war, he took the family to Saginaw, Michigan, where he worked in a General Motors defense plant.
I don't remember him ever buying a General Motors car. I think all of our cars, which were acquired used, were from the Ford Motor Company.

Brad Holway e-mailed on Saturday, June 6, 2020
My father, Allan Francis ("Al") Holway, served in the US Army during WW2 but did not see combat. He spent much of the war on the island of Terceira in The Azores. During the war, Portugal was not an active combatant but was a "pro-allied neutral" she allowed the US & the UK to use bases and conduct operations from Portuguese territories. We used the Azores for anti-submarine warfare in that sector of the Atlantic and for logistical support for the Allied invasion of north Africa, as well as subsequent operations in the Mediterranean (Sicily, Sardinia, Corsica & the Italian Peninsula). My father was a supply sergeant who was involved in the logistical support end of these operations. He would always speak nostalgically about The Azores. He had hoped to revisit there, but never got around to doing so.
My maternal grandfather, Adolf Schevenius, known in the USA as John Adoph Carlson, was drafted into the US Army in 1943 at the age of 45. He was quite rotund and suffered a heart attack during Basic Training, for which he received an Army disability pension for the rest of his life (he died in 1970). He described his three weeks in the Army as the most profitable three weeks of his life.

Cathy Lammers e-mailed on Saturday, June 6, 2020
My father, Murray Baker and his four brothers all served. My Grandpa Baker [Frank Baker] was in WWI. Both my brothers [John and Jim] were in the service. My first husband [Thomas Brooks] also served. We are a very patriotic family and support our military, the flag and the United States of America's.

Linda Beacham posted on Saturday, June 6, 2020
Three of my uncles on my dad's side did. WW2, in France, one of them in Korea. A cousin of my dad's died in Holland, and is buried at Holton.
My grandpa (Carl) didn't do military service in Sweden either. I think he may have left (age 17) partly to avoid it. He was an avowed pacifist...not "patriotic" at all.
My mother remembered sitting around the radio listening to the account of Pearl Harbour, and the U.S. joining the war effort. She said he just put his head down in his hands...visibly moved, and upset. All he said was, "Oh my god".

Gail Carlson MacKay on Saturday, June 6, 2020
Our Dad, Victor Carlson, was very much a pacifist, but worked in a munitions factory in Hamilton, Ontario. He said it was the worst job, not only because of the toxicity of the atmosphere, but also that if Canada were bombed, the munitions factory would be the first target. He did not have to serve in the military because he had a family.

Brad Holway e-mailed on Saturday, June 6, 2020
I'll tell you a story my grandmother, [Alida Carlson], told me.
She was a diabetic. In those days, it was usually a death sentence & she was quite lucky to have lived to an old age. On 7 December 1941, she was lying in a hospital bed in a diabetic coma and woke up just after the Japanese attack on Pearl Harbor occurred. Hospital employees were running around in a frenzy boarding up windows, assuming (I suppose) that there would be a German air raid on the east coast. She woke up to a chorus of "We're at war!" and "The Japs just attacked us!".

John Peter Baker e-mailed on Saturday, June 6, 2020
My Father, Murray Baker, was married to Greta Holm during WWII. He was in the US Army From January 1941 until 1945. Murray served in Ft Lewis Washington and Ft Benning Georgia while in the States. He went on to Italy and was injured there. When he woke up in a hospital in Naples, the man in the bed next to him was <! Marshall> Richard Horne from Bates who he knew from high school. Both were hurt but had a good time anyway. I have pictures of them together.
Greta worked in a Jewel store in Chicago for awhile. She developed TB and went to a hospital for a long time. The hospital was called the Sands, and I have no idea where it is located. When Murray got home, I happened.
Greta rarely talked about her time in the Sands, but had yearly TB check ups in Duluth. In fact one week after her last checkup, she passed away.
Murray never talked about his time in Italy or his injury to me.
He And Greta are gone now and I love both to this day.
John Baker

Charles Seehase e-mailed on Saturday, June 6, 2020
Well, I am pretty sure not many of you know me. I am Albert's older brother. Wrong side of the blanket so to speak.
That said, I have enjoyed reading and learning of the family and the stories you have related. My name was Charles Victor Holm, named after my grandfathers, however, I was adopted by my grandmother, Mildred Seehase, and my relationships are with those that relate to the Seehase family. My Aunts Aurora, Greta, and Svea stayed in touch with Mildred, and I did meet my father Carl in 1962.
That is not why I am writing, I am writing because today is June 6, Victory in Europe, and the attack on fortress Europe. I will be 85 years old in September, and have many memories of the WWII era. I think we need to remember, these are not the only relationship this family has with the military and the protection of our freedoms .
Several of you have related stories of WWI and of WWII. Which, in my mind was just a larger, more deadly and inevitable extension of WWI. Look it up, WWI never really ended in Europe.
My Grandfather Victor Holm was a Sergeant in the Swedish army before immigrating to Canada, and later to the US. My father, Carl served in the Civilian Conservation Corps during the depression, the a major recruiting center for the Citizen Soldiers that fought the Bosch. The Army Corps of Engineers was the organization tasked with supporting and organizing this wonderful system, many of the projects we enjoy today. A note here, the Kewenau golf club in Michigans UP was constructed by the CCCs.
My grandmother Mildred Seehase adopted me in 1950, hence the name Seehase. Her Great (great?) grandfather returned to Moravia (later Checzlosovaia) from the Crusades with a Romanian Gypsy princess.
As you can see, the family, Carlson, Holm, Seehase, clan has a long relationship with the military.
My memories, and stories related to me, include many individuals, Rose Seehase's husband, Jack Adams, was in CCCs, transited to US Army and served at Fort Brady in Sault Ste Marie. I remember the barrage balloons and search lites that were in place during WWII. He went on to participate in the North African Campaign, Swam ashore from a torpedoed craft at Normandy on day 2 of the invasion. He retired as a Warrant Officer in 1969. He was a Company 1st Sergeant of C Company at Pork Chop Hill, Korea.
His brother Alfred served on a submarine in the Pacific and panicked at unexpected load noises as a civilian, a great source of entertainment at "deer camp annually".
Jack Seehase joined the US Navy from Michigan in 1942, and served in the South Pacific. He participated in 5 invasions and was aboard his ship during the invasion of Leyte for the return of MacArthur to the Phillipines.
Bob Seehase (Jack's brother) served in the U.S. Coast Guard off the coast of California 1947-1951.
Understandably, with this list of mentors, I joined the Army , 1954-1959. My oldest son Jeffrey retired as a 1st Sergeant of the Army in 2004, and my youngest Son, Kevin served in the US Army 1988, 1992. My grandson Jeffrey, participated in the Naval ROTC program in High School.
Not to belabor the point, but the Swedish and Checz/German Americans represented by this family, have for generations maintained a history of service. Pride of nation, dedication to our forbears as you will. I understand that my opinion in today's enviroment may not be the majority opinion, I respectfully request your understanding because it is not always politically correct and I recognize many have a different opinion.
Many voices today question "IF NOT NOW, WHEN"
My answer has always been, "IF NOT HERE, WHERE?"
I appreciate your time spent reading this essay, and as somewhat of an outlier I am butting in on a very close knit and understanding family, however, June 6, 2020 is something I could not let pass.. Lest we forget. Thank you for understanding.

Albert Holm e-mailed on Sunday, June 7, 2020

My grandfather, Victor Holm, joined the Royal Bohuslän Regiment Tanum Company as a soldier on 24 September 1900. When he enlisted, Sweden had not fought a war in 86 years. He joined as a "rote" soldier. A rote was two, three or four farms that together had to provide for and support an infantry man. This system provided Sweden and Finland with a large army that kind of fed itself during peace time but still was ready to march within a week or so. The rote soldier normally had a small cottage, a couple of acres of land and a cow. He often had some kind of part time job as well - like tailor, bricklayer or clerk. He also had to work for a few days a year for each of his farmers, and the farmers had to assist the soldier in things he could not manage himself. When he was accepted, he was owed 40 Swedish kronor (SEK), and his salary was 6 SEK/year. This was not a lot of money. A Swedish krona in year 1900 was the amount a male worker in Sweden received in wage for a little over 3 hours work.

[Victor signed the contract "Wictor Emanuel Fredriksson".]

In his memoir, Victor wrote, "The Army did me only good. Both the corporals - and non-commissioned officers - the school did well. We learned mathematics, geometry, geography, cartography, proper essay writing, Morse - (telegraph system), fast writing, Esparanto = (world language) and I took a course in Italian double bookkeeping? It was much better than the ordinary people's schools!"

John Baker emailed on Sat, 4/11/2020

All Sergeants. Other than Victor Holm on the left, I don't know who they are.

John Baker emailed on Sat, 4/11/2020

In 1967 as I was going into the Army and before I went to Vietnam, Grandpa Victor hold me to be careful and to watch myself because "there are really strange people in the Army". How true his words were.
Linda Beacham replied on June 7
Interesting. I read Uncle Viktor's memoir to my mom, when she was in long-term care. She had lost most of her eyesight by that time. I wish he had written more. My grandpa Carl wrote some as well, but not about his personal life. His writing tended to be about mining operations here in the Kenora area...pretty "dry" reading for me.
Todd Ross shared this photo on Tuesday, October 6, 2020

My mother's Uncle Tom [Folster]. WW2 Black Watch. He's kneeling behind the lady sitting on the ground.

I can remember Uncle Tommy because he used to visit us when we were little tykes. I remember him being a real character. Darrell has some stories of him too. A good man, for sure.

Linda Beacham noted on Wednesday, Oct 7

He would be related to me on my dad's side as well.

Todd Ross commented on Wednesday, Oct 7, 2020

Margaret's parents are (I think... info from Allan, my bro)) John Henry Folster and Wilhemina Sabiston?

Judy Oberg also noted on Thursday, Oct 8

That's right, Todd. From what I can remember hearing Grandma came from the Lockport Manitoba area and Grandad's came from the Orkney Islands

[Margaret Folster was the wife of Harold Samson and daughter-in-law of Maria and John Samson.]

---

Linda Beacham commented on Thursday, Oct 8

Awesome. Great fun, yes? I love it.

I have an Orkney connection as well. Visited there a few years back for about 5 days. Wonderful place! Bleak, rocky and cold.

Photo is of the Ring of Brodgar. I walked the ring, and put down tobacco.
---
Linda Beacham posted on Sunday, June 7, 2020
There is a series of novels (author Moberg) that I have in my collection here. 3 titles I can remember off the top of my head: The Emigrants, Unto a Good Land, and Last Letter Home...all about a Swedish family immigrating to the U.S. (Minnesota) in the 1800s.
My mother Charlotte bought and read The Emigrants, and passed it to my grandpa [Carl Holm] to read. When he gave it back to her after reading it, his comment was, "Yes. That's how it was". A very sad story. Sweden was not, at that time, the socialist "paradise" it came to be.
My grandpa had a very keen sense of social justice. He was a union organizer at his workplace (very risky at the time...as a landed immigrant he risked deportation).
Both my grandparents were founding members of Kenora CCF Party [Co-operative Commonwealth Federation, later NDP], and I clearly remember my grandmother's anxiety at them being labeled "communists" in the late 1950s.
Just wanted to share those thoughts. Ties in with why our ancestors made the journey across the water.
Brad Holway commented on Sunday, June 7, 2020
I saw the movie version of "The Emigrants" & thought it was excellent.
Besides dealing with the family's travails on the frontier, there are also (as Linda implies) scenes set in Sweden which depict a rather cruel kind of nearly feudal social system.
Liv Ullmann & Max Von Sydow give excellent performances in the film, BTW.

Linda Beacham emailed on Sunday, June 7, 2020
The stories from my grandpa that I heard came through my mother.
Some of the things Grandpa told her about had to do with the "rule" of the Lutheran Church over the poor, particularly. Tithing was mandatory, and if you did not have money to give, you were required to give labour (a real hardship for many) to the local parish.
He also spoke of the elderly (who had no family to support them), of how they became the responsibility of the local parish. The old folks would be "auctioned" (publicly? Idk) to whomever would take them in at the least cost to the local church. Now, I don't know that that happened in my grandfather's time, but that is what he said.
My grandpa loathed "charity".
I will share a story about that from his life later.

Gail Carlson MacKay emailed on Sunday, June 7, 2020
For our Canadian cousins, there is a wonderful book called "Swedes in Canada" written by Elinor Barr. I am going to re-read it...there are many mentions of family members, if I remember correctly.

Linda Beacham posted on Facebook on Sunday, June 7, 2020
Oh my. All kinds of memory being jolted alive here this morning! And it's raining hard and cold outside.
Speaking of "social justice" issues:
When my mom was about 11 years old, she had ulcerative colitis, and spent almost a full year in hospital in Winnipeg...a 2-3 hour train trip one way. She was not expected to survive. In those days, medical expenses were paid out-of-pocket. Horrific.
That same year, the wooden frame house my grandfather had built burned to the ground. They lost everything. I doubt there was an insurance payment. So my grandparents and the two other kids (June and infant Carl William, Bill) moved in with my maternal great grandmother, until my grandpa could build a new house. That would have been in the fall, and Christmas was coming.
My mother vividly recalled when the Salvation Army folks showed up bearing food and clothing, gifts for the family. My grandfather was livid, and flatly refused the offering. He would provide for his own family.
He did build another house, 2 story masonry and plaster interior...not easily burnable. That's the house I remember as a child. We lived in a little house Grandpa built in the lane on the same property.
Both houses still stand today. If he built something, it lasted!

Linda Beacham posted on Sunday, June 7, 2020
Funny story comes to mind here.
Bonny, remember how we used to laugh about how strong anything he built would be? If he built a floating dock chained to a rock, we always said the rock might wear away, but the dock would remain!
Our uncle Bill was/is the same...always built things right! No shortcuts. Once, Bill and a friend of his were working on a building project, and the friend had an idea about how something could be done quicker and easier.
Bill said no, not a good idea.
His friend said to him, in exasperation, "Well OK, Bill. Be a Swede. Do it the hard way". And that's how it was done

Bonny Lees posted on Monday, June 8, 2020
So true, Linda.
When everybody came together to clear ground for the shop at camp, somebody suggested to Grandpa that just cutting tree stumps off at ground level rather than pulling them out would be easier and save time.
Grandpa's response? "If you don't have time to do it right, when're you going to have time to do it over?"
As we know, the stumps were pulled

Albert Holm posted on Monday, June 8, 2020
Here's story with a mixture of stumps and dynamite. After the mining company had finished its exploratory drilling on our land south of the house, my parents decided to clear the woods so a garden could be put in. Dad, Carl, chopped the trees down - the accumulated branches made huge bonfires. Then he got some dynamite, which was controlled then, put a stick or half a stick under each stump, and lit the fuse. It was then a lot easier to remove the stumps and add them to the bonfires.
Bonny Lees posted on Monday, June 8, 2020
Them old Swedes sure did love their dynamite, didn't they?

Gail (Carlson) MacKay e-mailed on Wednesday, June 10, 2020
My sister, Wendy, mentioned to you earlier that our dad, Victor, and his brother, Errol, had a contract to blast stumps to make way for the roads through the highlands in North Vancouver. Dad kept the stumping powder boxes in our basement so that they would stay dry. Of course, the wood-fired furnace was in the basement as well!

Gail Carlson MacKay e-mailed on Sunday, June 14, 2020
I am sure strawberry season has ended for many of you, but it is at its peak here in British Columbia.
Every time I eat local strawberries, I remember the time we drove to the Fraser Valley (this is a farming area about 100 miles from Vancouver) to pick strawberries at the end of the season. Our parents friends, who owned a farm, said that they would not be picking again because the berries were too ripe to ship, so Mom could have as much as she wanted. Mom, Dad, Granny Carlson, Wendy and I picked flat after flat of berries in probably the hottest day of the summer. We didn't wear hats, and certainly no sun-screen, and I think the only liquid we had were the huge over-ripe berries. We must have been totally dehydrated. Our arms were as brown as the earth when Mom said that we had picked enough. We loaded the truck - those were the days when Wendy and I travelled in the truck bed. Once we were home, the day didn't end for Granny Carlson or Mom. Strawberries deteriorate very quickly, so all the fruit had to be cleaned and cooked right away. I can remember the stacks of flats on the kitchen floor, and hoping that Mom and Granny Carlson wouldn't ask us to pitch in.

Linda Beacham e-mailed on Wednesday, June 17, 2020
I don't remember my grandparents talking much about [the Great Depression], if at all. Most of the people they knew were going through the same hard times they were, and they (Carl and Vi) had a solid home, and enough to eat. Everyone had a large garden if they had room for one.
I know the news of my mom's imminent arrival (she was born in 1933) was difficult, but I certainly never heard that from either of them. I think her older sister June was born in 1929, maybe. They rarely complained about anything that I can remember!
SO many men were out of work, and the government did set up work camps for men. Here, they were logging camps with bunkhouses where they were lodged and fed. My grandpa worked in one of those camps north of Kenora, close to Minaki, which is located on the CN Rail line which is a good 30 mile drive from here. He would walk there on Sunday nights, be there for 5 days of work, and walk back to town on Friday nights. Right through the winter months as well...brutally cold sometimes. We often have -30 to -40 temperatures here in January. I would imagine the men walked in groups.

Gail Carlson MacKay e-mailed on Sunday, June 21, 2020
Picture 1: Wedding photo of Anna Karolina Holm and Erik August Karlsson (I do not know the date, but Anna is wearing a 1900's dress). Pat Holm may know this.
Picture 2: Wedding photo of Emilia Sushnyk and Erling Victor Herbert Carlson, August 27, l936
I guess I should add this into the records of our family. This is what Dad (Victor Carlson) told me: He worked both the Kenricia and Wendigo gold mines in Ontario (I looked up their locations, and they were not far from Kenora by car, but both were a long way to walk - about 30 miles). On their wedding day, Dad walked to Kenora from the Wendigo gold mine, a distance of 30 miles (at an average of 3 miles per hour, it would have taken Dad 10 hours), I asked if there were any passing vehicles which could have given him a ride and the answer was no. Dad said that he was exhausted and fell asleep after the ceremony. Granny Carlson (Anna Holm) made their wedding cake.
I do not know where they were married, but it was probably by a Justice of the Peace.
When they returned to Wendigo, Mother was curious about the mine, and Dad said that he would take her down the lift after work so that she could see what it was like. She came to the shaft with him, but looked down and said, "I can't do that". She was terrified. Incidentally, my sister, Wendy, was named after the Wendigo mine.
Anna Karolina Holm and
Erik August Karlsson
Emilia Sushnyk and
Erling Victor Herbert Carlson
Judy Oberg added on Sunday, June 21, 2020
Very interesting Gail. Wendigo mine is where my Dad (Harold Samson) lost his left arm at the bottom of the shaft. It was on Dad and Mom's first wedding anniversary.

Linda Beacham posted on Sunday, June 21, 2020
Life was dangerous in those days, yes? And often no compensation, and medical bills paid out-of-pocket.
And August Carlson was killed on the CPR track right here in Kenora. It must have been horrific for Anna and her children. The story I was told was that he was acting as switchman in the railyard. A train was coming in, and he stepped from one track across to another to get out of the way. He didn't hear another train coming in from the other direction. I don't know how old he was, or how old the children were.
Albert Holm posted on Monday, June 22, 2020
According to Helen Holm Hobert's family tree book, August was killed in September 1928. His children ranged in age from 4 to 19 at that time.
Gail Carlson MacKay posted on Monday, June 22, 2020
My Dad was sixteen. I have the medical report from the CPR which states fractured femur and skull. August was 44 years old. My Dad had to leave school to support the family.
[August] was killed instantly. Indeed, the family did suffer grief for a long time. Dad had had great hopes of going to engineering school but he was not sorry to leave for the west coast - he said the memories were too painful in Kenora. Granny Carlson received $50 per month compensation (I do not know how long she received it - one of my younger cousins might know), plus the rail pass.

Albert Holm posted on Wednesday, June 24, 2020
Here's an item from Victor Holm's memoir about when August Carlson and he traveled to one of the gold mines for work. (Much of Victor's memoir deals with the difficulties and dangers of the jobs he held in Canada.)
Out on the Lake of the Woods 35 English miles from Kenora was an old gold mine called the Mikado that would open again and they needed woodcutters! The boilers fired with wood because it was too costly to carry the coal the long way out on the lake. The payment would be $ 1.10 per cord and we had to make use of all kinds of trees such as spruce, pine, aspen, larch! On January the 12th 1911, I, August Karlsson, and a few others were on the way to the Mikado with blankets and household goods on our backs! There had come a foot of new snow, and was very cold so some got frostbite on the face. A carriage with two horses before drove ahead of us but still it was hard to go. Suddenly I remembered that it was January 12th my birthday which I celebrated on the "easy" way. I was now 32 years this was in 1911! We were generally two men in the same place in case someone would get hurt.

The march to the mine took us two days to do!

At night we rested in an abandoned farmhouse and I and Karlsson were lying on the floor with only a blanket over us. It was good cool down, it was heated by an old stove. We came to the destination next day in fairly intact condition and were referred to our quarters which were small timber huts that could accommodate six or eight men!

We were five, but in our hut with an Indian named Pete Red Sky. He was 22 years old and son of Indian chiefs on the reservation!

I was used to handling the ax so I could get along quite well! I cut, split and stacked 3 1/2 cord and, on average, I made two cord! We paid 80 cents a day for food!

In the month of April a few days before Aurora was born, I was with the man that drove food and supplies to the mine! And when little Svea saw me, she ran and met me and I lifted her and carried her and when she looked up and saw my long brown beard gave her a "loud screech".

Linda Beacham posted on Wednesday, June 24, 2020
Albert Holm That was hard work...and cold!
My paternal grandfather had a tree fall on him when my dad was only about 7. He was alone at the time, but had a horse and a sled to load the wood on. He managed to crawl onto the sled...his leg was broken...and the horse pulled him home. This was way out on Lake of the Woods. They managed somehow to get him to hospital in town, but he died a week later.
Yes, dangerous hard work.
Redsky, btw, is still a very common name here.

Linda Beacham posted on Wednesday, June 24, 2020
Just thought some of you would enjoy this photo. This is in Lakeside (Swede Town). Everyone skied here, including my grandparents, Carl and Vi Holm. I don't think either of them were into jumping, though. Cross-country, some downhill. And my grandpa made his own skis, and everybody else's in the family. I learned to ski on a pair he made for my mother.
Note the photographer. Another Swede. Famous in these parts for his wonderful photography
This area doubled as a golf course...still in use. Great toboggan hills for the Lakeside kids.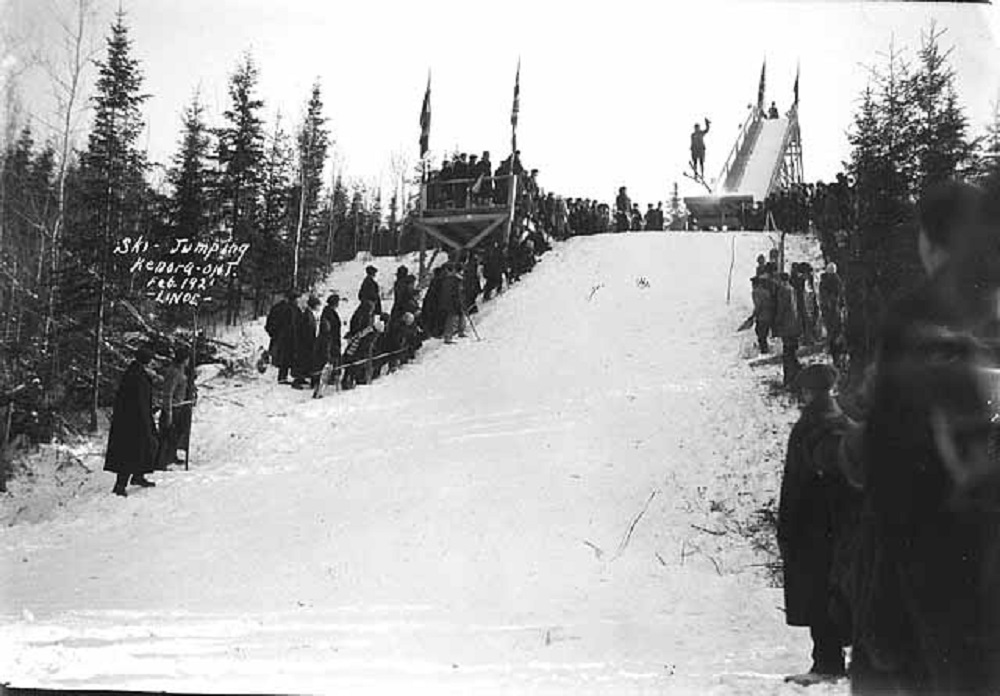 Photo caption: Ski Jumping at Kenora in 1921, Photo Courtesy of Linde, Carl Gustave via Minnesota Historical Society.

Wendy Sandor e-mailed on Friday, June 26, 2020
Our dad Victor Carlson was a ski jumper there until he damaged his back on a fall - don't know if it's in the genes but I've always had a passion for skiing - downhill and cross country - all my kids and grandkids are skiers - my youngest son broke his neck while performing some kind of fancy jump at the age of 16 but thankfully it mended (he's now a stuntman!)

Gail Carlson MacKay e-mailed on Sunday, June 28, 2020
Those of you who knew our grandmother, Anna Holm Karlsson, also knew that she had a very funny sense of humour and when she mis-pronounced English, she could laugh about it. For instance, she always pronounced the word "surprise" with the accent on the first syllable, and I think she knew how to say it, but deliberately mis-pronounced it eventually so that it sounded funny.
When Wendy and I were little, our Mother and Granny Carlson used to take us to Stanley Park in Vancouver so that we could learn to swim at Second Beach where there was a memorial to the men in the lumber industry.
It was called Lumberman's Arch. We would swim and picnic for the day.
Once, when our Dad came home from work, he asked Granny Carlson what she did with the girls that day. Granny concentrated hard to get the English words out, and she said, "We had a picnic at Lumberman's Arse". Dad, of course, between laughing and gasping, lost no time explaining the mis-step, and ever after mother and son laughed about it.

Crystal Holm posted on Friday, July 23, 2021

This is my husband's grand father [Carl Holm]. My husband is Billy Holm's son

Linda Beacham replied on Saturday, July 24, 2021

Oh my. Where did you find this?

Crystal Holm answered

Billy gave it to Carl years ago. It hangs on our wall

Linda Beacham commented

My mom told me Grandpa had planned to go to Michigan to join Viktor and his family. Then he met Grandma, and changed his mind.

Crystal Holm posted So where did they meet? So curious about this stuff

Linda Beacham replied

I know she was working at a general store here. I think it was where the Blue Heron used to be. But I'm not sure.

Bonny Lees answered

The story Grandpa and Grandma (Carl and Vi) told me is that Grandma was working as a bookkeeper at that store (Blue Heron site) when they met. Grandma said that Grandpa was shy, and didn't talk much when he and other crew guys would come in off the lake (from either a lumber camp or gold mine- I forget which). Grandpa said the reason he didn't talk much was because he was a thinker... not a talker.
Anyway, I guess Grandpa had had his eye on Grandma for awhile, but never said anything to her until, on the way into town one day, one of his crew-mates said that he was going to ask her out. Grandpa said he got off the boat and went straight to her, asking her out before his crew-mate could. And the rest, as they say, is history.
I'm guessing that first date took place maybe 1927/28, based on the skiing photos of Grandma and Grandpa during what Grandma called their "courting days".
If memory serves me correctly, they were married June 19, 1929. My mom [June Holm]came along a year later, June 8, 1930.
Linda Beacham replied
Good story! I wonder who "the other man" was.
Bonny Lees answered
I never really thought about that. Grandpa did say though, that the guy was a "rough fellow", whose intentions were probably no good.
Linda Beacham posted
Albert, do you know when they all started using the Holm name? Strange seeing my grandpa still using Fredrickson here.
Crystal Holm posted
Carl doesn't know at all
Linda Beacham posted
Albert Holm may know. He's a grandson of Viktor Holm, my grandpa's older brother. Viktor was here before Grandpa came from Sweden. Albert is our "archivist" for the family, I'd say. Lots of history.
Albert Holm posted
Wow! That is interesting that Frederikson was still being used in 1926. My dad's birth registration used the surname Holm in 1913.
Bonny Lees posted
Very interesting that! I'd always assumed that the surname change happened when they got off the boat.
Albert Holm posted on July 25
My grandfather, Victor Frederiksson, became Victor Holm before he left Sweden. The June 16, 1909, passenger list for the ship Rollo that took him from Göteborg to England shows his name as "Holm" as does the June 25, 1909, passenger list for the Empress of Ireland that took him from Liverpool to Quebec City.



Linda Beacham posted on Sunday, March 14, 2021
Oh my. I almost forgot to do this. Today is my grandma's birthday. Violet Holm (born Whiteman). She was born in 1907...114 years ago. In old Fort William, now Thunder Bay. The photo on the left is a Kenora Miner and News portrait. She was Kenora's Woman of the Year for her work in launching our New Horizons seniors' centre here.
The second photo is of her, holding me (about 3 months old)...her first born grandchild. The look on her face is a look that EVERY child should see on someone's face. And I know exactly what she was thinking, because in later years, she told me. Always remembered, forever missed.
We was lookin' at each other. Both pretty pleased, I think

I think she was the best person in my life I ever knew.
She sang me songs, and told me stories. She could recite The Cremation of Sam McGee from memory. And did, whenever I asked her to.
I remember that I had NO idea what "cremation" was. And I never asked her! I must have figured it out on my own, what with the "frozen corpse" on the sled, then Sam in the furnace, smiling "cool and calm". She always pronounced it "cam"...as in clam.

Linda Beacham posted on Sunday, July 4, 2021
I can't remember if I already shared this story here. A bit of a glimpse into the character of my grandpa Carl (Karl Holm, of the original family here in Canada). Was "talking" to a friend here this morning about the horrendous impact of Residential schools on indigenous people in Canada, and this memory came to my mind.
[T]he Lutheran church ... didn't run any residential schools here in Canada, but apparently they did in Lapland, north of Sweden... Anyway, one of the reasons my maternal grandfather [Karl Holm] emigrated to Canada was to escape the clutches of the Lutheran church in Sweden. They ruled with a heavy hand and made life generally miserable for the poor there.
My grandfather's sister Anna once told my grandma that Carl (my grandpa) was a "bad boy" when he was growing up. Seems hilarious to me. I can't imagine, you know? But I think I know what happened.
When he was about 12 years old, he was living far from home and working in the rock quarries in Sweden. The men there had a lending library, and my grandpa was a reader. One of the "blockbuster" books of the day that blew the world apart for many people (especially church goers) was Darwin's "Origin of Species", and my grandpa read it. After that, he had NO use whatsoever for churches. He refused to go to church anymore, and for as long as I can remember, he never darkened a church door except for a family wedding or a funeral. And he hated having to get dressed up in his "monkey suit" when he did. Yep. A very "bad" boy. Decidedly "unchristian".
I really only remember 2 short conversations I had with him, growing up. Once in his truck, when I was maybe 5-6 years old. I was a very solitary kid, never said much...kept to myself in my own world. We were on our way to town, him driving, and he looked over at me and said, "You don't talk much, do you?"
I don't remember if I answered him. He didn't "push" me, just smiled to himself and carried on driving. He was a very careful driver.
I felt safe with him...and with my grandma. Forever grateful for that. Shelter from the storm.
---
Gail Carlson MacKay e-mailed on Monday, June 29, 2020

In my kitchen, I have three kavel, and I think they are correctly called brödkavel. The smaller one on the left was made by our grandfather, August Karlsson, when he worked for the CPR railroad as a crew chief. The crew was away for two weeks at a time, and they lived in the caboose. He made this for our Grandmother Anna. Cousin Pat Holm had had had it for many years. I remember Anna using it, so was just delighted when she sent it to me. The other two are commercially made. The red handled one was made in Newfolden, MN, by Lokstad Products.

The beautiful woven mat is done by my sister Wendy who not only weaves, but also makes pine needle baskets.

Anna Andreasson commented on Tuesday, June 30, 2020

Kruskavel - Brödkavel is the regular one. Kruskavel is for making knäckebröd [crispbread] and tunnbröd [flatbread].

Anna Andreasson posted on July 1, 2020

I am glad my husband is asleep - he must be wondering why I am photographing our bread in the morning.
Tunnbröd is flatbread - can be "soft" or hard like knäckebröd. It is more common in the northern parts of Sweden. But the soft tunnbröd are often made here in Bohuslän.

Linda Beacham commented on Wednesday, July 1, 2020

Anna Andreasson, Thank you. The Wasa biscuit I recognize! My grandparents always had that in their house. Lovely with butter and honey!

And my grandpa always ate it with goat cheese on New Year's Eve. Sweet memories.

Anna Andreasson replied on July 1, 2020

Wow, sounds nice to have goat cheese on the bread. I got inspired and just hade some dessert cheese on the knäckebröd, it worked.. tack
otherwise "kaviar" and egg are popular..
---
Brad Holway e-mailed on Friday, July 10, 2020
This bit if family nostalgia just popped into my mind yesterday and I thought I would share it with you, Some of the cousins may be interested in this.
A few days before Christmas, my mother would trot out a two-tiered metal contraption perched on a stand maybe 8-10" in height. The lower tier was circular and held six (?) mounts in which candles were inserted. The upper tier was sort of a wheel from which were suspended six little shiny metal winged angels, each one with a trumpet or bugle. When the candles were lit, the heat would cause the wheel with the angels to rotate. My mother called it an "angelabra", a term she probably coined herself.
According to my grandmother, it had been brought from Sweden and had been the property of her late parents. I remember her saying that she thought it might be older than that, an heirloom from Fredrik's parents.
When my parents moved from New York to Florida in 1980, my mother gave the "angelabra" to a neighbor who had always admired it.

Gail Carlson MacKay e-mailed on Saturday, July 11, 2020
I bought an "angelabra" (I love that word...) when we lived in Toronto. One or two parts are missing now.
What I DO have in my Swedish collection is a small vintage Dala horse, two wooden Christmas trees which slot together, a Sven and a Svea (from Ikea), a tomte which holds candles, some Christmas ornaments (also from Ikea - no doubt made in China), and four vintage wooden ladies on stands...they are not in great shape (I think that they were originally in National Costume), a window ornament (wooden candles which light up) and a red wooden candelabra. I would love to know what others have collected.
---
Linda Beacham e-mailed on Saturday, July 11, 2020

You can still get them...made in Sweden. My daughter found them in an upscale toy store in Winnipeg.

My granddaughter Emilia Charlotte is pictured here.

My grandma also had one that she bought during their trip to Sweden. Each angel has a little metal stick hanging down underneath, and the sticks ring bell chimes underneath as it circles. Lovely!

---

---

Linda Beacham e-mailed on Saturday, July 11, 2020

This isn't too old (again, from my grandparents' trip to Sweden after his retirement from the mill).

My grandma bought the tablecloth kit, and did the needlework. She gave it to me many years ago, and I bring it out at Christmas every year. Lettering says "God Jul". The cloth is a coarse, undyed linen.
Ralph Holmberg posted on Sunday, July 12, 2020
This is a candle holder that was part of my grandfathers' belongings. The thermometer is from my dad's childhood.
I sent these photos to the curator at the American Swedish Historical Museum in Philadelphia. She told me that while they are antiques, they are not rare.
| | |
| --- | --- |
| | Skultuna has some of Sweden's oldest industrial sites. The Skultuna Brass Mill was founded in 1607 by King Karl IX. |
| | |

Al Holm shared on Monday, July 12, 2020
Here are photos of three family treasures in my keeping.
The first is a large framed image of Adela and Fredrik Olofsson. I thought it was a photo, but someone has suggested that it could be a pencil drawing. In Frida's photo album, the two appear on separate photos, but with identical appearances to this combined image.
The second is my grandfather Victor Holm's Swedish army jacket. You can see him wearing it in his wedding photo in Frida's photo album.
The third is a broach with Victor's photo. In the same wedding photo in Frida's photo album, you can see it, or one just like it, on her collar.
Al Holm shared on Thursday, July 16, 2020
I had overlooked one more treasure from grandpa Victor in my keeping. It is his portrait in a cardboard frame. It had been stored where water could reach it so both the frame and the portrait show water damage. I took it to a restorer a long time ago, but he said nothing could be done because it was a water color painting.
| Original | Attempted restoration with Photoshop Elements |
| --- | --- |
| | |

Gail Carlson MacKay shared on Wednesday, July 14, 2020
I remember Anna Carlson's lace up boots, and a record player which played metal discs on a device which blew air through the holes, making the sound. I have no idea where those went, but I do have her cameo and a crystal necklace.
Bonny Lees shared on July 15
Here is what we always called "Grandma's Christmas Angels", with two of her entranced little (at the time) grandsons. These are Bill Holm's (Carl & Vi's son) two oldest boys - Will, the oldest, on the right, and Frank on the left - known to us at the time as Willy and Frankie.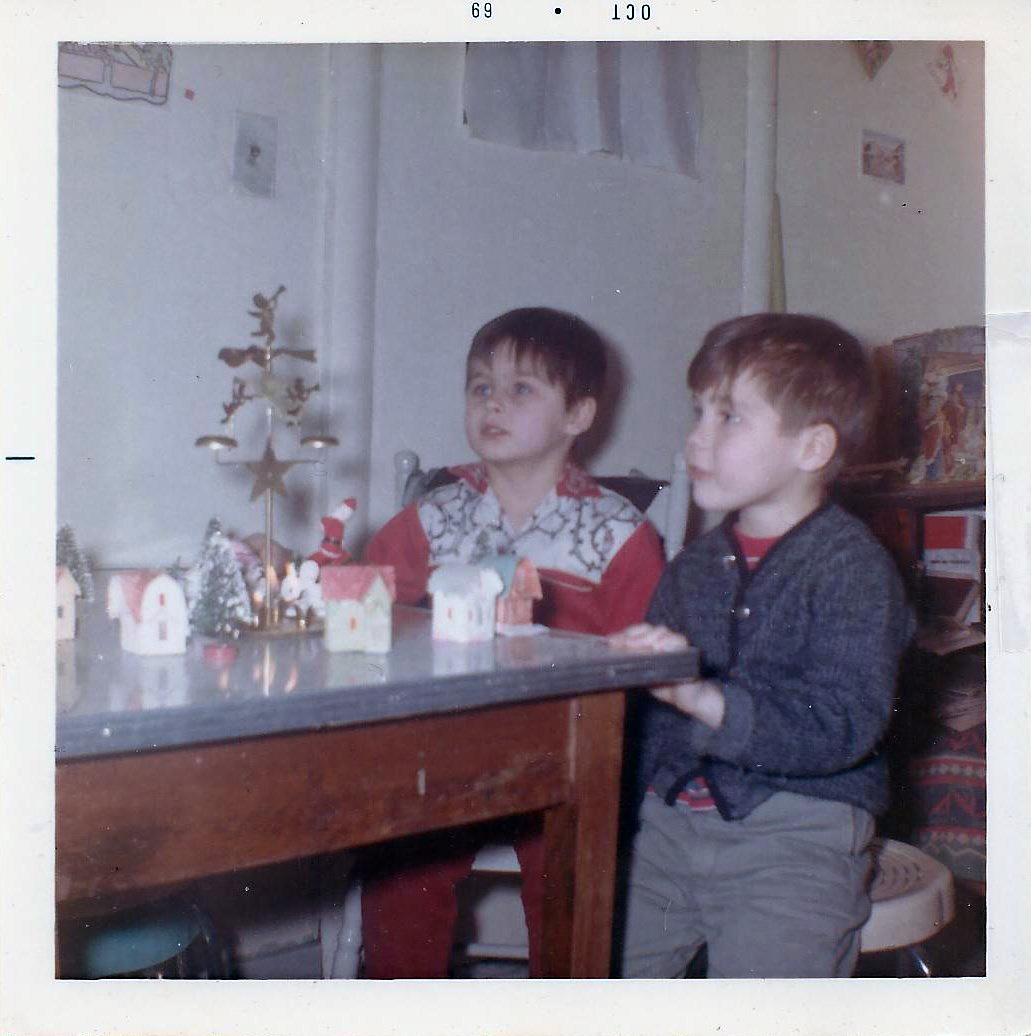 Gail Carlson Mackay shared this on July 23, 2020

This image is Hardanger work which I reproduced from the original made by Anna Holm Carlson, our Grandmother. The original piece is too fragile for use, so I have carefully stored it.

I remember sitting on the ottoman at her feet watching the needle move in and out, and her small sharp scissors carefully snipping the waste threads from the kloster blocks. As she worked, she would tell us stories about her life at Kville. She was the daughter who knitted and sewed and she was very, very good at handwork. After she died, I was given the remaining fabric which she had brought with her from Sweden, and decided that I would reproduce her work.
Terri Holm shared on Wednesday, July 15, 2020
Here are photos of the 'old timer' treasures I have. First is a large (26"x30") framed picture of Aunt Svea. I'm not sure how old she is in this picture, but she looks about 3 years old or so. Love her hair
Second is a picture in a cardboard frame of my grandfather, Victor Holm, and his children: Aunt Svea, Aunt Aurora, Aunt Greta and Carl (my father).

Linda Beacham shared on Wednesday, July 22, 2020
Sharing this here because we have been sharing treasured mementos from family. My Grandfather Carl built a wooden carved model of a Swedish fishing boat (sail) many years ago, and I have it...not at hand right now, but will post a photo when I can.
It actually "worked"...could be sailed. There is a video of it sailing down at the camp on Willard Lake...it's maiden voyage...somewhere!
It has 2 sails, fully rigged, and he made all the tiny brass fittings by hand, as well as sewing the sails.
Found this very short video this morning, and thought you might enjoy.
Linda Beacham shared on Friday, 4 September 2020

I was looking for another photo tonight, and found this. Thought I'd share.

This was the trunk my grandpa Carl carried with him from "the old country" as a very young man. I'd love to know what was in it.

It's in a storage unit right now. Will bring it home when I can make room for it.

Monica Sønsterud Myrland commented on Friday, 4 September 2020

Can you imagine traveling with something like that? What a struggle. But lucky you who still got it.

Anna Andreasson added on Friday, 4 September 2020

Beautiful! This type is called "Amerikakoffert" or "Amerikakista" in Sweden.

Linda Beacham added on Friday, 4 September 2020

He came steerage, so I think he had to be able to carry it himself. He was strong, I know...just 17.

I'd love to know what he carried.

He came in the winter, by train from Halifax. He said Kenora was very bleak...many people living in tarpaper shacks.
Brad Holway commented on Sunday, September 6, 2020
If/when you visit New York, you should try to get to the Museum of Immigration on Ellis Island if time permits. Among the exhibits are a collection of personal effects of immigrants, including trunks like the one Uncle Carl carried. There are also ship models, historic documents, audio-visual presentations & photo collections. Visitors also get access to the extensive database the Museum maintains.

Gail Mackay shared on Sunday, October 18, 2020
This is a souvenir plate made by Wedgwood c. 1908. The image in the centre marks a location on Lake of the Woods, Kenora, Ontario, called "Devil's Gap". The photo was taken by our Dad from a canoe.
| Gail's plate and her father's photo | Photo taken by Al Holm in 2012 |
| --- | --- |
| | |
Gail Mackay added on Sunday, October 18, 2020
Apparently Devil's Gap has been re-painted over time, but it was first done by a couple of brothers in the l890's. I think my plate is one of those tourist souvenirs, and I can't imagine what the decorators at Wedgwood said when they were asked to design this plate. The Wedgwood series with that distinctive border is called "Nannette".
Linda Beacham added on October 18, 2020
Yes. It has been defaced at different times, and repainted. I'm sure it has spiritual significance to indigenous peoples here, but I don' know what it is.
There are several places on Lake of the Woods where there are old rock paintings, and places where people used to leave offerings.
Since the building of the hydro dam at the north end of the lake, some places are underwater.
Bonny Lees commented on October 18, 2020
I recall that Devil's Rock was considered significant enough that it was moved further up the incline when the dam was built.

Linda Beacham posted on Saturday, 24 July 2021
My grandpa Carl made this model of a Swedish fishing boat sometime around 1968 .. a winter project. I've had it for about 50 years, I guess.
Everything works. We have a family video my grandma made down at the camp at Willard Lake .. her maiden voyage.
He made all the fittings himself ..mainly copper. The body of the boat is made (carved) from solid wood .. not planks. The sails are machine stitched. He may have done that himself as well. A very handy fella

Bonny Lees commented
I was living with them when Grandpa was building this. I remember him cutting up old brass doorknobs; filing, drilling, forging and hammering, to fabricate pulleys and other fittings. He even made most of the tiny nails, screws and grommets..
Are you sure the sails were machine stitched? I have vivid mental images of him sitting in his chair in the living-room, rolling and hand-stitching sail edges. Maybe he was doing something else though... maybe attaching grommets..

Linda Beacham replied
Yes, they're machine stitched.

Linda Beacham
He made a spinning wheel for my mom too, which I treasure.

He also made a fully functioning model steam engine. I have never seen that. My mom said he gave it away .. not sure to whom. Frank Whiting, I think .. a friend of my dad, and a neighbour.

Ship from the stern
Close up of hatch

Close up of pulley
Mast and rigging

Spinning wheel
---
Sharon Samson shared these three images on July 2, 2020

Sharon's identifications for the photo on the right - People on the porch from right to left: August Carlson, Arol Carlson, unknown, Victor Carlson, Bertram Peterson, Viola Peterson Davis (?), Dagmar Carlson Leondard, Ebba Samson Elders, Ella Samson Cardinal and Anna Carlson. Notation at bottom of photo: Petersons are Dagmar's cousins, her father's sister's children.

Sharon's identifications for the photo below - The men with the farming tools are: John Samson, Clarence (Bud) Samson, Alf Samson and Harold Samson. Photo labelled The Farm Melick

Sharon provided an image of a list of names for the people in the photo below.

Gail MacKay also gave identifications for family on July 15

[T]he person on the left ... could be my grandmother wearing a cardigan, tie, and skirt (common 1920's dress). I do not know the first boy, but the next are Victor, Errol, Eleanor, a boy I don't know, then Dagmar. Since my grandfather was away on the trains, he would not necessarily be in the picture. [Or he could be behind the camera.]
Albert Holm shared on Monday, July 27, 2020
Here are four old photos from Kenora at a time after 1932 when Adela Olofsson moved there to be with her children. All the photos include Adela. The first two photos have identifications written on them by Grandpa Victor.
| | |
| --- | --- |
| Karl and Violet Holm are standing with Adela and their daughter Charlotte. Their older daughter, June, is on the porch behind them. Linda Beacham wrote that the location "could be their first house in Lakeside, (the one that burned when my mom was maybe 10 years old) right across the lane from Aunt Ebba's house. I think that is where our great grandmother lived." | This photo shows Violet Holm and Adela again. The girl is June, Karl and Violet's daughter according to Bonny Lees. |
| This photo shows Adela Olofsson with Anna Carlson. This image has too much contrast and might be a photographic copy of the original. Bonny Lees identified the little girl as "definitely my mom, June Holm". | Gail Carlson MacKay identified the people in this photo with Adela as Eleanor, Anna, Dagmar, and Victor Carlson. |

Linda Beacham shared on Wednesday, August 26, 2020
Hello all, I finally made it to the cemetery here in Kenora. Posting photos of the Monument of Unmarked Graves. Emma Holm, the youngest of the siblings, is buried here in an unmarked grave. I believe she was in her mid to late teens.
1908 saw over 80 people buried here, in a mass grave. In 1907, there were even more. I believe they were epidemics of cholera, possibly typhus. Hard times.
Linda Beacham added on Friday, August 28, 2020
I posted this photo on a local history site yesterday, hoping someone would post an old newspaper story. No one has, yet. But the general consensus is that they were cholera epidemics.
There's another section of the cemetery in which only children were buried...also cholera victims.
| The Unmarked Graves Monument | 1908 death listing with Emma Holm's name in the middle |
| --- | --- |
| | |
| Close-up of Emma Holm's name | Monument's Base Showing the Inscription |
| | |
Albert Holm shared on Tuesday, August 27, 2020

Here are the inscriptions for Maria's first husband, August Olaf Anderson, and infant daughter, Agnes Viola Anderson, on the other side of the monument. I'm guessing the "O. Anderson" is for the husband and "A. Anderson" is for the daughter.
Albert Holm shared on Tuesday, August 27, 2020

While we are doing cemetery photos, here is one of Otto Holm, uncle to Victor, Maria, Anna, Emma, Karl, and Alida, with his wife, Caroline, at her parents' monument in 1948.

Cynthia Sabinske commented on Friday, August 28, 2020

Have been to the little cemetery near Lake Shetek and Valhalla. It is surprising how many headstones are in Swedish. Otto and Caroline were my Great-Grandparents.
Albert Holm shared on Saturday, August 29, 2020

Still doing cemetery photos. Have I shared this one before? It is in Kenora's cemetery with four of the siblings - Victor Holm, Karl Holm, Anna Carlson, and Alida Carlson - standing by a Carlson family monument. Adela Olofsson was buried near there. Victor is dressed up with a tie and Karl is wearing a cap.

Gail MacKay added on Sunday, August 30, 2020

I am quite sure this is the gravestone where our grandfather Eric August Karlsson was buried. I remember, as a little girl, watching our Dad, Victor, clean out debris from the letters with his penknife. He was in tears, and said, "These are my two girls, Dad".

Linda Beacham commented on Sunday, August 30, 2020

The first time I met Pat and Robin from Vancouver was when they came here, several years ago, to have their mother's (Eleanor's) ashes buried in this plot. I'll see if I can find the photos from that day.

I was at the cemetery not too long ago, and our great grandmother Adela is buried here as well. Her stone was flat to the ground, and the grass has grown over it. I can't find it. I want to do something about that!

Anna is buried here as well.

James Baker commented on Sunday, August 30, 2020

I never saw Victor smoking. That's new.

Brad Holway shared on Tuesday, September 1, 2020
In the days before TV or radio, I imagine people spent a lot of time talking and entertaining each other, outdoors if the weather was nice.
This incident occurred during one of those long Swedish summer twilights,.maybe around 1910. There was a full moon in the sky and a number of locals were sitting around talking about The Moon. My grandmother [Alida] stated that men would walk on its surface one day. She was greeted by derisive laughter. Your grandfather [Victor] came to her defense, saying something like "I probably won't live to see it but some of you will".
John Baker added on Tuesday, September 1, 2020
Victor once told me the greatest thing he ever saw was Sputnik. Just imagine if he had lived another ten years.
Albert Holm commented on Wednesday, September 2, 2020
Victor named his last dog Sputnik, after the satellite.
---
Albert Holm shared on Wednesday, September 2, 2020
Remembering the name of the dog that my grandfather, Victor Holm, named after the first artificial satellite, put pets into my mind. Do you have any stories about your Old Timers and pets?
I was told that animals Victor had on his farm were more pets than anything. Greta named one of the pigs "Poopadia". One day a cow managed to get her head and front quarters into the kitchen entrance. The only way they could get her out again was to lead her right through the house and out the front door because she couldn't be turned around inside.
Victor also had dogs. The first that I know of was a large black dog that the family obtained when they lived near Port Wing in Wisconsin. My dad loved that dog and remembered him decades later. The attached photo shows the black dog in front of my grandmother Frida, Aunt Svea, Aunt Greta, and my dad. Svea is hugging another dog, but I don't know anything about that one. Victor got Lucky, a German shepherd, as a pup in 1940. His next dog, Pojke, was a mongrel who came after Lucky died in the 1950s. "Pojke" is Swedish for "boy". Victor's last dog was Sputnik, who was Pojke's son.
John Baker commented on Wednesday, September 2, 2020

I remember Greta referring to Lucky but I also remember King. Maybe I'm too old and I'm thinking about "On you huskies". Just a lot of fog.

Albert Holm answered on Wednesday, September 2, 2020

We had a King.

Cathy Baker Lammers added on Wednesday, September 2, 2020

The black dog's name was the "N" word.
Gail Mackay shared on Thursday, September 3, 2020
Our parents, Vic and Min Carlson, lived on a large acreage as Wendy and I have mentioned in past stories. Mother had two Muscovy ducks (Click and Clack) who would go from the house to the pond every day, and follow Mother home at the end of the day.
In addition to the ducks, Mother had the brilliant idea that they should keep pigs. Dad built a large pen in which the two pigs rooted and dug. They were as friendly as dogs and loved to greet our parents with snorts and wagging tails. Once while I was visiting our parents one of the pigs escaped under the fence. We didn't realize this until the pig pushed against my leg. I just happened to be wearing a white pantsuit at the time!
Eventually, of course, the pigs were to go to slaughter. Dad was very ill at ease about this, and he could never bring himself to enjoy pork after that.

Linda Beacham shared on Saturday, September 5, 2020
My grandpa Carl wasn't really "big" on dogs, though they did have a dog for several years...name was Chip. There was a dog my mom talked about that regularly got a face full of porcupine quills, EVERY summer. They'd have to hold him down, and pull the quills out with a pair of pliers.
He did love cats, though...suited his personality better, I think. Two I remember, Elizabeth and Ole. I think Ole was one of Elizabeth's kittens. Good Swede name there. Lol!
He could never have been a farmer. I remember my mom telling me that when he was a young boy, he would take off and hide on the day the family was going to slaughter pigs in the fall. He also was not a hunter, but he liked to fish for lake trout...deep fishing with a steel line. Tricky.
My son Pete, who loves fishing, has Grandpa's ancient fishing rods.

Bonny Lees shared on Tuesday, September 8, 2020
I've just spent a half hour looking for the picture of Grandpa pulling quills from the snout of my mom's little dog, Blackie - haven't found it yet, but I'll keep looking. This was the same dog that somebody - maybe Bill - told "You can't come to school. You don't have a pencil".
Elizabeth the cat was the mother of our much loved huge fluffball "Cleodius", who started out as Cleopatra. It wasn't 'til Mom took "her" in to be spayed that we learned that all that hair concealed a secret. He was neutered and renamed the same day.
Ole was a kitten that I brought home, after rescuing him and his litter-mates from a canvas sack some jerk tossed into the lake at the Matheson Street dock. Grandpa said I couldn't keep him, so I took him back downtown and sort of "tried" to find him a new home. When I brought him home again, Grandma told me to stay in bed the next morning until she told me I could get up. So I laid in bed, listening as the kitten and Grandpa "got acquainted", and Ole learned Swedish. The rest is history.
---
People's Homes and Other Structures
Albert Holm posted on Tuesday, September 8, 2020
I don't remember where I got this photo.
Anyway, it shows my grandmother Frida with my Aunt Svea standing in front of a nice little house. Standing with them, but in the shadow of a tree, is another woman holding a child. The house has number 507, but there is no street name. It's possible that this photo was taken in Kenora during the summer of 1910. If so, the woman in the shadow could be Maria Samson holding her son Arnold or Anna Carlson holding her daughter Dagmar. The second image shows the woman in the shadow after I've added a little lighting to the image. Can you identify her?
If this isn't in Kenora, then maybe it is in Sweden, but the photo would probably have been taken in summer of 1909. Frida and Svea left Sweden for Canada on May 3, 1910.
Judy Oberg commented on Wednesday, September 9< 2020

It looks like the little house on 6th avenue in Kenora that my dad [Harold Samson] was born in. He always pointed it out when we would go to lakeside

Linda Beacham added

Beautiful day here today! I took a drive over to Lakeside this morning, and the area where 507 6th Avenue was... Two houses, side by side, ... 501 ... and 509... Why the gap in the numbers, I don't know. No 507.

Linda Beacham posted on Friday, September 11, 2020
The lovely old Lutheran Church has now been converted into an upscale gift shop. It was a focal point for the Swedish community, and English classes were offered here for the new immigrants. The interior was lovely, I remember.

My Uncle Bill was married here to his first wife Veronica.

I once was taken up into the choir loft by the church organist, a young woman named Eleanor who was renting my grandparents' upstairs apartment. She practised while I listened, and she gave me a beautiful book of children's hymns with piano score. I loved it.

Our parents attended Sunday School, confirmation classes here...some good stories from there!

I really wish the "city" would designate this as a heritage building.

I hope no one minds if I share this story from my mom here. Feeling very nostalgic this morning, I am. Mom laughed so hard remembering this.

She was about 13-14 at the time...that age when young people are SO easily embarrassed. She went with her little brother Bill to Sunday school one Sunday morning. Bill would have been 4. Grandma and Grandpa had given Bill two nickels...one for the collection plate, the other to buy ice cream after school. Mom was in her class when suddenly there was a huge commotion, and Bill burst into the room, crying at the top of his lungs and red in the face. When Mom asked him what in the world was the matter, he burst out with: "That god damn Reverend Larsen stole my nickel!"

The minister had seen that Bill had two nickels in his hand, and had insisted that Bill put both nickels in the collection plate.

Well. My mother was SO humiliated... she marched home in high dudgeon, well ahead of Bill, refusing to speak to him all the way. He came behind, crying and pleading with her not to be mad.

The worst of it was when she told Grandpa and Grandma what had happened...they laughed! Her humiliation was complete. Oh my.
Sharon Samson added on Sunday, September 13, 2020
Our family was baptized in that church.
Linda Beacham added on Sunday, September 13, 2020
Just thinking some more. Grandpa [Karl Holm] could be pretty "salty" with his language.
I remember mom talking about him "praying" (Grandma said) at his work bench in the basement, when he couldn't find his pencil in the jumble that was always there.
Grandma NEVER swore, except once...at me and Bonny, who were fighting in the cab of the truck one day. We were SO shocked. We both shut up for a long time, I remember.

Linda Beacham shared some photos on Friday, September 11, 2020
[Below is a series of photos that Linda took on September 11 of houses where the Old Timers of our family lived in Kenora. Here are her descriptions.]
This was the new house my grandparents Karl and Violet built after the old frame house burned to the ground when my mom Charlotte was about 12. A devastating loss. Grandpa made sure this one would NOT burn!
Still looks lovely to me. The little house in behind was my house until I was 8, when my parents [Charlotte and Leonard Beacham] built a new house one street away, on Fourth Avenue.
Our wee house. No bathroom, no running water. Saturday night baths at Grandma's. In a big tub! A real treat Bonny will remember well!
This was an even teenier house right next to mine on the lane. Grant Samson lived here with his widowed? mom. He lives elsewhere these days, but I understand he still owns the house and comes home in the summer. Sharon? True?
Sharon Samson replied on September 11, 2020
He lives in Victoria and he used to drive down every spring, but I haven't seen him the last couple of years.
Albert Holm asked on September 12, 2020
Did Grant's father, Arnold, also live there?
Linda Beacham replied on September 13, 2020
He wasn't there when I was a kid. Sharon. I was told he was killed in WW2 or Korea.
Sharon Samson replied on September 14, 2020
Aunt Aina said [Arnold Samson] suffered a badly broken arm and was sent to the hospital in [Winnepeg] where he developed some type of infection that caused his death.
Linda Beacham shared the fourth photo on Friday, September 11, 2020
This house was Aunt Ebba's house. I believe our great grandmother Adela lived here with Ebba when she came over from Sweden. It has been well kept, and had a large addition built on.
Sharon Samson commented
used to love visiting Aunt Ebba. I can still smell her kitchen. We had lots of rules about what not to touch etc. Country mice visiting their city counterparts lol
Bonny Lees added
I remember that ALL of that green space used to be a beautiful huge vegetable garden. Did it maybe have a little picket fence?
Linda Beacham commented on Thursday, March 25, 2021
Struggling with some memories this morning. This is the little house I grew up in in Lakeside (until I was about 8 ) in the dirt lane behind my grandparents' house. It's changed since I last lived there (1959). It's bigger, and the windows and siding are all new. I wonder if somebody has made a sleeping loft there.
I would have liked that when I was little...with big eyes, and very big ears. - feeling missing.
Where the driveway is was where my log cabin playhouse stood [see photo below]. A place of wonder, I tell ya! It was a pioneer cabin in the woods, a wagon heading west across the prairie, even a space ship going to the moon! My grandpa built it for my mom and her sister when they were little, and my mom once tried to fly off the roof of it! Damn near killed herself.
The house was originally a workshop for my grandpa (a carpenter). After I was born, he made it into a house for us. Had electricity, but no indoor plumbing. Had to go to Grandma's for a bath on Saturdays. I don't know how we managed with all the people who lived there with us...me, my mom and dad. My Uncle Donny lived with us, and one winter...2 BIG boy cousins going to school in town. People "made do" in those days in teeny houses. Well. Some still do!
Bonny Lees replied
I'm trying to remember how old I was when my mom and us three kids lived there. We probably moved in right after your family moved to your new house. Didn't the kitchen have hot and cold running water? I don't remember having to carry water from the "big" house or boil it to do dishes or wash hands and faces. I know it didn't have a tub or flush toilet yet, but I think there may have been a bathroom sink when we were there.
Linda Beacham replied
I remember a kitchen sink. There was a window above it. Yeah...having a hard time with that too. Water running to the sink? I don't remember a water bucket either. No bathroom sink. No bathroom.
Bonny Lees posted
The reason I really think there was a bathroom sink is that I remember a baby-sitter (Jimmy Gunn, I think) standing in front of it and squeezing toothpaste into his mouth.
Linda Beacham commented
Me and Jimmy (you might be thinking of Billy? Older) played "You show me yours and I'll show you mine" in the lilac hedge in the front yard once. Omg
The house was SO little. About the same size as my garage now.
My bedroom was right next to the kitchen and there was a large opening in the wall, high up to accommodate the pipe from the oil furnace in the kitchen. When we had company, and I had been sent to bed, I used to perch my butt on the plywood headboard of my bed so I could hear all the conversation in the kitchen and living room. I learned a lot.
Bonny Lees added
I actually thought that it HAD been a garage before. My mom told me that after the house burned down, Grandpa first converted the garage for them to live in, then rebuilt the house.
But... it makes more sense that it was his workshop. I doubt that the original house HAD a basement for his workshop, and I doubt that Grandpa would have had a need for a garage before the fire, because my mom also told me that she learned the house was burning when Grandpa rode by where she was at Aunty Lena's (Grandma Whiteman's) on his bicycle and told her.
Also but... there was another building on the property, remember?
Going up that side, there was the little house, the playhouse, and a large, 2 "room" shed. I remember it as dark and full of all kinds of stuff.
Linda Beacham posted
Yep. I remember that big shed. Dark.
I know they all lived at Aunty Lena's right after the fire, but yeah... Grandpa would have gone right to work!
Maybe it was a garage. Idk. Just teeny, eh?
I don't know that they had a car before Grandpa got his truck. They did have that little [Ford] Prefect car when we were little, but a LOT of people didn't have cars, eh?
Linda Beacham added on Friday, March 26, 2021
My grandma learned to drive on this little beauty.
She was well into her 50s (brave!) and my mom taught her to drive when I was just little. Funny memories. Bill would go along on the lessons, but he would hide so his friends couldn't see him. He would have been 12-13.
It had a very touchy clutch, and grandma often had trouble going into first gear from a stop sign. There was once, they were uptown in Kenora, and the car took 3 MIGHTY LEAPS across the intersection! A guy on the street yelled at them, "Hang on, Lady!" People were laughing. Poor Bill.
Bonny Lees on March 26, 2021
Grandma's Prefect is the reason I have the car I now drive - my little PT Cruiser. The Cruiser reminded me SO much of the Prefect that when my 1983 Olds got a little too tired and this Cruiser became available, about 2007, I jumped on it. Her name is Phoebe

Al Holm shared on Sunday, September 13, 2020
Since we've shared photos of some houses our old timers lived in, here are two photos of the house that my grandfather, Victor Holm, and dad, Carl, built. The first shows the house when it was "newly built" as Victor's notation says, but not quite finished and the second was in June 1944 when the siding and front porch had been added.
Note the windmill on the roof of the "newly built" version. Once when the wind blew hard and the sound of the generator could be heard inside, Victor referred to it as "that S.O.B. screwing in the wind ".
Albert Holm shared this on Tuesday, September 22, 2020

This is the house at Häljebo, the farm in Sweden where Olof Andersson and Fredrik Olofsson had lived. My grandfather Victor, who grew up there, and Jenny visited it, I think in 1956. Next to them is Mrs. Frida Olausson, who owned the farm after Frederik Olofsson, and her son, Verner.
---
Melting Pot But Staying Connected
Linda Beacham posted this in Facebook on September 21, 2020
Just thinking of immigrant populations... I think here in Kenora, the Swedes, Norwegians and Finlanders assimilated very quickly. Of course they were "Nordic" and Protestant. I did hear talk in my own family about "those Finlanders", though. "They're crazy". This made me think of you, because I remember my mom telling me, and laughing, because it was something she heard Uncle Victor say to my grandpa: "Oh, but Carl...those Finlanders...they're crazy!" And both of them laughing so hard. With that accent they both had...I can still "hear" it.
Albert Holm commented on September 23, 2020
My dad, Victor's son, was good friends in his youth with the boys of the Kataja family, good Finns. When I was a teen, my family usually spent our weekends at lakes, streams, and bars with Eino Kataja and his family.
Albert Holm added on September 28, 2020
Looking at the marriages, I don't see that the children of our immigrant ancestors were biased toward other Swedes. Brad's grandmother married a man with Irish roots. My Aunt Svea married a man with Austrian roots. My dad's first marriage was to a woman with roots in Bohemia and Germany. The ancestors of my mother's adoptive parents were French Canadian. My Aunt Greta also married a man whose family was French Canadian.
Linda Beacham commented on September 29, 2020
Yes. My own ancestry certainly would confirm that. People WILL not leave each other alone!
Gail MacKay commented on September 29, 2020
We, in North America, are certainly a melting pot. Our mother, Emilia, was a first generation Canadian from Ukranian parents (one from the Skala area and one from Lviv). Emilia lived in Transcona, a suburb of Winnipeg. Kenora was not far, and Wendy reminded me that Emilia went to Kenora to visit her sister, Janie, and met our Dad, Victor then.
On another note, I am a subscriber to the Smithsonian Magazine online, and there is a very interesting article today regarding Swedish farm women who took their herds into the mountains. They called their cows by a type of "singing". There are even recorded voices in this article.
Brad Holway commented on September 29, 2020
When we had our reunion in Vancouver a few years back [in 2016], I remember remarking on the fact that most of the attendees bore Irish, English or Scottish surnames (Beacham, Holway, MacKay, O'Brien, Tolhurst, et al.).
Let me share a bit of New York City history here. The highest concentrations of Swedes in the early-to-mid 20th Century were found in two adjacent Brooklyn neighborhoods, Bay Ridge and Sunset Park. These areas were both multi-ethnic; the Swedes shared these neighnorhoods with people of Irish, Italian, Norwegian, Finnish, Polish & Greek background. Many people of our generation who grew up there are Italo-Svenska, Irish-Svenska, and other such mixtures.
Linda Beacham added on 29 September 2020
Yes, we third generation people are definitely multi-ethnic.
My grandmother Vi came from Norwegian, Irish and German stock. The Irish were probably English or Scots "plantation" stock, originally.... they were Protestant.
On my dad's side, I'm Anishinaabe (Ojibway) and Cree...as well as Scots and French. My very first European female ancestor was a "Fille Du Roi" who came from France in the 1600s... named Marie Anne Beaumont.
So I tell people I'm royalty.
[Here's a] post I shared for my family 3 years ago. I didn't know how to add it to the thread about our multi-ethnic North American family. My ancestor's name is misspelled Bamont. It should be Beaumont. Marie-Anne Beaumont. She did her duty! Married a man named Morrisseau and had at least 10 children.

Al Holm shared on Monday, October 12, 2020
Brad noted that the original siblings seem to have kept in pretty close touch while they were still alive. Not only did they write letters, but they made actual visits during a time when long-distance travel was not all that common.
Here are visits Brad and I remember or find evidence of.
About 1934 - Alida and her daughter Peggy visited Victor in Michigan
1936 - a grand gathering in Kenora of all the siblings except Alida, plus most of their children and many grandchildren
1940 - Aurora visited Alida, and attended the NY World's Fair. (Not really a sibling visit, but still long distance)
About 1948 - Alida and Victor were in Duluth with Aurora and Jenny. They probably went on to Kenora.
1948 - Victor and Jenny visit his uncle Otto Holm and cousin Gustav Longstrom in Tracy, MN
About 1951 - Carl and his son Bill visit Victor in Iron River
About 1951 - Maria and Anna visit Victor in Iron River
1956 - Victor and Jenny visited Alida in NY on their way to Sweden.
About 1960 - Anna and Maria visited Alida in NY
About 1961 - Alida visited Victor in Iron River
1960 - Carl and family visited Victor in Iron River in summer
1961 - Carl visited Victor after Victor's was amputated in October 1961.
about 1962 - Carl visited Alida in NY
1964 - Anna visited Alida in NY in 1964, and went to the NY World's Fair
about 1971 - Alida visited Iron River and Kenora
Do you know of other visits? Can you add details about any of the above?

I think the descendants of Otto Holm have held periodic gatherings in Minnesota. How long has this been going on? Have the descendants of Alfred Holm and Andrew Holm also participated?

Linda Beacham commented on Monday, October 12

I was along on that 1961 trip from Kenora with my Grandpa Carl and Grandma Vi. Had a wonderful time, and met Cathy, Terri and "the boys", who played a great trick on us girls...the great bear scare, which I've written about elsewhere. My parents Charlotte and Len also visited along with my grandparents a few years later... not sure when.

I have a question about a story I was told. Uncle Victor and Aunt Jenny started up a correspondence after his first wife died. I'm thinking Jenny may have been widowed herself (?). The story goes that Uncle Victor travelled to Sweden, that they married there, and went bicycling through Sweden on their honeymoon! True?

Al Holm answered on Monday, October 12

I'm not sure about all that. Victor travelled back to Sweden in 1947, after he retired and after WW II. He married Jenny, an old acquaintance, in October. Then he returned to Michigan when his visa was up. Jenny followed in June or July of 1948 after she had settled her affairs. Maybe I'd heard about them bicycling, but the memories are faded. It sounds like a lovely story though. I don't recall ever seeing them on bicycles in Michigan.

Judy Oberg added on Monday, October 12, 2020

Oscar and I along with our two children visited Uncle Victor and Jenny in 1966. He was so pleased to meet his Maria's granddaughter.

Michael Holm responded in e-mail on Monday, October 12, 2020

The Descendants of Otto Holm have been gathering periodically for many decades but I don't know the details. My father, Bernard, is 92 and was one of the original 16 cousins that started the reunions. There are 3 left I believe. I talk to him every Saturday and will get some more details next Saturday. Mark Schwanbeck also was also involved in planning the reunions more recently and I've been working on them lately.

I would appreciate everyone's input about rescheduling the international reunion that we had to cancel last summer.
---
Bonnie Lees posted on Facebook on Saturday, October 17, 2020
Grandpa [Carl Holm] told me, when I was really little, that "Everything you need to know to get along in life, you can learn at the dinner table". I was pretty excited by that, 'cause I was good at "dinner table". When Grandma & Grandpa talked, I paid really close attention to see what I could learn. It was confusing. A lot of what I thought I was learning was what they had done that day, and what they wanted to do tomorrow. I also learned that they spoke a "secret language" (Swedish/Norwegian) when they didn't want me to know what they were talking about.
It took what seemed like forever, of staying really quiet and paying attention, of keeping my elbows off the table, of sitting still and up straight, of sometimes eating things I didn't really like so that I'd be able to have dessert...to figure it out.
First, I learned that there is a time and a place for everything.
And second? That Grandpa had really good methods to get me to shut up.
Bonny Lees clarified her circumstances on October 18
I was very sick with rheumatic fever as a child, requiring 'round the clock care, extensive medical care, trips to specialists in Winnipeg, not able to go to school for extended periods...
When my parents split up, my mom and us kids lost my dad's medical coverage, and my mom's wouldn't cover me because I had a "pre-existing condition"... but my grandfather's would - if I lived with them.
So, at about age 5 or 6, my grandparents became my legal guardians. I lived with them 24/7 for about 3 years, then on and off again when I had recurrent bouts with the fever and its long-term effects, and again as a teen when my mom and brothers moved out west and I stayed in Kenora to finish high school.
In many very real senses of the words, my wonderful grandparents saved my life.
Albert Holm commented on October 18, 2020
That's interesting. My dad [Carl Gustav Holm] and brother [Carl David Holm] both had rheumatic fever. My brother was hospitalized for six weeks when he was four years old.
Bonny Lees replied on October 18, 2020
There was a lot of it around in the 50s, for sure. Doctors at the time figured that I had it, or flare ups of it, 3 times before it was diagnosed. They traced it to strep throat that I got when my brothers had chicken pox.
Did your dad or brother wind up with heart damage from it?
Albert Holm answered
After many years, they both died of a heart attack. Dad was 62 and Carl was 71.

Linda Beacham shared on Friday, November 20, 2020
The things we did as kids...were not always "wholesome".
My uncle Bill and his friend "Dickie" were playing cowboys on the shed roof one day. Dickie "pistol whipped" Bill on the back of his head with a toy gun. They were metal in those days...heavy. Bill came in the house bleeding like crazy, and my grandma [Violet] almost fainted. Bill told her he had pushed Dickie off the roof in retribution. Both boys survived; were friends for many more years. Farster Anna dealt with Bill's head...very calmly. My mom's story. They all rushed outside, expecting to find Dickie dead on the ground, but he had gone home.
Albert Holm commented on Saturday, November 21, 2020
I recall a fall evening with the adults sitting around the firepit at home when the kids - me, my siblings and cousins - decided to play cops and robbers with our BB guns. We had jackets on so if you were hit on the torso it stung but didn't really hurt. Oh, boy, when my mother saw what we were up to, that game ended very suddenly.
Linda Beacham added on Saturday, November 21, 2020
Yeah. "Serious" wars were fought.
I remember us firing those things we called prickly cucumbers at each other. Spiny, and they hurt! Also snow forts and vicious snowball fights. We really had our own little world. Adults were busy...no "helicoptering". Nobody drove you anywhere! If the family HAD a car. Many didn't. Some little girls, especially, were kept close to home, always. We felt sorry for them.
Bonny Lees posted on Saturday, November 21, 2020
We did have great fun, didn't we? Shooting each other with sharpened sticks shot from bows our parents made for us... playing "stretch" in the yard with paring knives or folding buck knives... Good, clean, wholesome fun
Linda Beacham added more on Saturday, November 21, 2020
I'll always laugh, remembering this story from my mom [Charlotte Holm]. She asked Grandma [Violet Holm] once if she had ever worried, to look out in front of the camp to see a canoe floating upside down, with no kids in sight. Grandma (with her round blue eyes wide) said, "Well...youse could all swim!" No. She wasn't worried.
NONE of the adults were...with us, either!
Bonny Lees commented on Thursday, November 26, 2020
It was because of all those overturned canoes, and the fact that I just would not stay off the boat dock that Grandpa [Carl Holm] taught me how to swim. You, and just about everybody else just did it, but it was somehow really hard for me to get the hang of it.
For days and days, I did a lot of sinking... and sucked a lot of water into my lungs. His patience with my failures was immeasurable, but I was very discouraged, especially after Grandma told me that she couldn't swim well because she was a "sinker".
Remember when she demonstrated that at the big rock?
Anyway, I woke up one morning after a wonderful dream that I could swim. I could hardly stand to wait that half hour after eating before getting in the water. Grandpa, in his one piece bibbed bathing suit, held me across his arms again... and I paddled and kicked like mad... and swam off his arms!
I was a "fish" after that, especially loving swimming underwater, and learning how to "duck-dive" from you and Kathleen.
Ralph Holmberg commented on Friday, December 11, 2020
We lived in the country when I was a small child. I remember us 4 boys playing in a field. Viktor had a bow and would shoot an arrow straight up in the air. We would just stand around waiting to see where the arrow would land. Somehow we are all senior citizens.
---
Albert Holm shared this on Monday, December 14, 2020
For many decades my dad, Carl Holm, worked five and a half days/week for Proksch Lumber Company in Iron River. Evenings and weekends he would sometimes help neighbors with their remodeling and building projects. Sometimes, I think, he might have been paid for his work, sometimes not. I remember one summer when he helped the Kataja family put a basement under their house. They jacked up the house, dug out under it, built the basement, and lowered the house onto it. We kids had great fun on the mounds of dirt scooped from under the house.
Anyway, in May 1972 he finally quit Proksch and went to work for Brandon Hill Supply, which was located west of town on US2. In October of 1972, with two partners - they provided the money and he provided the expertise - he bought Brandon Hill. Starting up the new business gave him a chance to try to do things the way he felt was best. They built up the inventory to include lumber and renamed it the Hi-Way Lumber. He and his partners had started with little capital so they always had a hard time keeping a sufficient inventory. Therefore, Hi-Way Lumber remained a stressful situation. That the county population was falling after the iron mines stopped operation probably did not help. Then in July 1974 he had a heart attack which took him out of the business and another which killed him in March 1975. The business did not survive too much longer.

Gail Mackay replied on December 14, 2020
Wendy's and my Dad, Victor, was a skilled stonemason, quarrying granite boulders from the Capilano and Squamish Rivers, and building stone walls, flower boxes, and fireplaces for the newly constructed homes in a very newly opened upscale area called British Properties in West Vancouver. He had lots of work and was in demand, but had to give up the business because homeowners would not pay their bills. Dad called the British Properties "mortgage hill". In those days, one could not put a lien on a property.

Ralph Holmberg also shared on December 14, 2020
My grandfather was a stone mason. He worked with granite, making headstones. Here is one of his letterheads from his business. He used this one to keep a record of a rowing trip he took.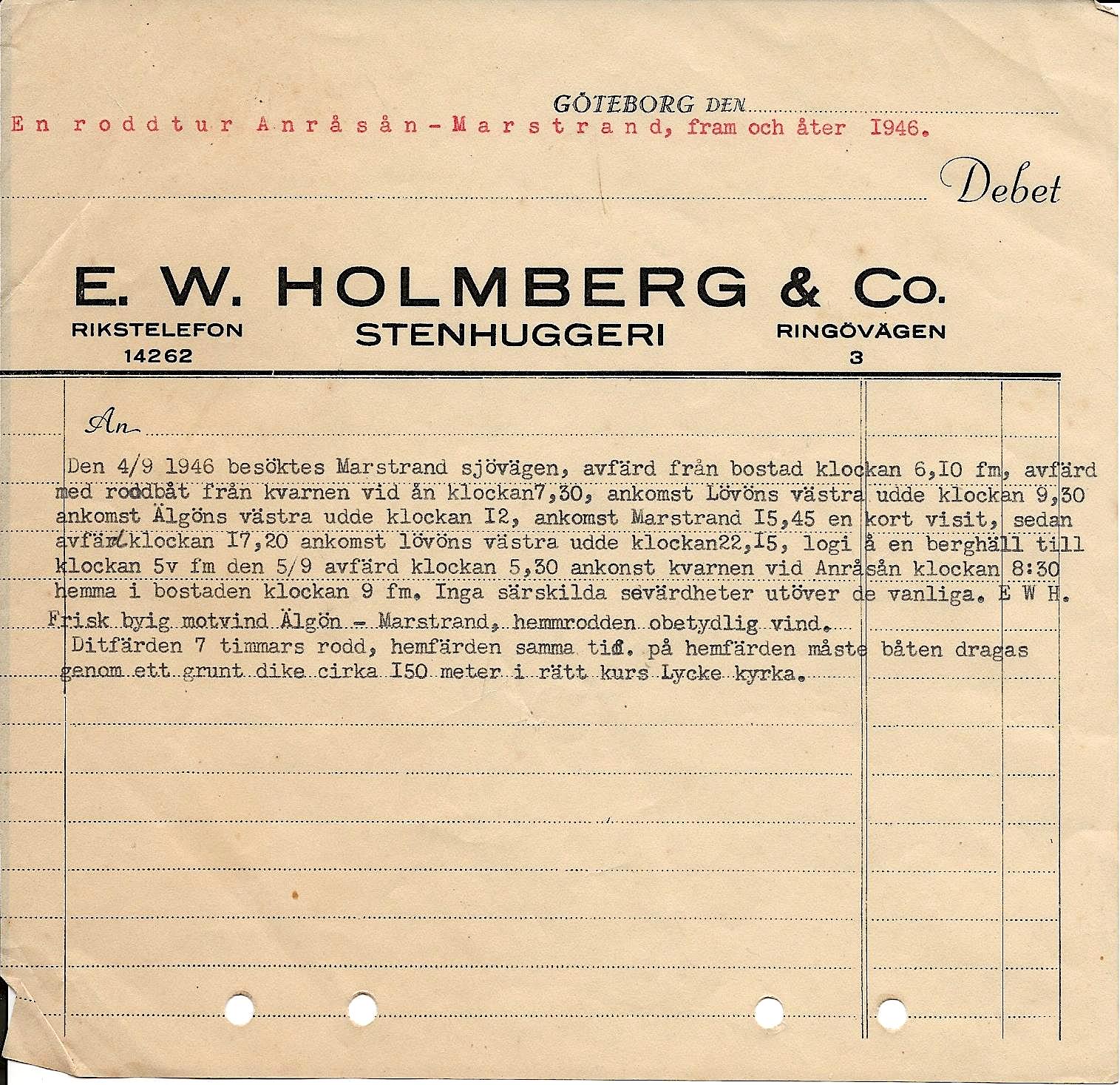 ---
Brad Holway emailed on Mon, 4/13/2020
REMEMBERING THE LATE ERROL CARLSON
Throughout my childhood and teenage years, I would see Errol Carlson every four years. He would stay at my parents' home while attending a worldwide congress of Jehovah's Witnesses at their headquarters in Brooklyn. Errol lived most of his adult life in Sweden, just outside Stockholm. He was evidently a major figure in the Swedish JW organization (I'm sure one of the Vancouver cousins can elaborate on this in greater detail).
I remember Errol as being tall, rather handsome in a distinguished-looking sort of way, with a striking full head of white hair. Errol was, in fact, a dead-ringer for an old-time character actor named Wesley Addy. The late Mr Addy's name is largely forgotten, but those of you who google him will instantly recognize his face and will see this almost uncanny resemblance.
Errol was a pleasant individual with a good sense of humor, so I always looked forward to his visits and was rather fond of him. He really had a knack for dealing with kids, so I felt sorry that he never had progeny of his own. It was through Errol that I became acquainted with the Swedish word "moster" (mother's sister); that is what he called my grandmother.
During his 1964 visit, he gave me a tour of the JW world headquarters, the Watchtower Building in Brooklyn, located in the very shadow of the Manhattan Bridge. My most vivid memory of the tour was their printing plant, where they printed their newsletters, magazines and pamphlets in about a hundred languages.
During these events, people in New York would rent out rooms to the attendees in order to make some extra money (they probably still do!). In 1968, my next-door neighbor rented out a room to a pair of young attendees from Zambia. Early each morning, Errol would rendezvous with the two young Zambians in the alley between the houses and they would troop off to the Watchtower Building together. They called him "Brother Carlson".
The last time I saw Errol was several years later in Stockholm. I have good memories of him and would enjoy reading any reminiscences anyone else may offer.

Albert Holm e-mailed on Friday, January 22, 2021
Among Aunt Aurora's things, I found the clipping of a letter Grandpa Victor wrote. The letter was published in a small Swedish newspaper after Victor had spent months visiting his homeland in 1947. In the letter he quotes from a letter written by someone using the name Bulla-Ren, he expresses nostalgia for the Sweden of his youth, and he tells why he chose not to return permanently to Sweden. The Bohusläningen newspaper that published the letter is still in business. The following translation is by me (and Google Translate).
Here's the letter.
After a six-month stay in my ancestral village Bullaren and surroundings and my birthplace Helgebo, I would like to mention here some of the impressions I have received after my visit after many years of absence in a foreign country. A writer (signature Bulla-Ren and probably a Swedish-American) had an article in Bohusläningen in the summer of 1947 about Lake Bullaren. There is no more mysterious or beautiful lake in the world than that, but it seems that the people who live around it do not notice it. As Bulla-Ren put it: "Where are all the young skaters with their happy faces and open eyes? Boats full of happy youth? Where is the music, the song and the happy laughter? It looks as if it was not the same Swedish race and mood. Maybe these are the difficult and anxious times?"

When traveling either on the new or old country road on the west side of Lake Bullaren you can not fail to notice the many and large changes that have taken place in the last forty years. Where it used to be a heather meadow, it is now a large forest and to travel through it slowly on a bicycle or on foot is as if in a dream you were driving through a fairytale land. New houses and homes have grown up, but from time to time you get to see the opposite. Many of the old crofts and back cottages with their inhabitants are gone. Only a small pile of stones after the chimney remains of the house. And the inhabitants? Well, most people probably rest in Mo cemetery under the green peat. They had neglected time and were not allowed to see or talk to them. At the thought of it, it feels like the heart wanted to tighten. Likewise when I saw the marks of the blacksmith Törnkvist's house and Vöderhagen, where the youth (myself included) used to gather to dance to music on Jew's harp (played by Augusta Långström) for lack of another instrument. Then there was life in the hatch! Peasant daughters and maids red-cheeked and with clear and healthy glances were mixed about each other and danced with and the area's male youth night long and then went home on dewy paths.

If this becomes visible in "Vikingarnes" newspaper Bohusläningen, it would be please me in my attempt to air my emotions. - To those who are acquaintances and perhaps old drill comrades from the glorious [Army Regiment] I 17 I would like to send a heartfelt greeting for shown hospitality and friendly treatment in every way. I would not mind being with you and in my old homeland for the rest of my life, but because my home is now located here and I have my children and most relatives here as well I have to return here. But it felt depressing when I no longer saw the old ones' familiar faces and when Bohus rocks and islets no longer were in sight. A living for old Sweden and its people!

Route 1 Box 132 Iron River Mich. USA Victor Holm
Cynthia Sabinske commented
Very nostalgic. Time passes, he realizes. Nice memories of days gone by for him. Makes me sad for him.
Bonny Lees added
Grandpa [Carl Holm] wrote many, many letters/editorials that were published in the Miner & News. The newspaper approached Grandma [Violet] at one time, seeking her approval to publish them in a book(let). I don't know if anything ever developed from that. Miner & News should still have those submissions archived.
Additionally, when they were living at Birchwood, Grandpa did a television interview for a CBC program (or segment). I specifically remember one of the stories he told was about Kenora's first car and its owner. He talked about how, because the first cars didn't have fuel pumps, the guy had to go up hills in reverse. Grandma used to have a great stack of Grandpa's letters and writings... maybe she donated them to the museum?
Linda Beacham replied
Possibly. I have some of his writings, but they are very work focused...mining, etc. Nothing really personal about his early life, thoughts that I've seen.
I hesitate to say I will look. I've neglected to do a couple of things I've said I would do. No photo of the model ship he made. It's not in great shape...needs new sails...I may do a photo of it as is. His writings are in storage, and will be impossible for me to get at until Paula comes home (from Toronto now) post-pandemic, and clears her stuff out of the way. Complicated.
Terri Holm commented
Very nice. Grandpa was nostalgic for his youth and his homeland. I think we can all relate to the "what happened to the simpler times".
Albert Holm
The Augusta Långström he mentions as providing the music might have been a cousin, born on Feb 22, 1867, in Häljebo, Mo, to Anna Olofsdotter and Ivar Långström. She died on Aug 7, 1935, in Tveten, Mo.
Monica's family at the Långström grave
Cynthia Sabinske commented

We would have seen her grave, and Harry Långström's also, we took this photo with Monica's family...

Gail Paton Holm commented

Grandpa Victor paints a fascinating picture of good times in the "olden days". I can imagine young Victor dancing to the jew's harp with a red-cheeked maiden.

Linda Beacham commented

It's so interesting to me. Something I've noticed before. A real difference between Uncle Victor and my Grandpa Carl in how they saw their lives growing up. Victor's memories seem to be very positive. My grandpa's (via my mom Charlotte) were not "rosy" at all. Victor was the eldest child, yes? My grandpa was one of the younger ones. I don't know what the age difference was. And Grandpa left very young (17, I think). I suspect it may have been to avoid military service. He would have hated it. His stories were about hardship.
---
Prepared by: Albert Holm
Date: 21 May 2020; Updated: 7 August 2021