Rivulets of the Past
A GREEN-HERRICK-OSTRUM FAMILY STORY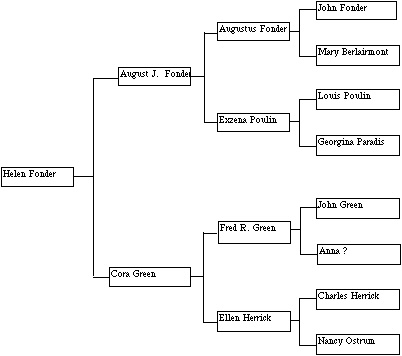 Table of Contents
PREFACE ....................................... 1
John Green and His Family ...................... 2
Frederick R. Green and His First Two Families .. 5
The Herricks ................................... 9
Fred R. Green and Ellen Herrick ................ 15
Cora Green ..................................... 19
The Fonder and Poulin Families ................. 20
Cora and August ................................ 24
The Naults ..................................... 26
Helen Fonder ................................... 28
Post Script .................................... 31
SOURCES ........................................ 32
PREFACE



This is what I know about the stories of the families who were ancestors to you and me. My grandmother was Cora GREEN and her mother was a HERRICK. My grandfather was a FONDER, and his mother was a FOLEY or POULAIN.

I chose the title because the present is like a river that is formed from many small streams in the headwaters, but also because the water within the brooks and rivulets and rills is always moving. During much of the 19th century covered by this story, members of the GREEN family traveled from New York, to Illinois, to California, throughout Wisconsin, to California, and elsewhere. The HERRICKs also moved from Maine to various places in Wisconsin. The FONDERs and FOLEYs immigrated to the United States. Together these families participated in many of the major events of 19th century American history - the migration west, the gold rush, the Civil War - but they do not appear to have prospered much from it. There are several instances of disrupted families when the husband or wife either died or left the family. All in all, these families do not fit the traditional myth that in the old days families lived for generation after generation in the same location with each generation living as the preceeding one had.

In this story there are still many gaps and mysteries. What happened to John GREEN in California? What happened to Annie, Fred GREEN's little daughter? Why did Charlotte Chapins Green PARKER try so hard to hide? Why did Cora GREEN and August FONDER split? Whatever happened to Cora?

Although my studies have given an outline of the births and deaths, marriages and moves of many family members during the 19th century, I don't know much about many aspects of their life. Were they religious? What skills did they have? Did they have green thumbs? Were they good cooks? Were they handy at building things? What did they do with their leisure time, if they had any? Were they musical? Did they play games? Did they tell stories? What did they think about their own lives?

Albert Holm
1994 Dec 27

Added internal links and corrected one typo, 2014 July 8
Added minor changes and excerpts from letters from John Green and Fred Green, 2020 Oct 18
---
John Green and His Family
John GREEN is the first member of the Green family that I have found. He was born in New York state in about 1800, possibly in Dutchess County which is on the east bank of the Hudson River about 60 miles north of New York City. His wife, Anna, was born in New York state in about 1813 and was of German descent. Her family name might have been HECHLER or HETYBE. Their children were Emilena (born in November 1829), DeWitt or DeWit (born about 1835), Frederick (born about April 1839), and Elizabeth (born about 1841). Fred is our ancestor.
In September 1839, John bought a quarter of section 32 in Seneca Township, McHenry County, Illinois, for $200. The GREEN family was one of the pioneer settlers in this township. John was a farmer but he was also active in buying and selling land. Beginning in 1847 and continuing through 1849 he sold all of his original homestead plus some land in Riley Township just south of the Village of Marengo (for a total of $1575) and apparently bought another farm on the Kishwaukee River. This farm seemed to be relatively prosperous. The 1850 tax records showed it had 11 horses or mules, 76 cattle, 9 hogs or sheep, and 10 wagons and carriages, and according to the 1850 census the farm was worth $2000.
In January 1948, gold was discovered in the Sacramento Valley of California. When news of this reached the east, excited gold seekers began to swarm west. Over 80,000 reached California in 1849. In either 1849 or 1850 John GREEN became at " 49er" and joined the trek across the Great Plains and the Rockies. He was then about 50 years old. The 1850 census shows him near Ringold in El Dorado County, California, in November, working as a gold miner, but producing only $0.50 worth per day. Anna and the family were left with the farm in Illinois. In 1858 his address was given as Calavernas County, California. He did not hit it rich, but was happy with the new country. and tried to get his family to join him in California. A copy of a letter he wrote to Anna from Don Pedros Bar, California, in September 1859 still exists. In the letter he wrote
Dear Wife

I received Dewitts letter bering date of May 21st a few days ago and I have bin waiting in hopes that I would get an answer to three letters that I have written since Mrs Woodforce wrote before I answered his. I have bin looking very anxiously for you all out here every steamer that came in until I received Dewitts letter. I wrote to you in my last letter if you had not started not to start until the last of October as I thought that would be the pleasantest time to make the trip as general thing it is much more healthy than the summer months. September is generally very stormy and unpleasant on this side. If you have not received my letters I suppose you think that I am at the northern mines. I wrote shortly after Mrs Woodforce wrote stating that I had given up going north and to direct my letters to Don Pedros Bar where I shall remain until I hear from you again.

...

Had I concluded to have come home to have come out with you my means would not have permitted. I think if you would come out here and stay one year you would never want to go back to the states to live Now don't delay any longer then you can help in starting for I should dearly love to see you all I think we can make a home in California where it will be pleasant and we will all be happy besides laying up something

It was four months from the time that Dewits letter was written until I received it and having no received any of a later date I hardly know what to write not knowing whether you have started or what arrangements you have made.

Hoping to see you all soon
I remain your affectionate
husband John Green

Click here to see the complete letter.
John's family never followed him to California.
By the late 1850s three of the children had left home. Emiline had married in 1853. Fred married in 1857. DeWitt returned to New York for an education.
With her children leaving and her husband in the west, Anna began to sell off the farm, 80 acres to Talonis WILLIAMS for $1000 in June 1858 and about 250 acres to Moses GREEN for $8300 in January 1859. Puzzlingly, the land sold to Moses GREEN appears to include the acreage earlier sold to WILLIAMS. Then in June 1860 Anna re-purchased the 80 acres that WILLIAMS bought. She appears to have gone east, at least for DeWitt's wedding but sometime after 1862 returned to Illinois.
There was a family tradition that John was murdered while trying to return to the east. Anyway, sometime after December 1861 Anna gave up on John's return from California and she married a New Yorker, William GERE. They then returned to McHenry County, Illinois. In early March 1869 Anna became seriously ill and was attended at least twice daily by a doctor until she died on May 21, 1869. She left her children an estate consisting of 171 acres of land in Seneca Township, a cloak, a dress and apron, a skirt, and a set of false teeth.
What became of the children? With the exception of Fred, they all appeared to have had stable and prosperous lives. In March 1853, Emiline GREEN married Warren KIMBALL in a ceremony presided over by a minister, M. L. AVERILL. By 1860 they had moved to Juneau County, Wisconsin, where Warren had a farm worth about $500. At that time, they had two children, Anna (born about 1854) and Joseph (born in early 1860), both born in Wisconsin. Later children included David (born about 1866) and Enos (born about 1869). Warren died in February 1904, but Emaline remained on the farm near Union Center and ran a cheese factory. She died in January 1921, two months after her 91st birthday.
Dewitt GREEN went back to New York to attend the Hudson River Institute and in 1858 to study in the office of a Doctor Hoyt in Syracuse. He started his own medical practice in Wayne County, New York, where in 1860 he married a woman named Etta Van de BOGART (also called Ervyette). He then served in the Civil War, serving briefly at the Fairfax Hospital in Alexandria, Virginia, and later at Bellevue Hospital in New York. After he was discharged he set up practice in Mauston in Juneau County, Wisconsin. He and his wife never had a family of their own, but they helped raise Fred's two boys. In 1871 he moved back to Woodstock, Illinois, and established an office there in the back of a drug store. While practicing medicine he got a diploma from the Jefferson Medical College in Philidelphia. He served as an alderman in 1876-8 and a member of the board of education in 1876-80. In 1891 he retired to Florence, Alabama. In February 1900 he suffered a fatal fall after climbing to the roof to clean leaves from his gutters. His obituary states that he "was a very intelligent gentle man, pleasant and affable in manner, and won many friends among our people".
In Illinois in July 1867, John and Anna's daughter Elizabeth married John KENNEDY, a Civil war veteran and a shoemaker. They were members of the Baptist church. They had five children. She died in Marengo, Illinois, on September 28, 1899.

Frederick R. Green and His First Two Families
Frederick R. GREEN might have been born in New York state but more likely in Illinois. In either case, when he was young his family moved to Illinois, where he attended school.
On May 10, 1857, he married Charlotte CHAPINS in a ceremony performed by Aldin Jewitt, a Justice of the Peace. The CHAPINS family also was from New York, probably near Gilbert Mills or Pernnellville in Oswego County. Fred and Charlotte set up housekeeping in Gardere Boire, Illinois, but by the summer of 1860 they had moved back to New York to live with his brother and mother near Charlotte's parents, Eliphus and Fannie CHAPINS. There Fred found work as a carpenter or a cooper.
Fred and Charlotte had three children: John C. born August 1858, Anna born September 1860, and Frederick D. born July 1862.
By the time Fred Junior was born, the Civil War had begun. In the east the war had gone poorly for the Union with major defeats at Bull Run in July 1861, in the Peninsular Campaign in southern Virginia in June and July of 1862, and at Manassas in late August 1862. In the west the Union cause fared better with Farragut's capture of New Orleans and Grant's victory at Shiloh, both in April 1862.
In 1861 DeWitt GREEN had been called into the army. A year later, on August 30, 1862, while the second Union defeat at Bull Run (or Manassas) was in progress, Fred GREEN enlisted in the New York Volunteers at the city of Sodus near Lake Ontario for a three year tour of duty, possibly with one of Charlotte's brothers, Tom or Theodore CHAPINS. The unit Fred joined was Company D of the 160th Regiment, which was commanded by Captain John B. BURRUD. He was mustered in on November 21, 1862.
Fred's regiment left New York on December 4, 1862, for New Orleans, in the enclave created by the Union forces in Louisiana along the Mississippi. Their first duty was an expedition to Bayou Teche, from January 12 to 15. In February they conducted operations on Bayou Plaquemine. In March they were stationed at Brashear City, Bayou Boeuf, and Patersonville. Starting on April 9, they supported operations in Western Louisiana, and as part of this on April 12 and 13 they participated in the battle for Fort Bisland, near Centreville.
Copies of four letters Fred wrote to his mother during the war still exist. Here are some excerpts.
Feb. 7th, 1862

Dear mother
...
Mother you express a wish that this wicked rebellion might be stopped You are not the only one who wishes the same thing There are thousands of soldiers who are enduring hardships & privations innumerable who wish that the war would cease & they be again permitted to return to their families.
...
Our reg. has been in one battle where canon roared loudly, & the sharp & continuous rattle of musketry was heard & the whistling & screeching of solid shot & bombshells fell discordantly on the ear. Our regiment was in great danger. But we escaped being hurt except for a few slightly wounded. The bombshells tore up the ground only a few rods from us & if we had been on a little different ground we should many of us been cut to pieces but by laying flat on the ground we let the dangerous missiles pass over our heads. The battle lasted all day & we slept in a rain storm at night. This battle was between a body of rebels & a large ironclad gunboat which they had made up the Bayou Tesche a force of about 3000 of our men went up there to either taake or destroy this monster gun boat. The rebel land forces did not dare show their heads by skedaddled except about 60 of them which our boys took prisoner. They burned their Gunboat the next morning after the battle to keep it from falling into our hands. So our boys retaliated by burning all the houses & other buildings that come in their way. The old boat was destroyed & we left that place amid the flame & smoke of burning buildings. We also took all the horses & mules cattle sheep hogs & poultry that we could find our army drove an immense drove of cattle ahead of them which were used by the army.
...

October 17th, 1863

Dear and afectionate mother it is with the greatest of pleasure that i received your kind and ever welcome leter of the 15 of september it found me in the best of health and I hope these few lines will find you enjoying the same great blesing it is very sorowfull news to me to hear of the death of that Dear child anna how lonesome it must be for dear sister emeline
...
we ar having fun with the rebs every day or two day before yesterday we fot them all day it cost us the life of 6 herous for sutch we may call this army for they dont know how to show their backs to the enemies and i think we have seen as bloody a times as eny army
...
I still shall be very hapy when this cursed rebelion is put down so that we can get home to our dear wife and children The coper heads ar trying to kick up a stink in some parts of the north what they do they had beter do before the soldiers get home nesesity will compel them to dry up then i would not think eny more of killing a coper hed man than i would a coper head snake i cannnot express my hatred twards the coper heads we ar on our way for texas we drive the rebs before us as fast as we go
...

New Iberie Oct 23th 1863

Dear and afectionate mother i thot i would rite a few lines to you to night i rote to my wife last night and i thot i would rite to you to night my health is not of the best at present but i sincerely hope these few lines will find you in the best of health I am now cooking for the oficers and i live tolerable well we have ben in camp about a month and we have got some lumber and bilt a hous 12 by 26 it is quite comfortable we tore of a roof from a sugar hous it was all redy shirveyled and come good the soldiers are distructive felows i tell you they tare down houses of all discriptions even nice dwelling houses to get lumber to fix up their tents with the rebs corn chickens and hogs have to sufer whare ever we go sometimes blankets especialy in a cold night i tell you Dear mother a soldiers life is a cold one it has ben so cold here as to freeze the water one inch thick we have had several frosts as hevy as any i ever saw in the north
...
some seys no bissness to be a soldier then but i dont think so i think i have buissness to be a soldier i come here to shoot rebs and two ar in the graves that was killed by my hand and i dont know as their was any more or not i have shot a great many times at them

Franklin La Jan 17th 1864

Dear and afectionate mother I received your kind an ever wellcome leter of Dec 20 it found me well and in tolerable good spirits and i sincerely hope these few lines will find you enjoying the same great blessing
we have been here about a week and have just got settled i have built a little hous to cook in i am cooking for the oficers i have been cooking over two months
...
i feel some what incouraged i dont see how the rebs can hold out another year i hope not i have paid my quarter to see the show i want to see it out before i go and dear mother i think i shall i hope i shall at least i have seen hardships enough and lonesom hours enough while i was a prisner but thank god i am not a prisner now and i am redy for a fite any time the rebs see fit i have ben in 3 hard batles and it was nothing but fun after we got into it the first lasted 1 day the 2 1 1/2 and the 3 about 1/2 and the last was the hardest of all their was 2 men shot by my side and fell over on against me another mans hed shot of and his hed fell at my feet ill tell you dear mother that made me feel bad to see that the balls fell like hale stone around me
...
it has been over a month since i have got a leter from my wife and i have rote over a dousin to her O how i would like to see you all and all of my old neighbors again
...
we marched 30 miles in 2 days in mud over our shoos it as ben the mudiest time i ever saw in my life for 2 weeks and it is raning quite hard to night i tell you dear mother a soldiers life is a romantict one i now i was a roaming out the other day and to my mistake i found about 30 rebs laying flat up on the ground as good luck would have it they did not espy so droped my self up on the ground and crept back full as sly
dear mother from your son F R Green
To see the complete letters, click here.
Describing his war experiences when applying for a pension in 1875, Fred wrote "In the month of April 12, 1863, near Camp Risling, La., while deployed as a skirmisher advancing on the enemy I was climbing a fence when the main line (of the Confederates) came up and threw the fence down and me with it, rupturing me badly....I was treated by the Regimental Surgeon." He called this the battle of Camp Bellans. In his company muster records he is listed as being "sick at New Orleans" for the two months following that event. Then, on June 23, 1863, there is a note that he was captured at Brashear City, La. and a later note that he was paroled from June 24 to 29. From July through the following February he was once again present in his company. The February 1864 records give the notation "cook". From March 1864 to June he is listed as being on duty in New Orleans with the April and May entries giving the additional information that he was on detached service in charge of baggage. In the middle of June he was transferred to the Veterans Reserve Corps at New Orleans. Finally he was discharged with a certificate of disability on December 31, 1864, at Washington, D.C. He was then a sergeant in Captain Walter FOREHAND's Company G of the 9th Regiment of the United States Veterans Reserve Corps. At that time he was described as being 23 years old and 5 feet 9 1/2 inches high, and as having dark complexion, dark eyes, and dark hair.
While Fred was in the service his family fell apart. In the opinion of his wife Charlotte, "he was too mean for any woman to live with I think. He went out as a soldier and was a deadbeat if ever there was one." Apparently Fred returned from the army and moved the family to a farm in Wisconsin. Whether this was after his discharge from the army or during leave I don't know. In any event, according to Charlotte again, "A few weeks later he went away. I waited several days for his return and I left the county." She took her daughter Annie and $2000, but left the boys, John and Fred. It is not clear when this occurred. Fred Junior stated that she left when he was three or four years old, which would place it in the range from 1865 to 1867. Charlotte herself said she married again, possibly to the man she ran away with, when she was 23 or 24 which would mean that she must have left no later than 1864. Fred GREEN later said he believed her to have died on December 23, 1868, possibly in a railroad accident. Later we shall learn otherwise.
In November 1868 Fred remarried. His new wife was Harriet E. HARRINGTON, a widow who was about 30 years old.
Harriet's parents were Frances and Almira McKAY, who had lived in Milwaukee in 1850. The 1850 census said Harriet had been born in Maine. Before marrying Fred, she had been married to Thomas B. HARRINGTON. In 1860 Thomas and Harriet had three children living with them: a 2 year old daughter named Ellen, a 6 year old girl named Julia BALLARD, and a 4 year old girl named Angeline BALLARD. The older two girls, Julia and Angeline, continued to live with Harriet after she married Fred. Were they her children by an earlier marriage or her orphaned nieces?
At first Fred and Harriet lived at Lindina in Juneau County, Wisconsin, near where Emiline and Warren KIMBALL lived and where Fred's older brother DeWitt GREEN had moved after leaving the army. After 1870 they moved to Waupun. With Harriet, Fred had four more children: Eveline in Aug 1873, Grace in Nov 1875, Bert in Nov 1877, and Mabel in April 1879.
Although DeWitt and the KIMBALLs helped care for Fred's children after Charlotte left, Fred found it difficult to make a living. In April 1875 he applied for a disability pension and was granted a pension of $4 a month. By then they were living in the Dodge County portion of Waupun. In May 1879, he received a sum of $466.67 to compensate him for the time between his discharge and the start of his pension.
In June 1879, Fred and Harriet bought two lots in Waupun, Fond du Lac County, Wisconsin, possibly thanks to their new prosperity from the pension. For one they paid $300 and took on a $310 mortgage. The other one only cost $100 and may have been vacant. In 1880, the four children he and Harriet had and Fred Junior were living with them. The family also had a border and a servant. Fred Senior gave his occupation as a brayman and Fred Junior as a book agent. But apparently they could not maintain payments for their property. In November 1881 they sold the main lot for $457 and in April 1882 sold the other one at a loss for $80.
On Wednesday, January 10, 1883, Harriet died. Three months later Fred married a young woman named Ellen HERRICK.
The Herricks
Ellen HERRICK's ancestors had been in America for a long time, according to a 1883 book written by Dr. Lucius HERRICK, one of her distant relatives. The earliest was her great-great-great-great-great-great grandfather Henerie HERRICK (also HIRECK or HERICKE). Henrie, the fifth son of Sir William HERRICK, was born at Beau Manor, County of Leicester, England, in 1604, and was named by command of Prince Henry, eldest son of James I. Henrie settled at the location of what is now Beverley, Massachusetts. In 1629 he was among the founders of the first church in Salem. He married Editha LASKIN and together they had eight children who grew to be adults. He died in 1671.
His son, also named Henry, was a juror in the witch trials in Salem in 1692. How he voted is not known, but, several years after the trials, Henry HERRICK and eleven other men signed a confession that said in part:
"We confess that we ourselves were not capable to understand, nor able to withstand, the mysterious delusions of the powers of darkness, and the prince of the air; but were, for want of knowledge in ourselves, and better information from others, prevailed with us to take up with such evidence against the accused as, on further consideration and better information, we justly fear was insufficient for touching the lives of any, (Deut. XVII, 6) whereby we fear we have been instrumental with others, though ignorantly and unwittingly, to bring upon ourselves and this people of the Lord the guilt of innocent blood; which sin the Lord saith, in scripture, he would not pardon, (2 Kings, XXIV, 4) that is we suppose, in regard to his temporal judgements. We do therefore hereby signify to all in general (and to surviving sufferers in special) our deep sense of, and sorrow for, our errors, in acting on such evidence to the condemning of any person; and do hereby declare, that we justly fear that we were sadly deluded and mistaken; for which we are much disquieted and distressed in our minds; and do therefore jumbly beg forgiveness, first of God for Christ's sake, for this our error; and pray that God would not impute the guilt of it to ourselves, nor others; and we also pray that we may be considered candidly, and aright, by the living sufferers, as being then under the power of a strong and general delusion, utterly unacquainted with, and not experienced in, matters of that nature.
"We do heartily ask forgiveness of you all, who we have justly offended; and do declare, according to our present minds, we would none of us do such things again on such grounds for the whole world; praying you to accept of this way of satisfaction for our offence, and that would bless the inheritance of the Lord, that he may be entreated for the land."

The HERRICKs continued to live in eastern Massachusetts for many generations. Henry HERRICK married Lydia WOODBURY, and they had five children. Their son Samuel HERRICK married Sarah LEACH, and had ten children, including a son named Joseph. Joseph HERRICK married Mary WOODBURY, and they had six children. Their son, who was also named Joseph, married Tryphosa GROVES, and had nine children, including a son named John Groves.

Ellen's great grandfather John Groves HERRICK (1750-1842) moved to Minot, Maine, in about 1772. His wife's name was Elizabeth BRAY (1755-1824). They had at least ten children, the youngest of whom was Ellen's grandfather Azor C. HERRICK (1796 1883).

During the War of 1812, young Azor was a snare drummer for the American troops, but there is no mention of him in the service and pension records available at the National Archives. His older brother, Moses (1791-1853), served as a soldier for 14 days in September 1814, during which time he marched from Minot to Portland, Maine. In 1821 Azor and Moses together bought some land on the shore of Thompson Lake in the Town of Poland, Cumberland County, Maine.

Azor and Abigail CUMMINGS (1796-1857) were married on Feb 5, 1822, in the Town of Minot. Her family also had been early settlers in New England. Her ancestor, Isaac CUMMINGS (1601-1677), had settled in Massachusetts on or before 1638. His son Isaac, another of Abigail's ancestors, was a sergeant in the Narragansett War and a deacon of the church. He too was involved in the Salem witch trials. Isaac testified that Elisabeth HOW strangely affected a mare of his. Elisabeth HOW was executed in July 1692.

Azor and Abigail moved to the farm in the Town of Poland before 1830 and raised their family there. Interestingly in October 1851, Azor sold his farm and the same day bought it back. I don't know why he did this but there must have been some reason for it.

Their family included Isaac Cummings (1822-1901), John Groves (1825-after 1900), Mary Abigail (?-?), Charles Franklin (1828-1900), Zachariah (1830-?), Esther M. (1832-after 1900), Jarius (1834-after 1900), Jacob Tewksbury (about 1836-after 1900) and James L. (about 1840-1871). In 1850 Isaac and his wife, Betty CUMMINGS, who was also his first cousin, and their daughter Zalinda were living with Azor and Abigail, but John and Mary had moved out.

At some time between 1850 and 1856 the family began a move to Waushara County, Wisconsin. Frank HERRICK's bible records that Charles HERRICK came in 1848, but the census shows him in Maine in 1850. Charles's obituary says that he came to Wisconsin in 1852 with his parents. Perhaps the solution to this discrepancy is that he came in 1848 to survey the land and then returned to Maine to bring the family back with him. Eventually at least Azor and Abigail, Isaac, Charles, Esther, Jarius, Tewksbury, and James relocated to Wisconsin. John was living in Kansas in 1900.

Abbie died in June 1858 after the move. In 1870, Azor and his son James were living with the Eliphalet Myers family and Azor was working as a carpenter. In 1880, Azor was living with his son Isaac. Azor died in April 1882 and was buried in the North Deerfield Cemetery.

Charles HERRICK married Nancy Malinda OSTRUM on September 20, 1857 in the Town of Hancock, Waushara County.

Her parents were Garrit OSTRUM (1803-1854) and Dorcas PALMER (1810-1886), who were from Schoharie County, New York, about 40 miles west of Albany. Dorcas was the daughter of Bryon PALMER and Catherine CRAPSER, and was born in Greene County, NY. Garrit's parents have not been identified yet. Garrit and Dorcas had many children, including Alida (1827-1889), Byron (1829-1916), Daniel (1831-1910), Nancy (1834-1878), John (1837-?), Jane (1839-1916), Mary (1840-?), Abigail (1842-?), Hester (1844-?), Rena Elizabeth (1845-1924), and Timothy (1849-1930). The 1840 census suggests that they had another older son, but that census does not give names. By 1850, Byron had set up his own household and Alida had married Darius Richmyer. In the spring of 1854, Garrit went west to Wisconsin with his son Daniel. He left the young man there and returned home, arriving on June 10. "The night he arrived home, he was taken ill with the cholera, and died in a very short time."

After Garrit's death, the OSTRUM family struggled on at the farm for about two years. In March 1856, guardians were appointed for three minor children, John, Mary, and Jane, who apparently intended to remain in New York. Garrit's estate was broken up with Dorcas receiving $252.04 and each of the eleven children getting $85.04. Dorcas, Nancy, and the remaining minor children then moved to the Town of Plainfield in Waushara County.

In 1860 Charles and Nancy HERRICK lived next door to her mother, who was living with Esther, Elizabeth, and Timothy.

Charles and Nancy soon had three daughters, Addie born June 20, 1858, Abigail, born September 29, 1859 and died March 4, 1861, and Ellen born July 10, 1862. The baby Abigail is not recorded in the 1860 census, but the census shows they also had a 5 year-old boy named Albert living with them. He was recorded as having been born in New York state. In 1870 there is a boy called Daniel in the household, who is the same age that Albert would have been. Here is another puzzle. Are Albert and Daniel the same boy? Who is this boy and what relationship did he have to Nancy and Charles? An inscription on the back of a tintype photo showing him, Ellen, and Emma states that they are "children of Charles and Nancy Herrick", but his age indicates that he was born before they were married. Charles did not list him among his living children on a pension bureau form filed in 1898, so either he was not Charles's son or he had died at a young age. I could not be find him in the Wisconsin census for 1880 or 1900. This could support the possibility that he died at a young age, or it could be that he moved to another state.

Family tradition says that Charles and Nancy had ten children in all. If so, many must have died very young. One who died was Abigail, who lived less than two years. The 1870 census recorded a 2-month-old, unnamed infant son who does not appear in later records. In June 1874, Charles and Nancy had another daughter, Emma, and in August 1878 a son, Frank.

Charles enrolled in Company G of the 30th Wisconsin Infantry commanded by Captain SWAIN on November 1, 1863. Near Bowling Green, Kentucky, on 1864 December 20, he contracted "rheumatism and disease of the lungs" because of exposure to the cold while lying on the damp ground. He was treated for this in the General Hospital at Louisville. He spent July and August 1865 in the post hospital. On 1865 September 30, he was discharged from the service.

On October 9, 1865, Charles bought a farm in the Town of Plainfield for $100. This farm was farther from Dorcus OSTRUM's home than where they had lived in 1860. Charles farmed and did manual labor to support his family. The 1870 census listed his farm's value as $500.

Nancy died when Frank was born, and the family was broken up. In May of 1880 Charles sold his 50 acre farm for $112 and on the deed he was listed as "unmarried". In June of that year he was living with only his daughter Ellen in the Town of Oasis. His daughter Addie had married a farmer named Porter HOLISTER in December 1876 and they lived in the Town of Waupun, Fond du Lac County. Addie and her husband adopted her sister Emma, who was five, and brother Frank, who was just one.

After Ellen HERRICK married Fred GREEN, Charles roomed for a year or more in a house run by F.B. CASE. About that time he began to suffer from rheumatism and chronic diahrria and was seldom able to perform manual labor. Lung disease also affected him. In 1887 he moved into a house run by Arnold VOYER in Junction City, Portage County. In November of that year he applied for a pension from the federal government because of the disabilities contracted while he was in the service. A doctor's report in March of 1888 stated that he was about 33 percent disabled. He was 5 feet 8 1/2 inches tall and weighed 156 pounds. In 1892 two men with whom he had lived attested to his disabilities and stated that he was a "man of good and sober habits" and that his diseases were "not the result of vicious habits". In June 1892 an invalid pension of $12 per month was approved; this was renewed in 1895.

Addie apparently divorced HOLLISTER before 1888. She then married Herbert SAWYER of the Town of Almond, near Bancroft in Portage County, in April 1888.

By 1900 Charles HERRICK had moved in with his daughter Addie and son-in-law Herbert. He died in July 1900 of pneumonia. He was buried in the North Deerfield Cemetery in Waushara County with a government marker, but I could not find any record of the application for this tombstone in the Archives. In September 1900, the pension agent in Milwaukee wrote to Washington instructing that the pension be dropped because Charles had died.

While I don't know the complete story of Charles's and Nancy's children, I do have a few more details. With Porter HOLLISTER, Addie had a blind daughter, named Jessie. She and Herbert SAWYER had five children, of whom two died as young children. It appears that Addie always was providing for her less fortunate relatives. In 1880 she was caring for her brother and youngest sister. She had her father living with her in 1900, and her sister Ellen and Ellen's daughter in 1910. Addie died in October 1930. Her husband died in December, less than two months later.

Emma, the youngest daughter, married a farmer named Daniel COLE in 1904. The 1910 census reported that she was his third wife and he her second husband. The census also reported that she had a living child, but only Daniel's children lived with them. They lived in Oconto County, near Mountain. Emma died in March 1934 of pneumonia, three days after an operation for abdominal adhesions and bowel obstructions.

Frank HERRICK married a woman named Victoria ROUSSEAU in 1900. They were then living in the Town of Plainfield, where he worked as a hostler or liveryman, taking care of horses. They moved a lot: to Bancroft between 1902 and 1904; to Rockefeller, Illinois, around 1906; and to a place near Shawano in 1907. Around 1909 he led a crew helping to build the Chicago Northwestern Railroad and lived in Lyndhurst, Wisconsin. Later they were in Mountain, Wisconsin, but by 1916 had settled in Marshfield in Wood County, where he worked as a bank guard and where they stayed the rest of their lives. He also served in the Wisconsin National Guard and the Wisconsin State Guard from 1918 until 1944. They had ten children, Bernard in 1901, Leighton in 1902, Irene in 1904, Agnes in 1904, Mildred in 1909, Roma in 1910, Rexford in 1913, Ihla in 1916, and twins Evelyn and Victor in 1919. Victoria died in 1961 and Frank in April 1966.


Fred R. Green and Ellen Herrick

On April 19, 1883, Fred R. GREEN and Ellen Elizabeth HERRICK were married by Justice of the Peace James BIGGERT in Berlin, Wisconsin. He was about 42 years old; she was a little less than 21. This was his third marriage and her first. The witnesses were the landlady of the Berlin House and a barkeeper. He had four children under 10 years of age and, at this time, listed his occupation as "dealer in patent right".

Apparently soon after their marriage Fred and Ellen moved north, near Mountain, Oconto County. I don't know why they picked that location. However, in Oconto County there were at least two men whom Fred had known previously. One was R. GILLETT of Gillet, Wisconsin, who had attended school with Fred in Illinois. The other was James HINES of Mountain who had been a neighbor of the CHAPINS family in New York.

In July 1890 Fred applied for an increased pension.

Fred and Ellen had ten children, of whom only three girls survived. These girls were Gertrude Amelia (born April 1891), Florence Angeline (born August 1893), and Cora May (born February 1895). Their births were not registered because it wasn't the law and because there was no clergyman with 25 miles, but Violetta HINES, a neighbor, had been present at the births. I don't know if any of the other seven children survived birth but later succumbed to childhood diseases. One, a girl born in June 1899, was definitely recorded as a still birth. In July 1892 Fred completed a questionnaire for the Bureau of Pensions in which he listed as his living children only Gertrude in addition to the older children he had by Charlotte and by Harriet. However, it is possible for there to have been some children born in the mid 1880's who lived to be toddlers before disease took them.

In August 1896, the GREENs bought an 80 acre farm for $200 from a woman named Catherine FROST. It consisted of the north half of the southwest quarter of section 36, Township 31 North of Range 16 East.

By 1900 Fred and Ellen had much of their family living near them. The three little girls - Gertrude, Florence, and Cora - and their half-brother Bert were living at home. Two of Bert's sisters were neighbors. Grace had married Charles WIGHT, a farmer, in 1892 and they had three daughters of their own. Mabel had married an older man, James SCHRODER in 1896. Mabel and James had one living son and James's two teenaged sons from an earlier marriage. Fred GREEN's son Frederick D. and his wife Nettie were living in Florence, Alabama, where DeWitt and Etta GREEN had moved after DeWitt had retired in 1889. Later Fred D. acquired a partnership in a brick company in Florence.

On August 8, 1903, Fred and Ellen mortgaged their farm for $400 at 6 percent interest from the State Bank of Gillett to buy a team. Perhaps Fred was having serious health problems and they needed extra power on the farm. In any event his health deteriorated beginning sometime around early 1903. On January 9, 1905, Fred died of Bright's disease, a kidney disease, which the doctor related to his Civil War injury.

Farming in northern Wisconsin is not an easy life. The growing season is short. The fields are filled with glacial rock. But with Fred's illness and death things became much worse for his wife. She couldn't make the first payment of $100 on the mortgage in August of 1904. Moreover, Fred's pension stopped as soon as he died and he left Ellen with no insurance. As a result the bank sued to foreclose on the farm on December 18, 1905. By May 1907, Ellen was living in "an old dilapidated log house...with scarcely anything in it and what is in it of the very poorest kind". She was being partially supported by the charity of the town. Her step-children were not much better off than she was and could afford little aid to her.

In an attempt to improve this situation, Ellen applied for a veteran's widow's pension. But instead of obtaining financial relief, she was given information that must have been devastating. On July 11, 1907, her pension request was rejected on the basis that Fred GREEN had not divorced his first wife, Charlotte CHAPINS, and that she was still alive. Thus the government regarded Ellen's marriage as invalid.

It is worth taking some time to review how this was uncovered. When Ellen applied for a pension, an examiner was appointed to investigate her claim. This pension examiner talked with one of her neighbors, James HINES, who had kept in touch with a cousin of Charlotte CHAPINS in New York. HINES had received a letter from this cousin in which he reported having received a letter from a woman in Missouri claiming to be Fannie CHAPINS PARKER and saying that she was the oldest daughter of Eliphus CHAPINS. The cousin thought this suspicious because the oldest daughter of Eliphus CHAPINS was Charlotte and because the daughter named Fannie had died in about 1884. As a result the cousin believed the letter writer to be Charlotte herself. A pension examiner was sent to Stanberry, Missouri, to talk to this "Fannie Parker".

At first "Fannie Parker" denied knowing anything at all about Fred GREEN, but when confronted with the examiner's suspicions she admitted that she really was Charlotte and had been married to Fred. After she'd fled Fred GREEN's home, she returned to the Buffalo, New York, where she wed a man named Edwin LOVELL without having bothered to get a divorce first. After that she led a fugitive life, traveling west and east, north and south, never acknowledging her true name. LOVELL died, she said, and she married a third time, to a man named PARKER. PARKER, too, died and Charlotte wound up in Missouri, where her curiosity about what happened to her brothers and sisters eventually lead the pension examiner to discover her. Allowing for a very different perspective, her story agrees with that of Fred GREEN except for one item. According to Fred's story Charlotte took their daughter, Annie, with her when she left him, but Charlotte's story says nothing of her. Indeed, speaking of her children by Fred, she stated, "I do not remember what became of them. These children have slipped out of my mind so I think no more about them than of strangers. That part of my life seems like a dream." I am left wondering what became of the little girl, who may have been only three or four years old. Did her mother take her and leave her somewhere? Or was Charlotte lying about having forgotten about the children and was Annie living near St. Joseph?

Soon after this, in December 1907, Fred and Ellen's daughter Gertrude married Fred SCHROEDER, who was the step-son of her half-sister Mabel.

Because of her poverty and apparent lack of support Ellen took Cora and, prior to the 1910 census, moved in with her sister Addie in Portage County.

Ellen married again on September 29, 1910. The ceremony was in Grand Rapids, Wisconsin, near the Wisconsin River. Her new husband, James JEWELL, was a 66 year old widower who, like Fred GREEN, had been a Union soldier in the Civil War, having served with Company A of the 42nd Wisconsin Infantry Regiment. He had a pension because of a back injury received during service. Soon JEWELL began to experience paralysis and after four years he died in Saratoga, Wisconsin, on October 3, 1915. Ellen moved back north, to Rhinelander, and applied for a widow's pension based on JEWELL's service. Her application was rejected in February 1918 because she was unable to show that his death had a service-related cause. She again applied for a widow's pension based on her marriage to Fred GREEN but that was again rejected because of his marriage to Charlotte CHAPINS. This last rejection was dated October 17, 1921, but Ellen never knew about it.

Ellen's health had deteriorated. She required a doctor's care in August 1920. In September 1921, she was in the Deaconess Hospital in Green Bay. She returned to Mountain where her family gathered around her. Her sister Emma came and probably her daughter Gertrude and step-son Bert. Gertrude's daughter Clara remembered Emma giving her bread with sugar at the time to distract her. Ellen died of heart disease in the early evening on October 3, 1921. She was buried in Mountain two days later.

Just three weeks before her death, Ellen had made up a will. She left only $1 each to her daughters, Gertrude SCHRODER and Cora FONDER. She left the remainder of her possessions, including the hoped-for back payments of pension benefits, to her sister Emma.

Ellen's children did not have long, happy lives. Florence had died in October 1912 in Adams County. The doctor's report said she died of unknown causes. She had been in apparent good health up till 3 PM of the day she died. Then she suddenly was stricken and died an hour and a half later. Family tradition says she died from poisoning caused by eating grapes from a tin pail. Gertrude died in November of 1922 of a brain tumor. Gertrude had had three daughters, but only Clara survived.

Cora Green

Not much is known about the life of Cora GREEN. Her father was about 53 years old when she was born and he died when she was a month short of ten years old. Her mother remarried when she was fifteen.

In March 1914 Cora married Charles CLOSE in New Rome in Adams County. At the time she had been working as a domestic servant. CLOSE was also from Mountain, but was living in West Allis. They never had any children. After about two years this marriage began to turn sour. He claimed that she went out with other men and entertained them at home while he worked. Sometimes he had to cook his own meals. They had verbal fights about where she went and what she did. Occasionally these fights became physical and she held her own by biting and scratching. They moved back to Mountain in December 1918. In November of 1919 he left her and returned to West Allis. She would not come to him although he had several people write to her. He applied for a divorce a month later. In response to the court summons she wrote "..the sooner my husband gets a divorce the better for I am willing he could get one. I don't care to fight the divorce at all." The divorce was granted in May 1920 on the basis of cruel and inhuman treatment.

On August 11, 1921, Cora married August FONDER. August was an older man, twice her age when they married. Less than two months later her mother died.

The Fonder and Poulin Families


John J. FONDER (or FONDAIRE) and Mary BERLAIRMONT came from Belgium, from a place called Marchin in the Province of Liege. They were of Walloon (i.e. French speaking) background. John was born in 1811 or 1812. Mary was born in 1807 or 1808. They married in January 1835.

A traditional FONDER family story says that Mary was the daughter of a noble family. This is the story. When she was a small child her parents were killed in a war. She was taken in by a family who did not know who she was. An expensive dress which she wore and a gold locket indicated that she was well bred. Sometime later, a former nursemaid saw and recognized her. The nursemaid told the parents that she would be back the following day to take the little girl to her brother, Albert, who was considerably older. But little Mary overheard the conversation and burned the dress and destroyed the locket because she didn't want to leave the family who had taken her in. Eventually she did meet her brother, but he denied that she was his sister so he would inherit the entire estate.

John and Mary had eight children - Hubert (1835-1871), Fortuna Josephine (1837-1907), Lambert (1840-1920), Nestor (1842-1915), Charles (1845-1938), Augustus (1847-1918), Victoria (1850-1948), and Victor (1850-1921). They immigrated to the U.S. with the children in 1855 or 1856 and settled in the Town of Belleview, southeast of Green Bay.

The FONDERs were farmers. In 1860 they were living on a farm owned by Heny METTAY, an immigrant from Prussia, but by 1870 the elder FONDERs had their own farm where they lived with their children Nestor, Victoria, and Victor. The other children were making their own lifes. Charles worked as a farm laborer and lived next door with his wife, Angel. Lambert lived with his wife, Elizabeth, and four children on a nearby farm. Augustus, who had just been married that spring, worked as a farm laborer and lived with the LARNA family next to his wife's family in nearby Town of de Pere.

In 1880 John and Mary still lived on their farm in Belleview with their daughter Victoria and her husband John TILLMAN. Lambert, Nestor, and Augustus all worked their farms nearby.

But the family eventually began to move from their new Wisconsin homeland. John died in Millbank, South Dakota, on July 3, 1894, where his children Charles and Victoria and her husband were living. His wife Mary is believed to have died before him, probably in the Green Bay area.

More than 200 years before the FONDERs left Belgium for America, a knifemaker named Pierre PARADIS of Tourouvre, in Perche, France, came to Quebec to the estate of his father-in-law, Jean Guyon du BUISSON. He worked hard to build a prosperous farm until he died in 1675 at age 64. His family continued in Quebec near Quebec City for many generations and one of his descendants even became a Cardinal in the Catholic Church.

Pierre PARADIS and his wife Barbe GUYON had a son Guilliaume. Guilliaume married Genevieve MELLOUER in 1670. Their son Jacques PARADIS married Rosalie BOUCHER in 1729. Jacques and Rosalie had a son, also named Jacques, who married Marie Josephte SOUCI in 1776. Jacques and Marie had five children, including a son named Henri PARADIS.

Georgina PARADIS was born in September 1831, the daughter of Henri PARADIS and Louise-Xavier CORBIN. In November 1848, she married Louis Martin POULIN in Chicoutimi in northern Quebec province. Chicotimi was a remote area where missionaries were working with the Indians. A large cathederal was built there at that time and Louis Martin may have had a hand in building it, for he was a stone cutter and a mason. Louis Martin had been born in November 1821 in St. Charles de Bellechase. His father, also named Louis, had been adopted so that his family history cannot be traced back any farther.

Louis and Georgina returned to the vicinity of Quebec City, where they raised many children. The children were named Exzena (c.1850-1887), Charles (1853-1853), Marie Virginia (1854-after 1930), Rosaline (1856-after 1930), Dilemas (c.1858-1885), Charles (1860-?), Charles (1861-1862), Margaret (c.1866-?), John Norris (1869-1916), Demrees (1870-1930), and Mary (1874-?).

Louis's brother John and his wife had moved to Wisconsin in about 1857 to join her parents and sisters. Shortly after John arrived in Wisconsin, the family story goes, he got a job in a shingle mill. The paymaster there had problems with his French name and translated it into English. POULIN means a small horse or a foal. Accordingly, John's family name was changed to FOLEY. When his brothers came to Wisconsin they used both the FOLEY and the POULIN names, but the younger generations went primarily by FOLEY.

Louis Martin and Georgina (Virginia) POULIN moved to Wisconsin sometime between the birth of Margaret (1866) and that of John (1869). Apparently they had waited until the Civil War was over. Although Louis had been a stone cutter in Canada, in Wisconsin he obtained a farm. It was in the Town of De Pere, Brown County, Wisconsin, and worth $600. But Louis did not live long on his new land; he died in October 1874 of heart disease. Georgina worked as a domestic servant and a laundress to support her children. Fortunately the children were growing up so that by 1880 only the four youngest remained at home. Georgina is believed to have died about 1906 near Neenah.

Augustus FONDER married Exzena POULIN on May 30, 1870, in a Catholic Church in Green Bay. Apparently he didn't yet have the means to set up a household because that summer she was living with her parents and he was boarding on a farm next door.

One of the mysteries about Exzena is her real name. On every document it is given differently. She was called Exilda on her marriage record, Exzina in the 1870 census, Elizabeth, Emma, Eugenie, and Exina on the birth records of her first four children, Virginia in the 1880 census, and Exzena on her death certificate. Her birth records have not been located, but she appears to have been called Alvina in the Quebec census.

Eventually, though Augustus got his own farm and they settled down to raise a family. They had five children - August Joseph (1871-1937), Louis (1873-1956), Mary Victoria (1875-1946), Charles (1878-1918), and Henry (1885-1982).

Exzena died prematurely on September 17, 1887, of cancer of the face. This must have been hard on the family because the children were still young. Henry, who was only two when she died, remembered having been cared for by aunts and by his sister.

After this, Augustus moved a number of times. In 1894 he was living in Duck Creek, which is north of Green Bay. In 1900 he and his sons August and Henry were boarding with John and Melvinia BENAIT near Mountain in Oconto County. Melvinia BENAIT probably was the daughter of Augustus's wife's cousin. Later the Fonders moved back to Duck Creek. In 1910 he was living with son August in Oconto Falls. He worked in a paper mill at some time during this period.

Augustus FONDER died in Milbank, South Dakota, in October, 1918, of stomach cancer.

August Joseph FONDER married Annie MEYERS, an 18-year-old immigrant from Germany, in Mountain on May 2, 1900. In 1910 they were living in a rented house in Oconto Falls. They did not have any children at that time. Annie is remembered as an odd person. One day some people had warned her that the flour towels she hung out on a line might be stolen. The next day the towels were gone! For a long time after that she wouldn't speak to the people who had warned her because she thought they were involved.

August worked sometimes as a farm laborer, but more often in saw mills.

August and Annie moved to Wabeno, where she died in May, 1917, of kidney disease.

Cora and August


Cora GREEN married August FONDER in a ceremony presided over by her uncle Daniel COLE in August 1921. Her sister Gertrude and brother-in-law Frederick SCHROEDER were the witnesses.

Cora and August FONDER moved to Tipler in Florence County where Gertrude and Frederick had located earlier. Their only child, Helen, was born there in January 1924.

Cora and August continued to move around. Later Cora claimed that August did not provide for his family, that he never provided a home or any furnishings for a home, and that she had to work as a cook in the lumber camps to support herself and Helen. On May 28, 1928, she and August had their daughter baptized in the Guardian Angel Catholic Church in Crystal Falls, Michigan, by Reverend David FERLAND. At that time they may have been living near the junction of US2 and Chicagoan Lake Road.

According to Cora's story, they moved to Iron River, Michigan, around the beginning of February 1929 but August would not provide her and Helen with a place to live. She had to find their own lodging. Furthermore, August refused to live with them and returned to Mountain. Helen was taken from her and, on August 29, 1929, adopted by Sam and Rose NAULT. Cora filed for divorce from August in September 1929 but it was dismissed in February 1931. She filed again in December 1931, asking for custody of her daughter until she turned 14 years old and asking for equity, which I assume means support. This suit was dismissed in 1933.

At this point Cora vanishes from the records. Her niece, Clara SCHROEDER, later thought that she had been keeping house for a man in Ishpeming, Michigan, but there does not seem to be any death record for her in Marquette County. Her half-brother Bert GREEN lived in Watson in southeastern Marquette County, dying in 1947. August's niece, Delores FONDER STEFFENS, remembers that Cora was a nice person but did not know why she and August split or what happened to Cora.

After breaking up with Cora, August returned to Oconto Falls, where he lived for a long time with his brother Louis. Delores STEBBINS recalls that he was easy going and that he always carried a small pocket knife, an arrowhead, a marble, and a shell in his pockets. After a long illness, he died on March 11, 1937, in the Oconto Falls Hospital of heart disease. The day before he died he told Louis, "I don't want to die". He was buried in the cemetery of St. Anthony's Catholic Church. His obituary in the Oconto Falls Herald said, "Mr. Fonder will be greatly missed for his warm, kindly nature made him many friends who mourn his passing."

The Naults


In some ways, Albert Samuel (Sam) NAULT and Rose DUCHARME NAULT were like Helen's biological parents. Like August, Sam was much older than his wife and had been married before. Like Cora, Rose had experienced hardship at an early age after a parent, her mother, had died.

The NAULT family had come from French Canada. Sam NAULT's parents were named Arsene and Philomene. Arsene (Seney) was born in August 1836. Philomene was born in 1840 in Stanfal, Quebec Village, near Trois Rivieres, Canada. Seney and Philomene had married in about 1857. Around 1874 they crossed into the United States, first to Pennsylvania. Before 1890 they moved to Ishpeming, Michigan, where they stayed several years before coming to Stambaugh in Iron County. After a year there they moved to the Frenchtown section of Iron River where they ran a tavern and/or boarding house.

Seney and Philomene NAULT had 14 children, 5 of whom were dead before 1900. The children who grew up included Mrs. Arthur BOUCHARD, Mrs. Minnie DROUILLET (?-1945), Mrs. Georgianna GOULAIS, Peter (born 1867), Fred (1874-1951), George (1879-1926), William (1881-1919), and Sam. Sam NAULT was born on April 30, 1870, in Quebec Province. Thomas NAULT, who died in 1891, might have been another of their children.

Seney died in 1904. In her later years, his wife Philomene moved in with her son Sam and lived with his family until she died in October 1939, at age 98. She spoke only French.

Two members of the family had sad endings. In 1926, despondent over failing health, George hung himself from his bed frame. He left a widow and two children. His brother William apparently had killed himself in the same house in 1919.

Around 1899, Sam married a woman named Dellia JACKSON, who had two boys, named Clifford and Bertie.

Later Sam married again, this time to Rose DUCHARME, the daughter of Louis and Emma DUCHARME.

Louis DUCHARME also was born in French Canada, in May 1862. His wife Emma Jane was born in Michigan in Aug 1875. Their children included Mary Roseanna (born Oct 11, 1892), Eva (born Aug 1895), Edith (born Nov 1896), Mildred (born June 1899), and Henry. They attended the St. Agnes Catholic church in Iron River, where Rose was baptized in April 1893. One of her sponsors was Minnie NAULT, who would later be her sister-in-law. Some time around 1902 to 1906, Emily died. Rose had to drop out of 4th grade to help care for the other children. Even with Rose working in the home, the family could not continue so Mildred was sent for adoption. Later Eva married a Mr. HAWKE of Old Caspian. Edith married Joseph WILLETTE and went to live in Gwinn, Michigan. [OR did EVA marry WILLETTE and EDITH marry HAWKE? Where is the New Swanzai location?] Mildred married George WALDON and lived in Iron Mountain, until at least 1979. Henry died in the service in World War I.

Sam and one of his brothers ran the family's residential hotel, located at the western edge of town on Cayuga Street. The building itself had log walls. Rose cooked for the guests. But Sam's brother was an alcoholic so the business did not prosper.

Later Sam became a farmer on Trout Lake Road (now called Hamner Road) in the Nash District. Sam had taken out a loan to purchase the farm in 1913 and in 1921.

After 1942, Sam NAULT sold his farm to Sam HAMNER and moved to the Riverside Addition in Iron River. Sam died in 1949. In the same year, Rose married Frank PASHLIK. They sold the house and moved out to Takoma, Washington. A few years later they moved back to a little house near the Fair Grounds in Iron River. After Frank died in 1962 and Rose broke her hip by falling on the icy hill, she moved into a trailer at Helen's home. She lived there until she died in May 1976.

Helen Fonder



Hellen Exzine FONDER was born on January 11, 1924. She probably was named in honor of her two grandmothers, Ellen HERRICK and Exzena POULIN.

When Helen was five years old, she was taken from her mother. At that time she was small and skinny. At first she was placed with an older woman for foster care. This woman lived in town so that cars often went by at night and their lights cast shadows on the bedroom wall. Helen was sure she saw the shadows of elephants and was frightened.

Sam and Rose NAULT never had any children of their own. Perhaps Sam wanted a boy to help out around the farm. They learned of Helen through Sam's sister Minnie, who had cared for Helen while her mother worked, and decided to adopt her. They never did adopt a boy, but Helen enjoyed outdoor jobs on the farm.

The NAULT's house had three bedrooms upstairs, a living room, a dining room, and a kitchen downstairs, and a basement. Sam's partner, Leon GOODBEAU, had one bedroom, old Philomene NAULT had the second one, and Helen shared the third with Sam and Rose. After old Mrs. Nault died, Helen got her room.

Helen does not have any unpleasant memories of when she went to live with the NAULTs. Minnie DROUILLET was the one in the NAULT family who was most sympathetic to her. She gave Helen a photograph of Cora, her biological mother. Minnie had a club foot and wore thick glasses, but she always kept her kitchen spotless.

On their farm, Sam and Rose had a garden where they grew all kinds of vegetables. They would eat some of the produce fresh, but most was canned for use later in the year. The potatoes were put in a root cellar, where they would keep until needed. But the primary business of the farm was raising dairy cows. They kept a dozen or so cows and two work horses. The horses were large sturdy animals, and did the heavy work in making hay, bringing it to the barn, and hauling firewood. Three or four cows were calfing an any time, so they always had milk. The NAULTs sold the cream to the creamery in town. When she was young, Helen liked to drink cream from the separator. She would pour a lot of cream from the spigot into her glass, then add a little from the milk spigot, and then top it off with more cream.

Helen did not help with the milking because she was not able to drawn milk. The milking was done by Sam and Leon GOODBEAU. She did herd the cows back from their other pasture in the morning, and walk them up the road again in the evening. Sometimes she fed the calves. And she always helped with the chores inside the house.

The farm originally got its water by lowering a bucket into a well, but city water pipes were extended to the farm before Helen was old enough to lift a bucket full of water.

Helen never had a bike. She tried to ride a neighbor's several times, but got her pants leg caught in the chain and gave up. On the other hand, she was very skillful at sled riding. She would zoom down the steep driveway of the Christensen family, and then make a sharp turn down the road.

The NAULTs liked to accept invitations to dinner, but rarely had people over in return. Rose had no special dishes, perhaps because Sam only brought utilitarian cuts of meat home. But Rose did bake good bread and would give the neighbors loaves. There was one neighbor, in particular, a bachelor who would smell the fresh bread and always stop in for some.

Helen was a fussy eater. She did not like spinach and just tolerated peas, but she liked a neighbor's ravioli and spaghetti, because the neighbor made a rich sauce with lots of fat in it. She also liked mashed potatoes and gravy. She thought she did not like hash, but one evening she was sledding past supper time and came home hungry. The smell of hash was so tempting when she came home that she ate some and found it delicious.

Although the NAULTs lived out in the country, they were not isolated. Every Sunday they went in to Iron River to St. Agnes Catholic Church. They had a radio and a phonograph in a large standup console, with the phonograph on top. They played cards and got newspapers. They were quite modern in this aspect.

Helen attended grades one through five at the Nash District School. This school had two rooms, one for the lower grades and one for the upper grades. It also had a combination cloak room and library on the main floor. Drinking water was brought up in pails from Nash Creek. Restrooms were located in the basement. The basement also was used as a storage area and in bad weather a play room, where the pupils would rush to play airplane on some overturned desks. Helen wanted to be a pilot, like Amelia Earhart. In winter, the kids would swing on the swings into a snow bank.

Helen walked to Nash School, in winter taking a short cut through the woods between the school and the BERNHARDT farm. Girls always had to wear dresses. To keep warm during the long walk, Helen wore white long johns and woolen socks under her dress. Of course, long johns were not very fashionable so once they got to school the girls would roll the legs up to conceal them under their dresses. When spring came, they would walk the long way around on the roads, and would pick flowers and pussy willows.

Starting in sixth grade, she attended Central School in Iron River. She had to ride a bus to get there. On winter mornings she would stand at the upstairs window and melt the frost off with her hand to see the bus coming before she would rush out to the road. She started to attend Iron River High School, but dropped out near the end of the eleventh grade.

After dropping out of school, Helen went to work for Vic's taxi cab company as a dispatcher. She worked days and evenings to answer the phone and to send out the two cabs. One of the drivers was a short Italian, who would sleep on the sofa while waiting for a call. He always bragged that he was the best driver in the city. The other driver was Carl HOLM. For this work, Helen got a salary and room and board. Vic was a Polish woman and made heavy Polish meals.

Post Script


Much of the material for this story comes from official records, many of them contained in a pension file for Fred GREEN in the National Archives. That file contains many questionnaires and affidavits dating from 1875 to 1922. These often contained the family story in the words of contemporary people and usually led me to other sources. Brief biographies of DeWitt GREEN and of Elizabeth GREEN KENNEDY have helped, as have the genealogies of the HERRICK and CUMMINGS families. Still, there are the gaps and mysteries which were identified in the preface and other places within the text. Some of these things may never be known. Others may be pieced together through the patient pursuit of small bits of knowledge from the courthouses of Wisconsin, Illinois, and Michigan, from the census records, and from the newspaper archives in Madison, Wisconsin, and other places. In any event, much study remains to be done.
---
SOURCES
Affidavit of Decease for Anna GERE, sworn by John KENNEDY, dated June 26, 1869.
Biography of John KENNEDY, 1903, in "Historical Encyclopedia of Illinois. Vol. II. McHenry County Citizens", ed. by Newton Bateman, Paul Selby, and A.L. Wing Coburn, (Chicago: Munsell Publ. Co.), pages 863-864.
Biography of D.C. GREEN, 1885, in "History of McHenry County, Illinois", (Chicago: Interstate Publ. Co.), pages 279-280.
Birth certificate for August J. Fondaire, dated 1871 May 14; registered 1874 July 9.
Birth certificate for still born daughter of Frederick R. GREEN and Elen E. HERICK [sic], Dated April 19, 1900, Oconto County, Wisconsin.
Birth certificate for Hellen Exzine FONDER, Dated January 11, 1924, Florence County, Wisconsin.
Boyer, Paul, and Nissenbaum, Stephen, 1974, "Salem Possessed: The Social Origins of Witchcraft", (Cambridge: Harvard University Press).
Cumberland County, Maine, Recorder of Deeds
Book 91, page 112.
Book 92, page 128.
Book 110, page 138.
Book 135, page 101.
Book 235, page 34.
Book 236, page 557.
Current, R.N., Williams, T.H., and Freidel, F., 1964, "American History: A Survey", (New York: Alfred A. Knopf).

Death certificate for Exzena Fonder, Dated 1887 Sept 17; registered 1888 March 22, Brown County, Wisconsin. (gives birth date as 1851 Dec 12)
Death certificate for Annie Mary Fonder, Dated 1917 May 22; filed 1917 May 22, Forest County, Wisconsin.
Death certificate for August Fonder, Dated 1918 October 10; Grant County, South Dakota.
Death certificate for August J. Fonders, Dated 1937 March 11; filed March 19, Oconto County, Wisconsin.
Death certificate for Louis Marten Fonders, Dated 1956 Mar 26, registered 1956 Mar 27.
Death certificate for Charles Fonder, dated 1981 Aug 12 (extracted by Mrs Judy Sharp)
Death certificate for Virginia Williquette (ne Fonder), dated 1946 Dec 23 (extracted by Mrs Judy Sharp)
Death certificate for Mrs. Dan COLE, March 27, 1934, Oconto County, Wisconsin.
Death certificate for Fredrick R. GREEN, dated Jan 9, 1905, filed Feb 9, 1905, Oconto County, Wisconsin.
Death certificate for Florence GREEN, dated Oct. 27, 1912, Adams County, Wisconsin.
Death certificate for Frank Porter HERRICK, dated April 18, 1966, filed May 9, 1966, Wood County, Wisconsin.
Death certificate for Ellen E. JEWELL, dated Oct. 10, 1921, Oconto County, Wisconsin.
Death certificate for Emiline KIMBLE, Jan 13, 1921, Vernon County, Wisconsin; filed Jan 15, 1921.
Death registration for Waren KIMBELL, Feb. 16, 1904, Juneau County, Wisconsin.
Death certificate for Addie SAWYER, Oct 11, 1930, Waupaca County, Wisconsin.
Death certificate for Gertrude A. SCHODER, dated Nov. 19, 1922, Florence County, Wisconsin.
Divorce certificate for Charles CLOSE and Corie CLOSE, May 6, 1920, Milwaukee County circuit court. Also the divorce proceedings in the custody of the Milwaukee County Historical Society.
Divorce application to the circuit court of Iron County, Michigan, filed by Cora FONDER, December 17, 1931.
Estate Inventory of Anna GERE, Dated November 15, 1869, Recorded Book C, page 115, Copy provided by the circuit clerk, McHenry County, Illinois.
Extract of Fonders in the Brown County Birth Index (prepared by Mrs Judy Sharp)
Fonder family tree, prepared by Will La Grew
Fond du Lac County, Wisconsin, Recorder of Deeds.
Volume 84 of Deeds, page 411.
Volume 84 of Deeds, page 412.
Volume 97 of Deeds, page 89.
Volume 97 of Deeds, page 337.
Herrick, Lucius C., 1885, "A Genealogical Register of the Name and Family of HERRICK", privately printed in Columbus, Ohio.
Index for death and marriage records, Iron County, Michigan
Last Will and Testament of Ellen JEWELL, Dated September 16, 1921, copy provided by Register in Probate, Oconto County, Wisconsin.
Last Will and Testament of Anna GERE, Dated January 3, 1869, copy provided by the circuit clerk, McHenry County, Illinois.
Letters from Mrs. Lilah BARTOTTO and Mrs. Georgianna FINK
Letters from Mrs. Betty HELGESON
Letter from Mrs Pat Foley Gee, 1981 May 31, including most of the POULAIN/FOLEY history reported here.
Letter from Mrs Millie Fonder, 1982 June 12, including the story of Mary Berlairmont from Arline Daleiden, a descendent of Lambert Fonder.
Letter from Mrs Judy Sharp, 1982 January 27 (including notes from probate record for John J. Fonder)
Marriage certificate for Eveline GREEN and Warren KIMBALL, No. 1156, Book A, page 38, McHenry County, Illinois.
Marriage certificate for Charlotte CHAPINS and Fred R. GREEN, No. 1860, Book A, page 57, McHenry County, Illinois.
Marriage certificate for Nancy OSTRUM and Charles HERRICK, Sept 20, 1857, vol. 1, page 41, Waushara County, Wisconsin.
Marriage certificate for Ellen E. GREEN and James H. JEWELL, vol. 5, page 91, Wood County, Wisconsin.
Marriage Registration for Fred R. GREEN and Hariet E. HERINGTON, contracted Nov 19, 1868, registered Mar 29, 1869. Volume 2, page 13, Juneau County, Wisconsin.
Marriage certificate for Frederick R. GREEN and Ellen E. HERRICK, April 19, 1883, Berlin, Green Lake County, Wisconsin.
Marriage Record abstract for Azor HERRICK and Abigail CUMMINGS, Feb 5, 1822, Town of Minot, Minot, Maine; provided by Town Clerk, A.G. Palmer
Marriage Record abstract for Moses HERRICK and Abigail BEARCE, Dec 26, 1820, Town of Minot, Minot, Maine; provided by Town Clerk, A.B. Palmer, Jr.
Marriage certificate for Frank HERRICK and Victoria ROUSSEAU, Feb 11, 1900, Waushara County, Wisconsin; registered Feb 13, 1900.
Marriage certificate for Porter G. HOLISTER and Addie A. HERRICK, Dec 19, 1876, Oasis, Waushara County, Wisconsin.
Marriage certificate for Daniel COLE and Emma HERRICK, Feb 7, 1904, Oconto County, Wisconsin; registered Feb 26, 1904.
Marriage certificate for Charles CLOSE and Cora GREEN, Mar 27, 1914, Adams County, Wisconsin; filed Mar 28, 1914.
Marriage certificate for August FOUNDER [sic] and Cora GREEN, Aug 11, 1921, Oconto County, Wisconsin; filed Aug 12, 1921.
Marriage certificate for Augustin Fondaire and Exilda Poulain, Dated 1870 May 30; Recorded 1874 July 13.
Marriage certificate for Gustave Fonder and Annie Mieres, Dated 1900 May 2.
McHenry County, Illinois, Recorder of Deeds. Index.
Book 5 of Deeds, p. 430.
Book 15 of Deeds, p.315.
Book 20 of Deeds, p.197.
Book 23 of Deeds, p.144.
Military Service Record of Frederick R. GREEN, Private, 160 Reg't, N.Y.
Mooar, George, 1903,"The Cummings Memorial, A Genealogical History of the Descendants of Isaac Cummings, an Early Settler of Topsfield, Massachusetts", (New York: B.F. Cummings).
Nault family history in "Frames for the Future: Iron River Area", edited by Marcia Bernhardt, 1980
Obituary for Garrit Ostrum, Schoharie Republican, July 12, 1854.
Obituary for DeWitt C. GREEN, The Florence Times, Florence, Alabama, Friday, February 16, 1900, Number 33.
Obituary for Charles HERRICK, Plainfield Sun-News-Press, July 20, 1900
Obituary for Addie Adora HERRICK, unkown paper, provided by Mrs. BARTOTTO.
Obituary for George NAULT, Iron River Reporter, Nov 16, 1926
Obituary for Herbert Alverado SAWYER, unknown paper, provided by Mrs. BARTOTTO.
Obituary for August Fonder, Oconto Falls Herald, 1937 March 18.
Obituary for Henry Fonder, 1982 June 9.
Oconto County, Wisconsin, Recorder of Deeds. Volume 67 of Deeds, Page 88.
Official Records of the Union and Confederate Armies in the War of the Rebellion, U.S. Government Printing Office, Washington, D.C. 1901.
Pension Application File for Frederick R. GREEN, Application No. 203597, Certificate No. 139158, and materials and affidavits contained therein.
Pension Application File for Charles F. HERRICK, Application No. 29478, Certificate No. 786042, and materials and affidavits contained therein.
Probate records for Garrit Ostrum, Case 046, Surrogate's Office, Schoharie County, New York.
Probate records for J. J. Fonder, Estate Vol 4, page 21 (extracted by Mrs Judy Sharp)
Public Domain Land Sales, listing for John GREEN, from the Illinois State Archives (extracted by Phyllis J. Bauer)
Real Estate Taxes for John GREEN, 1850-1860, Sececa Township, McHenry Co., Illinois (extracted by Phyllis J. Bauer)
SAWYER family tree, prepared by Wayne Guyant.
U.S. Census 1830 Carlisle Town, Schoharie County, New York.
---- 1830 Town of Poland, Cumberland County, Maine.
---- 1840 Summit Town, Schoharie County, New York.
---- 1840 Town of Poland, Cumberland County, Maine.
---- 1850 Town of Seneca, McHenry County, Illinois.
---- 1850 Summit Town, Schoharie County, New York.
---- 1850 Town of Poland, Cumberland County, Maine.
---- 1850 Ringold and Vicinity, El Dorado County, California.
---- 1850 4th ward of City of Milwaukee, District 20, Wisconsin.
---- 1860 Town of Oasis, Waushara County, Wisconsin.
---- 1860 Town of Plainfield, Waushara County, Wisconsin.
---- 1860 Town of Wonewoc, Juneau County, Wisconsin.
---- 1860 Town of Lindina, Juneau County, Wisconsin.
---- 1860 Townships 4-6, 9, 10, Calvernas County, California.
---- 1860 Town of Sodus, Wayne County, New York.
---- 1860 Town of Belleview, Brown County, Wisconsin.
---- 1870 Town of Belleview, Brown County, Wisconsin.
---- 1870 Town of de Pere, Brown County, Wisconsin.
---- 1870 Town of Oasis, Waushara County, Wisconsin.
---- 1870 Town of Plainfield, Waushara County, Wisconsin.
---- 1870 Town of Wonewoc, Juneau County, Wisconsin
---- 1880 City of Waupun, Fond du Lac County, Wisconsin.
---- 1880 Town of Waupun, Fond du Lac County, Wisconsin.
---- 1880 Town of Oasis, Waushara County, Wisconsin.
---- 1880 Town of Belleview, Brown County, Wisconsin.
---- 1900 Town of Armstrong, Oconto County, Wisconsin.
---- 1900 Plainfield Town, Waushara County, Wisconsin.
---- 1900 Precint 12, Oakland, Landerdale County, Alabama.
---- 1900 City of Waupun, Fond du Lac County, Wisconsin.
---- 1900 Atkinson Township, Iron County, Michigan
---- 1900 Iron River Village, Iron County, Michigan
---- 1900 Town of Almond, Portage County, Wisconsin.
---- 1910 Town of Armstrong, Oconto County, Wisconsin.
---- 1910 Town of Almond, Portage County, Wisconsin.
---- 1910 Oconto Falls Village, Oconto County, Wisconsin.
---- 1910 Melrose Township, Grant County, South Dakota.
Wait, Kathy Fonder, 1991,"My Father's Belgium FONDER Roots and Their American Descendents".
Wisconsin State Genealogical Society Newsletter.
1980, Vol. 27, No. 2, p. 116. "Soldiers Buried in North Deerfield"
1981, Vol. 28, No. 4, p. 184. "Query about the OSTRUM family by Betty Helgeson"
1983, Vol. 29, No. 3, p. 203. "North Deerfield Cemetery"
1984, Vol. 30, No. 3, p. 147. "Query about Garit OSTRUM by Betty Helgeson"
1989, Vol. 35, No. 3, p. 210. "Ray Cemetery" copied in 1972 by Wayne and Alta Guyant