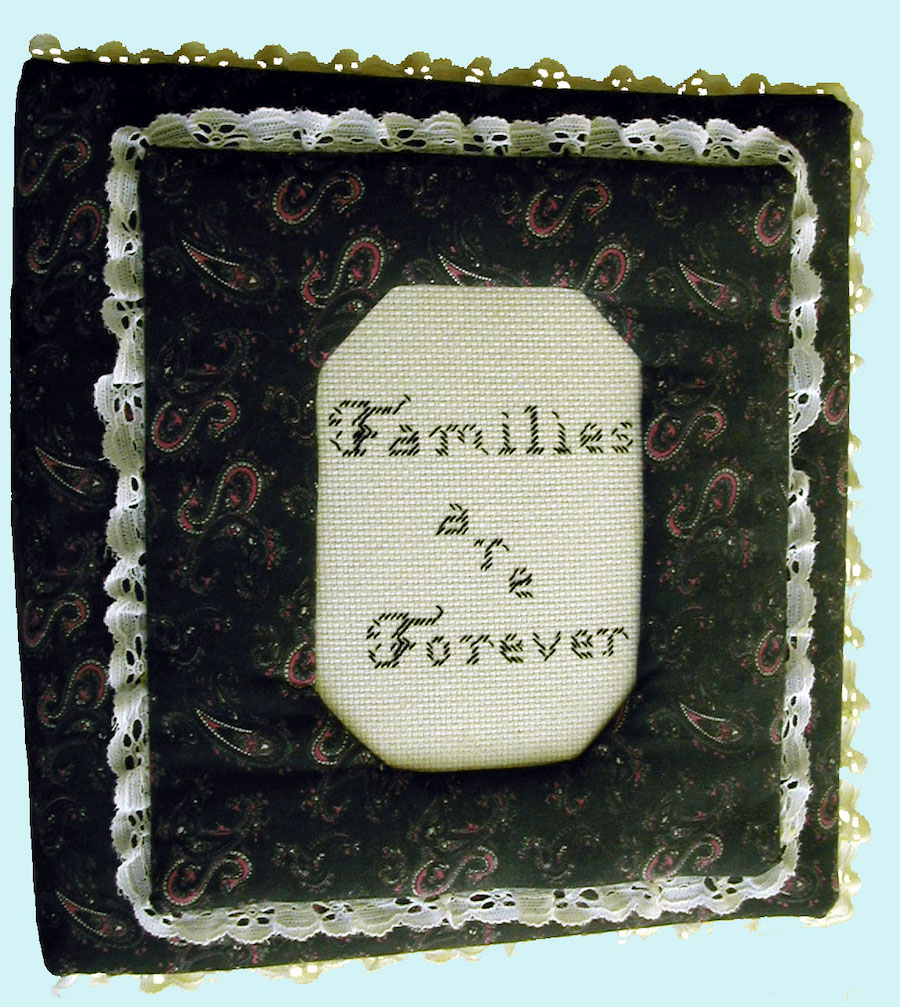 ---
---
"In [Mexican] tradition, people die three deaths. The first death is when our bodies cease to function;
when our hearts no longer beat of their own accord, when our gaze no longer has depth or weight,
when the space we occupy slowly loses its meaning.
The second death comes when the body is lowered into the ground, returned to mother earth, out of sight."
The third death, the most definitive death, is when there is no one left alive to remember us."
MexConnect
Introduction
"The Families Are Forever: Henjes & Paton" is a seven-generation photo album. This album has pictures of members of the Henjes family, of the Paton family, and of their descendents. I hope that it will help you remember the history of your ancestors and family, and maybe even learn a little.

How to use this Website: This main page contains nearly 250 preview images of family members and scenes. Click on the preview to bring up a new page with an enlarged image of the photo and a description or story behind the photo. Occasionally there will be supplemental photos in this page and even links to other information. You can return to the main page by clicking on the photo or by using your back arrow.

You can download full-sized photos from the supplemental pages for enlarging or printing. To do this on a Mac, hold the 'Control' key down and click on the photo. Then click on "Save image as..." in the menu that appears. In Windows, Right-click the picture that you want to save in a graphics file format, and then click Save as Picture. In the Save as type list, select the graphics file format that you want. Many pictures were scanned at least at 300 dpi, so you can blow them up a moderate amount when printing them.

Thoughts for the future: Here are some things that can be done to improve "Families Are Forever: Busse, Henjes, & Paton".
Most important, if any of the text is wrong or incomplete, please let me know so I can correct it.
More photos! If you have illustrative images that I don't have or if you have higher resolution versions of the images here, please let me know.
Third, many of the photos included need to be cleaned up to eliminate dust specks, scratches and other flaws in the copies of the photos available to me. That is something I need to do, given time.

Jump into the different sections of this album by clicking on the appropriate line in the list here:

Al Holm
Original Distribution: December 27, 2010; Updated: June 24, 2023 <! May 7, 2022, July 22, 2022, & March 27, 2023>
---
---
Henjes Family
The surname Hennies is a North German and Dutch patronymic from the personal name Hennig or Hans, according to Ancestry.com.

Christian Henjes (1827-1890) was the founder of the Henjes family in America. He accompanied the family of Friedrich (1800-1877) and Johanna (1803-1878) Busse to America in 1848. They all came from the village of Bakede in north-western Germany where Christian's parents Friederich Ludwig Conrad Hennies and Hanne Friederike Zersen and his grandparents Hinrich Hennies and Eleonore Stomeyer had lived.

In April 1849 Christian, Henry Busse, and a Mr. Henry Grupe from Bloomingdale joined the California gold rush in a prairie scooner from Independence, Missouri. Their trip west took seven months. There were no good maps, no roads, and many places to go the wrong direction. Add to this that the three men were unable to speak English as they traveled into the unknown in this wild country. It really was an adventure.

When they returned home, they chose the sea route via Panama, walking across the Isthmus where the Panama canal is now situated. Christian Henjes sailed to the port of New York first and then came back to Elk Grove Township. Once back, Christian bought a 108 acre farm about a mile south of where the oldest Busses had homesteaded.

Johanna Busse, the daughter of Friedrich and Johanna, married Christian Henjes on April 27, 1857. They had ten children, of whom eight reached adulthood. Their children were Johanna, Louisia, Sophia, Fred, Henry (died young?), Caroline (died young?), Emma, Wilhelmine, Martha, and Alvina.

Fred Henjes was the only son of Christian and Johanna Henjes to grow to be an adult. He attended the old Elk Grove school. In February 1890 he married Ella Duntemann of Leyden Township Illinois, at the St. John's Evangelical Lutheran church in Leyden Township. Fred and Ella had four daughters: Elma, Martha, Edna, and Rosa.

As the only surviving son, Fred inherited the family farm when his father died. He made truck farming his business and would take the farm produce to the Water Street market in Chicago to sell it. In 1915, the Henjes family moved from the farm to 619 West Campbell Street in Arlington Heights. The first year after moving they rented the farm to a non-relative; after that they rented it to a cousin. In about 1918 they sold it to an oil company for storage tanks at $300 an acre.

Ella passed away at home from pneumonia on May 30, 1949, after a lingering illness. Fred died just one month later, on June 29, from cerebral hemorrhage. Both were buried in the Elk Grove Lutheran Cemetery.
---
Return to the top of "Families Are Forever"
---
Henjes daughters
Elma (1891-1951) married Fred Meier in 1913. They had two daughters, Bernice and Loretta. Bernice married Ed Koelper. Loretta married first Robert Maierhofer and later Clarence Allison.
Martha (1892-1989) married Herman Gieseke in 1914. They had a son, Lester, and a daughter, Sylvia. Lester married Mildred "Millie" Smida. Sylvia married Alvin Beyer.
Edna (1894-1979) never married. In 1913 she was teaching and bought a car when cars were rare. It was considered somewhat scandalous that a woman would own one. She joined the nursing corps in 1918 and was stationed in the Panama canal zone for a while. She became sick with multiple sclerosis, but worked in hospitals in California as long as she could.
Rosa (1906-1988) changed her first name from "Rosa" to "Rose" when she attended high school in Arlington Heights. "Rose" sounded less German and in the years of World War I people were reluctant to be associated with Germany. She bought her first car in 1922 with $150 saved picking berries in the summer. In those days driver's licenses were not required so the garage man who sold her the car took her down the road a few miles to show her how to operate it. That was all the training she had! In August 1926, Rose and a girl friend drove her car to Niagara Falls and back, sleeping in the car in parks along the way. Here is her journal of the trip.
Rose began working in the post office in about 1926 for 65 cents an hour. She got the job as a clerk because no man wanted it. When she quit in 1945, she was earning $2400 a year.
Rose married Robert Paton in 1929. They had a son, Guy, and a daughter, Gail.
---
Return to the top of "Families Are Forever"
---
---
Paton Family
The Paton family came from Scotland. The Paton surname goes way back into the 1500s in Highland Scotland, but it is not a formal clan name, according to FamilySearch.com. "Although there are Patons in the Clan MacDonald of Clanranald, and in particular in the Clan MacLean, the name is believed to have actually started as a Christian name, meaning 'son of Pat' or 'son of Patrick', with the '- on' as a French suffix meaning 'son of' (the French equivalent of the Gaelic 'Mac', or the Norman 'Fitz')."
The first ancestor whose name we know for sure was James Paton, a farmer, who was born in Falkirk, Scotland, in 1828. His parents probably were Thomas Paton and Christian Auld who married in 1806 in Falkirk. James married Mary Mclellan, on 25 Nov 1849 at Airth in Stirlingshire. Their children included Mary, born January 1849, Thomas, born about 1852, Christina, born June 1853, James, born December 1854, George, born March 1857, John, born April 1859, Robert, born December 1863, and Grace Paton, born April 1866. All the children were born at Airth or St. Ninians in Sterlingshire. In his old age, James lived with his daughter Mary and her family. He died after 1901.
James's son George married Sarah Hepburn McLean on Oct. 18, 1878. He was 21 and she was 18. The wedding was in Gorbals District of Glasgow. Sarah's parents were Robert McLean and Elizabeth McGeachy. Sarah's father had been a mate in the Merchant Service, but was dead before she married.
Sarah and George had at least four children. George, Jr., the eldest, was born at 38 Norfolk Street, Glasgow, on May 7, 1881. At that time, George Sr. worked as a police constable. Another son, Robert, was born on April 19, 1885, at 63 Sandyfaulds Street. George Sr. was working as a biscuit van driver then. They had two more boys, John, "who died young" according to a distant cousin Mae Brown, and James. Later the family moved to 1 Bannockburn Road in St Ninians. <! start here > George, Jr., is the one we'll follow. I don't know what became of Robert and James.
In May 1904, George Paton, Jr., boarded a ship named Mongolian to Halifax, Canada, arriving on June 1. He listed his profession as joiner and his destination as Winnipeg, Manitoba. I don't know if he made it all the way to Winnipeg, but he soon found himself 130 miles to the east on the shore of Lake of the Woods.
Isabella Johnston followed him, arriving in Montreal on September 5, 1904, on the ship Pretorian and traveling to Keewatin, Ontario, to join George. (Note that in 1905, Keewatin joined with two other towns to become Kenora.) They married eight days later on Sept 13, 1904, in the Rainy River District of western Ontario.
<! She had been born in Scotland in December 1885. > Isabella "Bella" Johnston had been born in Scotland in December 1883, the daughter of Robert Sorley Johnstone and his wife Isabella Casson. She had one older brother, Robert who was born in about 1882, two younger sisters, Catharine "Katie" who was born in about 1885 and Jeanetta "Nettie" who was born in about 1888, and a younger brother, James who was born in about 1889. They lived in St Ninians in 1891. In 1901, both Isabella and Catherine were working as servants in other family's homes. The family with whom Isabella lived was about a 10 minute walk from where George Paton lived. There is family lore that <! Robert Johnstone was a hotel keeper and that> their parents did not want George and Bella to marry because of the difference in their social classes. I have not found any records for Robert Sorley Johnstone in the Scottish census or birth records for his children. Had he died after his youngest son, James, was born?
Soon after George, Jr., and Bella were married, they moved to Port Arthur, Ontario. There they had two sons, George McLain, who was born in January 1905, and Robert Johnston, who was born in Spetember 1907.
George worked in a saw mill in Port Arthur, but was nearly blinded by sawdust while working in the sawpit. In 1910, he decided to go to Chicago where he got a job with Carson, Pirie, and Scott, the big department store there.
In June 1911, Bella took the boys George and Bob from Canada (either Quebec or Montreal) on the steamship Grampian to visit Scotland, arriving at Glasgow on June 18, 1911. They returned to America, going to New York instead of Canada, on May 6, 1913. They traveled on the steamship California, which was later sunk by the German submarine U-85 on February 7, 1917.
At first the family lived in the Irving Park neighborhood of Chicago. In August of 1915 the family moved out to Des Plaines
George's brother Robert Paton came to America in 1912. He sailed on the Grampian from Glasgow, arriving in Montreal on October 5, 1912,. He crossed the border to the U.S. at Port Huron, Michigan, on October 7. He joined George in Chicago and quickly got a job as a fireman. Sadly, he died on November 27, 1912, only 53 days after he arrived in the country, and was buried at the Oakridge-Glen Oak Cemetery.
During World War I, George Paton, Jr., enlisted in the Canadian Over-seas Expeditionary Force as a U.S. recruit on Feb 9, 1918, in Winnipeg, Canada. The Canadian army had a recruiting office in Chicago at the time and he might have been recruited there on Jan. 31, 1918. At the time, the family was living on Prairie Avenue in Des Plaines. He was sent to England where he helped train soldiers.
George's surviving brother, James, married Maggie Boyd on July 23, 1920. In September 2020, only months after he got married, he followed George across the Atlantic to Des Plaines, Illinois, saying that he intended to live in the U.S. permanently. Four and a half months after their son was born, Maggie and the infant followed James to Illinois. In May 1922, James and his family arrived back at Glasgow. Jamesˆs mother, Sarah Hepburn McLean, had died on 26 Jan 1922 and it is possible that they returned to Scotland to care for his aging father? After that, James remained in Scotland for most of the rest of his life, moving to Wales in 1957.
James and Maggie had five children: George (1921-1974), James (1922-1977), Margaret (1924-2022), Elizabeth (1933-1999), and Iain (1943-2022). George married Phyllis Jones in Wales in 1947, and they had one son. James married Beryl Williams in Wales, and they had a daughter. Margaret married David Berrie and they had three children. Elizabeth married the Reverend David Evans and they moved to New Zealand, where they had two daughters. Iain moved to England. He married Lesley and they had two sons. James died in Wales in 1967.
Neither Bella nor George obtained American citizenship. They returned to Scotland to retire, possibly in 1936. The family story is that she returned first and that he followed about six months later after realizing that she wasn't going to return to the U.S. They settled in Grangemouth, which is on the River Forth. Bella died in September 1951 and George died in May 1952.
George M. married a woman from Illinois named Harriet Jefferson in 1925. They had three children Donald L., Robert S., and Jean, all born in Illinois. In August 1937, the family moved to Houston, Texas. He became a U.S. citizen in April 1941. George and Harriet divorced before October 1946. Harriet and her two youngest children returned to live with Harriet's mother, Alice Jefferson, in Des Plaines, Illinois. George married Lou Ella Bramlett in Rockwall, Texas. George went to work in Carracas, Venezuela, for a while, but later returned to Texas. He lived in Liberty, TX, and later in Anahuac, TX, both near Houston, with his second wife, Luella. He died there on November 16, 1981, after being sick for a couple of years and having a leg amputated.
---
<! dummy>
<! dummy>
Return to the top of "Families Are Forever"
---
---
Bob and Rose Paton and their family
Robert Paton and Rose Henjes married on November 15, 1929, only two weeks after the stock market crash that started the great Depression. At first they lived in an apartment, but in 1930 they moved into her parent's house because Bob had lost his job and their $50 rent had become too much. Later they moved into their own seven-room house in Arlington Heights.
In 1934 and 1935 Bob went to work for Carson, Pirie, and Scott because jobs were hard to find. His brother George was the straw boss for this job. Bob worked at night building scaffolding and covering the merchandise with drop clothes so the painters could work. For this he was paid $20 a week. He did not clear much because it cost so much to commute from his home in Arlington Park to downtown Chicago.
They moved to Genoa City, Wisconsin, in 1945 because Bob saw an opportunity to run a small hardware business. The building and the business cost $16,000 which is what they got for the house in Arlington Heights. The store was empty because the previous owner had been unable to make a go of it. At first Bob and Rose lived in a small apartment over the store. The apartment was 20 steps up. It had a single bedroom, a kitchen too small to eat in, and a small dining room. It was hot in the summer but, by putting an exhaust fan in the bedoom window and closing the doors to the other rooms, that room was kept livable.
Bob also joined the Genoa City Volunteer Fire Department in 1945, keeping up that service for 30 years.
When Rose's parents died, she inherited $7,000 which she and Bob used to start building their house on Wisconsin Street. They lived there for the rest of their days.
A few years later in 1958, when a new basement was being dug next door to the hardware store, the hardware store slid into the hole and was destroyed. Luckily there was enough warning so that everyone got out and no one was injured.
Bob Paton retired from his plumbing and hardware business in 1972. He continued to work part-time at the Nippersink Resort, and also spent time building wooden furniture and toys in his basement. He never liked to travel and visiting wasn't interesting to him unless there was work to be done.
In his later years Bob became increasingly ill. He had come down with diabetes in his 40s and had increasing trouble keeping it in balance. He died in November 1986.
Rose's health degraded too, and she passed away in February 1988.
<! new header>
<! new header>
<! new header>
Celebrating Bob and Rose's 50th Anniversary, September 1979
<! another section >
Return to the top of "Families Are Forever"
---
The Great South Pacific Adventure
After Guy and Gail married, Rose Paton took the newly extended family on a three-week vacation in winter 1975 to Tahiti, New Zealand, and Australia as a family bonding exercise.
Tahiti, the capitol of French Polynesia, was the most exotic stop of the trip, but also the shortest, only three days. We had a tour around the coast of the island, saw where Captain Cook landed to make observations of the 1769 transit of Venus, visited the beaches, and watched hula dance demonstrations.
New Zealand
In New Zealand, we joined a coach tour visiting the glow worm caves and the hot springs region at Rotorua on North Island. At Rotorua, we were entertained by Maori dancing and we took a light plane flight over the volcano.
On South Island, our tour picked up a family of Texans who quit their rental car after deciding that driving on the "wrong" side of the road was too stressful. We visited Christchurch, Dunedin, the Church of the Good Shepherd on the shores of Lake Tekapo, and Milford Sound. We stopped along the road to see Mount Cook, now called Aoraki, but it was shrouded in clouds. We did see lots of sheep and had a demonstration of sheep sheering. In an article in the Lake Geneva Regional News paper, Rose reported that "New Zealand was the more beautiful of the two countries and that New Zealand serves a more American type of food."

From New Zealand, we flew to Sidney, Australia, where we we joined another coach tour. First we visited the Opera House and the Sidney Bay Bridge. Then we went inland to Canberra, the capital. There we saw the usual monuments and government buildings, but also had an adventure when Bob needed to visit a medical clinic to get a prescription for his insulin refill. The driver/guide was not happy with us for delaying his tour.
Continuing our journey, we stayed in Albury and visited a winery and a large hydroelectric dam before arriving in Melbourne. One motel where we stayed had pass-through windows in the doors of the rooms where breakfast was delivered. One item on the breakfast menu was spaghetti. We thought we'd try that. It turned out to be Chef-boyardee canned spaghetti on toast. Interesting! In Melbourne, we visited the beautiful National Gallery of Victoria art museum and Captain Cook's Cottage in the Fitzroy Gardens.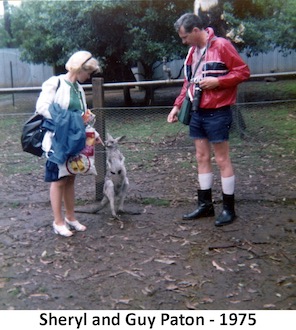 Our flight home had a change of planes in Hawaii. We didn't leave the airport, but the warm, moist air and lush flowers were wonderful.
Return to the top of "Families Are Forever"
---
---
Guy was born in Arlington Heights, Illinois, and moved with his parents to Genoa City, Wisconsin, when he was seven years old. He attended school in Genoa City. The Genoa City school included grades one through twelve at that time, and Guy graduated with twenty-one classmates in the spring of 1956. When he graduated his goal was to become an electrical engineer so he enrolled in the University of Wisconsin-Madison. He became dissatisfied with the University, and the following October enlisted in the U.S. Navy to be trained as an electronics field seaman. Health problems forced him to leave the navy.
Later he went back to UW-Madison and got his electrical engineering degree. In 1967 he began working at Univac in St. Paul, Minnesota. <! or was it Control Data Corporation > He bought a duplex house and rented out half of it. He met Sheryl Beskar, another Univac employee, and in July 1973 they married. <! The Univac connection is from Niki's Facebook posting on their 49th anniversary > In summer 1975, they had a daughter, Niki Love Paton.
Soon the family moved to Sheboygan Falls, WI, where Guy managed a Hardware Hank hardware store. Guy and Sheryl had a son, Troy Robert, in spring 1977. Hardware Hank suffered from vandalism and wasn't profitable, so Guy moved his family to Hudson, Wisconsin, and began working for 3M Corporation. Later, they had a house built across the river in Stillwater, MN, where the family lives still.
Sheryl passed away on the eve of her birthday in 2022. <! In 2022, Guy began working at Quality Assurance Inspector at BOH Electronics in Hudson, WI. Hi other work experience in LinkedIn is: part-time Sr. ElectricalSr. Electrical Advantage Point Group in St. Paul from Dec 2017 to Jan 2020; part-time Webline operator for Herb Fick in Northfield, MN, from May 2007 to Apr 2008; Electrical Specialist/Project Engineer 3M in St. Paul from Jun 1984 to Jan 2004; and OEM Project Engineer for Int'l Markets (Product Development Engineer) for Thomas Industries Power Air Division in Sheboygan, WI, from Oct 1981 to May 1984. >
---
<! 1st rows >
Return to the top of "Families Are Forever"
---
---
Gail Paton and her family
Bob and Rose Paton moved to Genoa City shortly before their daughter, Gail, was born, but went to the hospital in Woodstock, Illinois, for the event.
As a teenager, Gail enjoyed owning and riding horses. She wanted to be a veterinarian. She started college at the University of Iowa, but soon found it wasn't the place for her. She re-started college at the University of Wisconsin-Madison. Discouraged from seeking a career as a veterinarian because she was a woman, she got her bachelor's and maste's degrees in poultry science. She then went to work in a lab at the University of Minnesota-St. Paul.
In 1973, Gail returned to Madison and in 1974 married Albert Holm, an astronomer employed by the university. She went back to school and got a second bachelor's degree in agriculture journalism. Then she worked in the public affairs office for the University Hospital. She was glad to leave that job in 1977 when Al got a job for Computer Sciences Corporation helping to run one of NASA's satellites at the Goddard Spaceflight Center in Maryland.
They resettled to Bowie, Maryland, where they had a son, Douglas, and a daughter, Carolyn. Gail stayed home to raise the children. Things were rough while Al's work required rotating shifts where over the course of a year he would have to start at any time of day or night. Things improved when he was transferred to a day job in Baltimore, helping to plan operations for the Hubble Space Telescope, but he now had a long commute.
In 1986, they moved to Columbia, MD, to shorten Al's commute. When the children were old enough to care for themselves, Gail began to volunteer to teach reading to illiterate adults. She enjoyed this activity so she enrolled in the University of Maryland-Baltimore County (UMBC) to get a degree in teaching English to Speakers of Other Languages. After getting her master's degree, she taught at UMBC and at Howard Community College until retiring in 2015.
In retirement, Gail and Al purchased an recreation vehicle and spent summers volunteering as camp hosts at state parks around the country.
---
Genoa City 2nd and 3rd grade classes
| | | |
| --- | --- | --- |
| | | |
| Gail Paton in Genoa City school photos | | |
| | | |
| --- | --- | --- |
| | | Gail Paton in Lake Geneva High School photos |
| | | |
<! pre-13500YoungwoodTurn.jpg exists 250x188 >
<! 7th set of rows >
<! 7th set of rows >
<! 8th set of rows >
<! 9th set of rows >
| | | |
| --- | --- | --- |
| | | |
| Gail Paton Holm in Ecuador | | |
<! 10th set of rows >
<! 11th set of rows >
Return to the top of "Families Are Forever"
---
---
---
Return to the top of "Families Are Forever"
---
Return to the top of "Families Are Forever"
---
| | | |
| --- | --- | --- |
| Douglas Holm in California | | |
| Douglas Holm Gets A Family | | |
Return to the top of "Families Are Forever"
---
CJ Holm
Return to the top of "Families Are Forever"
---
---
The Busse Reunion of 1998
The Busse family set the first Guinness World Record for the largest family reunion in 1998. The reunion brought together descendants of the six children of Friedrich and Johanna Busse. the original 1848 immigrants. The family had reunions in 1898 for the fiftieth anniversary of their immigration, 1923 for the seventy-fifth, and in 1948 for the one-hundredth. In 1998, the 2,369 descendants and spouses gathered at the Lake County, Illinois, Fairgrounds.
The organizers developed a system of color-coded shirts that attendees wore based on affiliation with the six branches of the family: Christian's, Friedrich's, Henry's, Louise's, Louis's, and Johanna's. So many people attended that only one branch at a time could be photographed on the bleachers provided for it. Families being families, some people were descended from more than one branch so there are green, red, and purple shirts scattered among all the blue here.
---

Return to the top of "Families Are Forever"
---
---
Return to the top of "Families Are Forever"
<! IMG SRC="pre-FemaleTintype-color.jpg" ALT="Tintype photograph of a young woman, possibly Ella Duntemann. She is seated and wearing a striped dress">
---
---