<!body BGCOLOR="#D8FBD8">

<! Families Are Forever >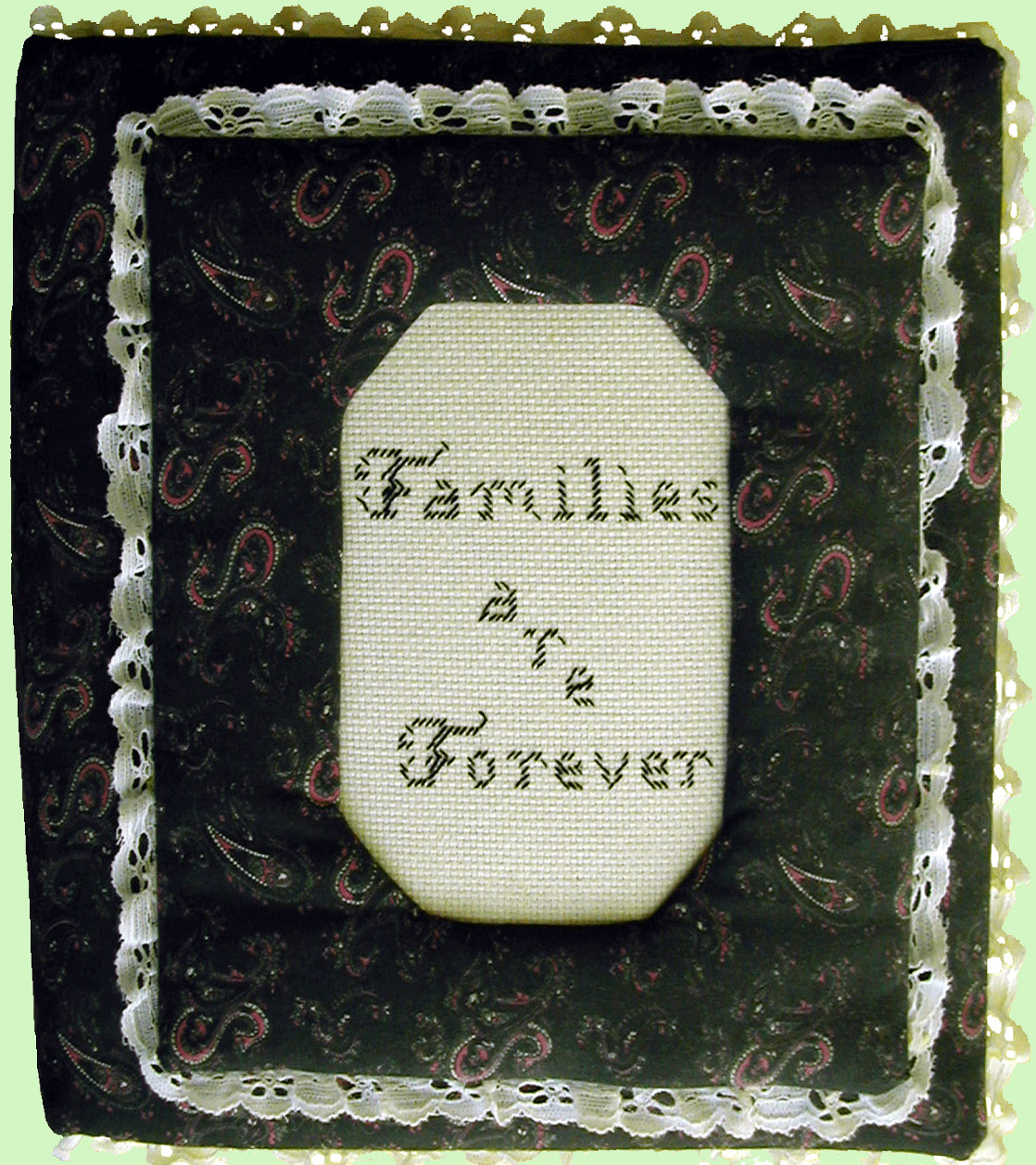 Introduction
<! Save the thumbnail images as jpeg 5 and the whole images as jpeg 12. > <! This album originally was on paper with printed photos. In that form there were real page numbers. The digital form lacks pages and I am removing the display of the numbers. But I am keeping the original page of images that were in the 1988 book in the name of the image. Sept 1, 2019. >

This is seven-generation photo album. It is centered on my grandparents Victor and Frida Holm, and it goes forward, backward, and sideways from them. It goes back two generations, and then comes forward four generations. I have tried to include all the branches of our family, but some branches are better represented than others. If your favorite photos and your loved ones are not here, please consider sending me a good digit copy. I will include your contributions in future versions of the album. It is intended to be a living document to be shared with our children and grandchildren.

The core of this album is a 1988 gift from Helen and Murray. <! I know that my brother Carl and I both received a copy of the 1988 album, each with small differences. > My copy, in a beautiful padded cover labeled Families Are Forever, is difficult to duplicate so I've converted it into a digital version. Helen, my mother, broke it into sections based on her ancestral branches, and wrote short introductions to each. I've kept that organization, but also added a section for the Baker family. I have rearranged the images, added identifications and information, and augmented it with more historic photos and with more recent images. Some of the added images are scanned from the many old photos that I have collected over the years. Some are digital versions of old photos that you've already shared with me. Others are original images that I took with a digital camera. Still others are images that were posted on social media and that I captured. Some are photos of photos, some even xeroxes of photos. The quality, therefore, varies significantly.

The result is that here are over 380 unique photos and brief stories of seven generations of our family for your enjoyment.

Scroll through this digital album and you will view small, preview images. That may be enough for you. However, if you click on the preview, new page with a larger version of the image will open, sometimes with information about who, why, where, and when, and sometimes with additional related photos. Clicking on the photo will bring you back to the album.

Feel free to copy any of the images. You can download one for enlargement, printing, or display by using Control-click on it. Many of the pictures were scanned at least at 300 dpi. You can blow them up a moderate amount when printing them. I used Photoshop Elements to adjust brightness and contrast, remove scratches and dust specks from some pictures (I did not get them all), and apply a moderate level of unsharp masking where it seemed to help. I also added a brief caption to most images. You can easily remove the caption with image editing software.

As noted earlier, some of these images are lower resolution and poorer quality than the others. For many, I have not yet removed scratches and dust specks. Others came to me in digital form at lower resolution. The group photos at the sawmill in Kenora and at the mine workers are especially bad because the original copies in my album were just zeroxes.

Again, I welcome your input, whether corrections to the identifications, better quality versions of the included images, or additional images, to make this a living document. And please feel free to share it with your children and grandchildren.

This album is organized in five major sections:
Helen wrote a family story to precede each section of photographs. I have replaced those stories, including what she wrote but adding more up-to-date and complete findings. To see the original text as Helen wrote it for my copy of Families Are Forever, click on the header line for that segment of the family story. Remember that all people have good sides and not-so-good sides. Do not be dismayed if you find that our ancestors were not saints. Even saints might have some regrettable sides.
Albert Holm, November 29, 2006; updated March 25, 2021, May 24, 2022, and Sept 5, 2022 <! I sent an announcement to family on December 30, 2020 @ 6:48 pm. >
AlbertHolm@hotmail.com
---
---
Victor's great grandparents were Anders Anderson (1769-1831) and his wife Helena Olsdotter (1774-1861). There are no photos of them in this album.
One of Anders and Helena Anderson's sons, Olof Anderson (1815-1892) married Eva Andersdoter (1824-1907). There were six children in this family, one of which was Victor's father Fredrik Olofsson (1853-1930). Three of the sons - Anders, Alfred, and Otto - left Sweden, eventually settled near Tracy, Minnesota, and changed their last name to Holm. Three of Olof and Eva's children, Anna Maja, Carl Johann, and Fredrik, remained in the old country. Helen Holm Hobert compiled a list of The Descendants of Olaf and Eva Anderson in 1984 which you can see here.
Fredrik Olofsson married Adela Andersdoter (1853-1941) about 1873. Only six of their ten children grew up: Victor (1879-1967), Maria, Anna, Emma, Karl, and Alida. The family experienced difficult economic times and some of the children were sent to work outside of the home. Fredrik remained in Sweden until his death but, over time, Adela and all of their children moved to America. Maria, Anna, and Emma were the first to go, settling in Kenora, Ontario. Victor came next, then Carl, and finally Alida with her daughter and mother.
Victor Fredrikson joined the Swedish army in September 1900. Like his uncles, he changed his name to Holm because of the abundance of Fredrikssons. In 1906, while in the army, Victor married Frida Sörkvist (1888-1928). Frida's parents were Carl Alfred Sörqvist and Hilma Carolina Fredriksdotter. Carl Alfred was a soldier in the Swedish army for 21 years. Frida's family has traced her maternal ancestors back to a Frenchman, Petter de Moine, who was a cavalry officer in the Swedish army and died in a battle against the Russians in 1702. More about Frida's ancestors is here.
In 1909, Victor left for Kenora, Canada, to find a better life. He found jobs that were temporary and sometimes dangerous. Frida and their daughter Svea arrived in Canada in 1910 before he was ready for them, but they made do. They had two more children, Aurora and Carl in Kenora. The family moved to the U.S.A. in 1917 first to Victoria, Michigan, next to Port Wing, Wisconsin, and finally to Iron River, Michigan. Another daughter Greta, was born in Port Wing in 1920. Frida died in 1928, when her youngest daughter was 8 and her oldest 20.
All of Victor and Frida's children married, but only Carl and Greta had children. After the children were married and gone, Victor took a trip back to Sweden in 1947 and married Jenny Soderstrom, an old acquaintance. They returned to Michigan, where twenty years later Victor died in 1967. Jenny returned to Sweden where she passed away in 1976.
To learn more about our family, check out:
---
---
<! Pages 3>
---
<! Pages 4 >
---
<! Page 5>
Click here to return to the list of sections.
---
The first of our family to leave Sweden and come to America were Victor's three uncles, Alfred, Otto, and Andrew. They changed their surname from Olofsson to Holm, and settled in Southwest Minnesota. Their stories are given in Helen Holm Hobert's 1984 booklet The Descendants of Olaf and Eva Anderson . In 1892 their parents Olof and Eva Andersson followed them, but Olof died soon after arriving.
One of Olof and Eva's grandchildren, Gustave Longstrom, immigrated in 1893 and settled in the same area of Minnesota.
Click here to return to the list of sections.
---
Having missed an opportunity for a job in Stromstad, Sweden. Victor followed three of his sisters - Maria, Anna, and Emma - to Kenora, Ontario. They had come to Kenora in 1905 with their bachelor uncle John Hanson, who was a younger half-brother to Adela.

Maria and Anna both married in Kenora. Maria first married August Anderson and they had a daughter, but both August and Agnes, the daughter, died in an epidemic in 1907. Maria then married John Samson, and they had eight children. Anna married August Carlson, and they had four children. Emma died at age 16 in the same epidemic that killed August and Agnes Anderson.

Victor sailed from Gothenburg, Sweden, to England on the Rollo. He crossed England by train and boarded the Empress of Ireland in Liverpool. He arrived at Quebec, Canada, after six days at sea, and then took a train to Kenora.

Frida and Svea followed Victor to Kenora in 1910. They were also accompanied by John Hanson.

Victor's brother Karl immigrated to Kenora in 1912 on the Empress of Britain, also with John Hanson.
---
<! Page 8>
---
<! Page 6>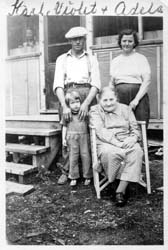 <! Page 7>
Click here to return to the list of sections.
---
Victor left Canada to move his family to the United States. At first, Frida and the children remained behind in Kenora. He sent them a postcard from Chippewa Falls, Wisconsin, on 10 August 1916. By 28 November 1916, Victor was in Victoria, Michigan, where he found work in the copper mine. The family joined him there.
---
<! Page 11>
Click here to return to the list of sections.
---
Victor gave up copper mining and took his family to a farm near Port Wing, Wisconsin. He probably rented the farm. It was a difficult life and Victor had to go to Chicago to get work.
---
<! Page 13>
Click here to return to the list of sections.
---
Next they family moved to Rogers Location, just three miles east of Iron River in Iron County, Michigan. Victor obtained work in the iron mines, and the children attended school.
---
<! Page 18 >
---
<! Page 15 >
---
<! Page 17 >
---
<! Page 16 >
Click here to return to the list of sections.
---
In 1939, Victor purchased 20 acres of land in Bates Township about 1/4 mile south of U.S.#2 on Passamani Road, and built his house there. Around the house were fields, some used to grow potatoes, some with berry gardens, and some with an apple orchard.
---
<! Page 26 >
---
<! Page 27>
---
<! Page 28 >
---
<! Page 29>
Victor enjoyed singing. On December 7, 1945, he recorded some songs on 78 RPM records at the Montgomery Wards store on the west end of Iron River's business district. The operator of the equipment made the recording at too low a level, resulting in too little modulation and depth of cut. Therefore, the surface noise is very high. I tried to clean it up some with Audacity, but the music still has a lot of noise.
Click on the links below to hear two of his songs. Use the back arrow on your browser to get back to this page when done.
---
<! Page 30 >
---
<! Page 31 >
---
<! Page 32 >
---
---
<! Page 32+>
---
<! Page 33>
---
<! Page 34>
---
<! Page 35>
---
<! Page 36 >
Click here to return to the list of sections.
---
---
SECOND GENERATION OF THE HOLM FAMILY IN AMERICA
---
Victor and Frida had four children:
---
EVA SVEA INGEBORG HOLM (1907-1946)
Svea Holm was born in Sweden and brought to Canada by her mother at a young age. In Kenora at Christmas, the family had a tree which was decorated traditionally with candles. One year, Svea came to close to the candle and her dress caught fire. Fortunately she survived.
She moved with her family to the U.S.A. In Iron River, Svea obtained a practical education. She received an award for her penmanship from Rogers School in 1924 and a certificate in bookkeeping from Stambaugh High School in 1926. She got a job at the Verona Mining Company office located near Caspian, walking to to and from her job despite the weather. One morning she was hit by a car while walking to work. Fortunately she survived again.
In 1936, she married Alec Passamani, a neighbor who worked in the mines. He built a cabin next to Victor's land where they lived. Svea and Alec did not have children. She became ill with cancer and then committed suicide with a gun in 1946.
---
KAREN AURORA LINNEA HOLM (1911-1987)
Aurora Holm was born in Kenora, Canada, and came to the U.S. as a young child with her family. Aurora was the only one of her siblings to permanently move away from where she grew up. She did come back to visit for holidays and at other times. After finishing school at age 17, she first lived in Kingsford, MI, with a Swedish family. Then she took a waitress jobs in the little Wisconsin village of Brule along highway U.S. 2. In 1942 she moved to Duluth where she knew a family and took a job as a waitress in the Hong Kong Cafe. She continued to live in Duluth for the rest of her life.
In 1946, she married Russel Hovey, a truck driver. She divorced him in 1956. He had been married once before and he married again after Aurora.
---
CARL GUSTAV VICTOR FRITIOF HOLM (1913-1975)
Carl Holm was born in Kenora and came to the U.S. as a young child with his family. He graduated from Iron River High School in the midst of the Great Depression and joined the Civilian Conservation Corps on July 1, 1934. In 1936, he married Betty Seehase who he had met while serving at Camp Hoxeyville in Michigan's Lower Peninsula. They had a child, Charles, but they divorced in 1937.
In 1942, back in Iron River, Carl married Helen Nault. Eventually they had four children, three boys - Albert born 1943, Carl (1947-2019), and Wayne born 1960 - and one girl, Terri born 1952.
During World War II, Carl was given a 4F draft classification because of a heart condition. Near the end of the war, he and Helen moved to Saginaw, MI, where he got a job for General Motors.
After the end of the war, they moved back tp Iron River, Michigan. At first, they lived in the old chicken coop at the northeast corner of Victor's field. When their family grew, they built a small home on 20 acres of land located on Passamani Road, kitty corner from Victor's land. Later, as the family continued to grow, they enlarged the house with a large addition and a basement. Carl workED for Proseckh Lumber Compnay for most of his life.
Carl suffered a heart attack in July 1974, and took months to recover. He died from a major heart attack while snowmobiling in March 1975.
---
<! Page 23 >
---
<! Page 43>

---
<! Page 45>
| | | |
| --- | --- | --- |
| | | |
| | | |
---

<! Carl and Helen, page 3 >
---
---
<! Page 49>
<! Page 44 >
---
<! Page 46 >
---
<! Page 47 >
---
<! Page 48>
---
ANNA GRETA HOLM (1920-1975)
Greta was the only one of her siblings who was born in the U.S. Her mother died just a month after Greta's eighth birthday. At that time, the family lived in Rogers Location.
Greta went to Washington, D.C., for a while, but then returned to Chicago where she got a job in a factory which made cutting and grinding tools. Tuberculosis forced her to leave that job in the early 1940s and to live in the Pinecrest Sanitarium at Powers, Michigan, for about 3 years.
She married Murray Baker in July 1943. Murray's dad was the first child of European descent born in Stambaugh Township. Murray was in the army tank corps and soon after they married, he joined the invasion of Italy. He was injured there when a truck he was riding in rolled over.
After the war, Greta and Murray lived in Stambaugh, Michigan, on Wilson Street. They raised three children there: John Peter born 1947, Catherine born 1950, and James Curtis born 1953. Murray drove a long-distance truck, hauling explosives all over the country for DuPont. When DuPont changed Murray's employment, the family moved to Ashland, Wisconsin. Later they were able to move back to Stambaugh, where Murray drove for F. W. Means & Co.
Greta died suddenly and unexpected from a heart attack while living in the house on 16th Street in Stambaugh. She had called Murray, who was at work, to say she had chest pains. By the time he was able to get home, she had passed away on her front steps.
<! Greta2 >
---
<! Greta3 >
---
<! Murray and Helen >
Uncle Pa and Auntie Ma (Murray and Helen Baker)
After siblings Carl and Greta died within months of each other, their spouses, Murray and Helen, comforted each other. Two years later they married and had many happy years together.
---
<! Page 52> Helen and Murray had a second wedding, in the church, in 1991.
---
<! Page 52B>
Click here to return to the list of sections.
---
---
THIRD GENERATION OF THE HOLM FAMILY IN AMERICA
Victor and Frida's grandchildren are:
---
<! Page 24>
CHARLES SEEHASE (BORN 1936)
Charles is the son of Carl Holm and Betty Seehase. Carl and Betty were married in 1936 and divorced in 1937. After the divorce, Charles was adopted by his maternal grandparents Mildred and Charles Seehase. He served in the army in Panama in the mid 1950s. Back in Michigan, he married Marilyn Crowe and went to work in the Mount Clemens Fire Department, rising to the level of chief. He and Marilyn have three sons: Jeffrey, Todd, and Kevin.
---
ALBERT VICTOR HOLM (BORN 1943)
Albert is the son of Carl Holm and Helen Nault. He was born in Stambaugh, Michigan, and grew up in Bates Township, just a quarter mile from his grandfather. He obtained a B.S. in astronomy at the California Institute of Technology and a Ph.D. in astronomy at the University of Wisconsin-Madison. He married Gail Paton of Genoa City, Wisconsin. His career was spent helping get astronomical observations from three orbiting satellites: Orbiting Astronomical Observatory-2, International Ultraviolet Explorer, and Hubble Space Telescope. Albert and Gail have a son, Douglas, and a daughter, CJ.
| | |
| --- | --- |
| | |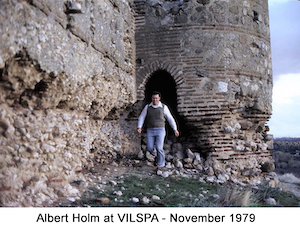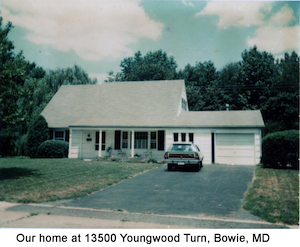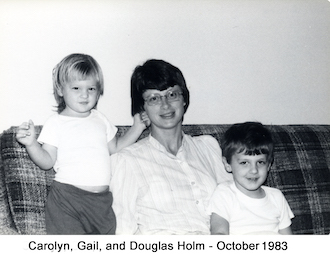 ---
Like Albert, Carl was born in Stambaugh and grew up in Bates Township. When only four years old, he developed rheumatic fever and spent six weeks in St. Mary's Hospital in Marquette, MI. In high school, he helped start a rock band called the Excels, that was quite popular in Michigan. He left the band when he started college. He attended Northern Michigan University and obtained B.S. and M.S. degrees. He started his 42-year career at NMU in 1972, and retired as the Director of Housing and Residence Life in 2014. He married his high school sweetheart, Ruth Ann Curtis, and they had a son, Christopher, and a daughter, Melissa.
<! link entry>
---
Terri married Michael Olan in September 1971 shortly after graduating from high school and divorced him in 1995. They traveled a lot during their marriage. Mike graduated from NMU and got a MS degree there too. They moved to Tacoma, Washington, where he taught, and then moved to Pocatello, Idaho, where Mike earned his doctorate at Idaho State University. The whole family spent summer 1983 in Leysin, Switzerland, when Mike had a summer job there. In 1990 they moved overseas again when Mike got a temporary position in Malaysia. Their final move was to Onalaska, Wisconsin where Mike taught at the University of Wisconsin-LaCrosse. Terri and Mike have a son, Collin, and a daughter, Katherine.
---
Like his siblings, Wayne was born in Stambaugh and grew up in Bates. He had the sad experience of losing his father when he was only 15 years old. Wayne graduated from NMU with a degree in computer science in 1984, and joined IBM in Rochester, Minnesota. In 1989 he married Kristine Brown, but they soon divorced. Wayne has remained in Rochester, working for IBM. He has become an expert scuba diver, teaching diving classes and leading expeditions to tropical resorts.
| | |
| --- | --- |
| | |
---
John grew up in Stambaugh, Michigan, where he was called Pete. He enlisted in the army, where he first attended the Army Communications School at Fort Monmouth, New Jersey. Then was assigned to Army Intelligence at an air base in Vietnam for one year, and later sent to Germany. After being discharged, he graduated from Northern Michigan University and married Sherry Clements of Gaastra, Michigan, in August 1972. They moved to Colorado, where Pete first took a job in the county parks department. Pete got a Master's degree from the University of Northern Colorado. Sherry worked as an insurance adjuster and Pete as a real estate appraiser. John and Sherry have a son, Jeffery, and a daughter, Patricia.
---
CATHERINE MURITA BAKER (BORN 1950)
Cathy married a Navy Seaman, Thomas Brooks, in September 1969. They lived in Florida at first, but later moved to Missouri when Tom retired from the Navy. They have two sons, Andrew (1970) and Jason (1976). Cathy has worked at several jobs, including at a Savings and Loan, a fire fighter, and City Clerk/Administrator. Cathy and Tom were divorced in the late 1980s, and she moved to Columbus, MO. In 1994, she married Ted Lammers. Ted died in 2016.
---
JAMES CURTIS BAKER (BORN 1953)
James "Curt" served four years in the United States Air Force. He has been married three times, in January 1974 to Dawn Jurecic, in August 1978 to Lori Neitzel, and in June 1989 to Nancy Sappington Carter, of Ashland, Missouri. He lived for a while in Duluth and later moved to Germantown and Thiensville in the vicinity of Milwaukee. He has a daughter, Michelle (1979), with Lori. Nancy has a son, Wes Thompson, from a previous marriage.
Click here to return to the list of sections.
---
---
Here are photos of the children of Charles, Albert, Carl, Terri, John, Cathy, and Jim, and of their grandchildren.
---
---
<! Douglas Holm section 2>
<! Douglas Holm section 3>
---
<!later CJ Holm>
<!later CJ Holm>
<!later CJ Holm>
---
<! Christopher Holm>
---
<! Melissa Holm>
---
---
---
---
---
---
Click here to return to the list of sections.
---
---
These are photos of the descendants of Victor and Frida Holm's siblings and cousins.
<! another anchor >
Click here to return to the list of sections.
---
---
This section contains photos of relatives and family members of Victor Holm getting together after a long separation or from large distances. There have been other gatherings, but only those for which I have photographs are presented here.
The family gatherings featured here are:
---
In 1936, after Adela Olafsson moved to Canada, Victor Holm brought his daughters from Michigan to Kenora for a visit in late summer. Most of Adela's children and grandchildren assembled for the occasion.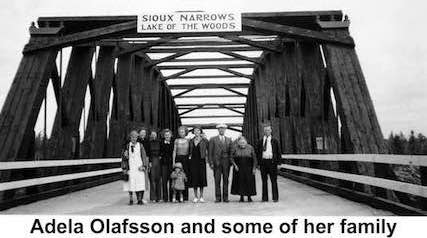 ---
After World War II was over and after he was retired, Victor visited his homeland. He also remarried when he was there.
---
After Victor returned from Sweden with Jenny, his new wife, he visited his relatives in southwestern Minnesota. He had not seen his uncle Otto Holm in 66 years.
---
Passamani Road, Bates Township, 1951
<! The date is based on the appearance of Cathy Baker. She was born in June of 1950, and appears to be about one year old here. > Victor's brother Karl came to Michigan for a visit.
---
Passamani Road, Bates Township, June 1982
Helen Holm Baker gathered her children and step-children to her home to meet the daughter of Louis Fonder, her father's younger brother.
---
Passamani Road, Bates Township, August 1997
The children, step-children, and grandchildren of Helen Holm Baker gathered for her funeral.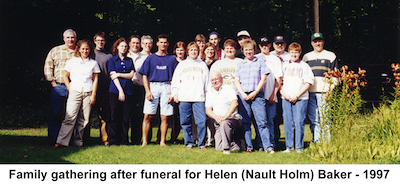 ---
Some second cousins, descendants of Swedish immigrants Victor Holm, Maria Samson, and Karl Holm, gathered in Kenora to renew and create relationships. Victor Holm, Maria Samson, and Karl Holm are the children of Fredrik and Adela Olafsson.
---
After the 2014 get-together in Kenora, a reunion at the same city in 2015 attracted more cousins. All were descendents of siblings Victor Holm, Maria Samson, Karl Holm, and Alida Carlson.
| | | |
| --- | --- | --- |
| | | |
---
In July 2017, descendents of Victor Holm and his uncles Otto and Andrew Holm gathered near Minnesota's Twin Cities to begin planning a reunion in the ancestral locations in Sweden.
---
In June 2018, descendents of Victor Holm, Alida Carlson, and their uncles Otto and Andrew Holm made a pilgrimage to Sweden to visit the ancestral farm. We were fortunate to be joined by Swedish descendents of Carl Johan Holmberg and Norwegian descendents of Anna Maja Löngstrom, siblings of Otto and Andrew.
After the reunion of descendants of Olof and Eva Anderson, Al and Gail Holm visited with some of his cousins from Frida Sörqvist's side of the family.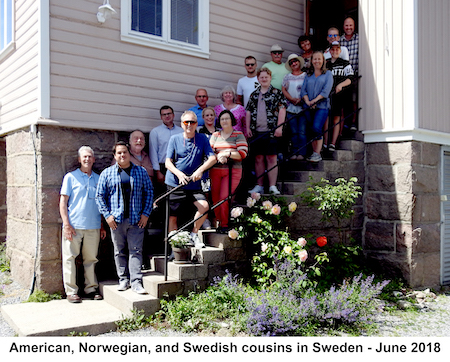 ---
Family members gathered for a Celebration of Life on March 5, 2019, for Carl David Holm after he died of a heart attack. The Celebration of Life was held at the Ore Dock Brewing Company in Marquette, Michigan.
---
The plan was to hold a grand, multi-family, multi-nation gathering of descendents of Olof and Eva Andersson and of their children: Anna Maja Longstrom, Carl Johan Holmberg, Andrew Holm, Fredrik Olofsson, Alfred Holm, and Otto Holm in southwest Minnesota. Andrew, Alfred, and Otto immigrated to southwest Minnesota. The children of Fredrik immigrated to Canada and the United States. Some children of Anna Maija and Carl Johan also immigrated to the U.S. Olof and Eva came to the U.S. in their old age, but he died shortly after arriving.
Seventy-four years earlier, in 1948, my grandfather had traveled to this region of southwest Minnesota to reunite with his uncle Otto Holm and cousin Gustave Longstrom.
Then the Norwegians cancelled because of illness in the family. Others who had planned ot attend also cancelled during the summer due to surgeries. Still other cousins had other planned activities at the time. Other factors stifling interest were a resurgence of Covid-19 and the increased cost of travel as inflation took off. In the end, our grand reunion had only a dozen attendees, representing descendents of Andrew Holm, Fredrik Olofsson, and Otto Holm. <! Marker 1>
<! Marker 2>
After leaving Minnesota, Al and Gail traveled to Michigan where they spent an afternoon with Al's relatives in Negaunee.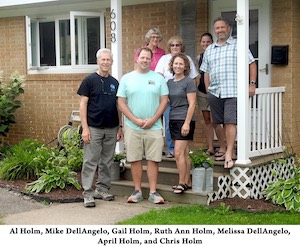 ---
Click here to return to the list of sections.
---
---
Albert ( Sam ) Nault was born in Quebec Canada. There were five boys and three girls that I knew of. The boys names were Napoleon, Albert, Peter, George, and Fred. The girls were Anna, Minnie, and Georgena.
The girls lived around Iron River, as did Fred, George and Albert, where the latter picked up the nickname of Sam. When he was a youngster, he developed a fascination to a town personality by the name of Samuel, following him everywhere he could. They thus became known as Sam and "Little Sam". I believe Albert legally changed his given name to Samuel.
The family ran a boarding house and bar business situated on the corner of 9th and Cayuga. Mrs. Nault did the laundry and provided meals for the boarders. Sam worked in the woods as a teamster, and brother Fred, better known by the nickname of "Bum", was a house mover. I don't know what George did, but thinking about it, someone had to tend the bar.
During this period is probably when Sam met Leon Goodbeau with whom, as partners, he bought and homesteaded the Nault farm on what was known as the Trout Lake Road in the Nash District about three miles from Iron River.
Sam then married Rosanna Ducharme. She was born in a logging community of Atkinson, later known as Gibb's City. Her father's name was Louis Ducharme and he worked in the lumber mill there. Rose had three sisters, Eva, Edith, and Margaret and a brother Harry who was killed in World War I.
The Ducharme' moved from Atkinson around the turn of the century when the mill shut down. They settled in a mining community between old Caspian and Gaastra called Spring Valley. The children attended the Palatka School which was located nearby in the Berkshire Location.
Rose's mother died shortly after Margaret was born and Rose, being the oldest, was taken out of school at the fourth grade level to cook and clean for the family. She mentioned many times that her father was a mean person and used a heavy hand with his siblings. It was a shame that she was forced to stop her schooling, as she was a very bright, level-headed lady. Sister Margaret was adopted out when a baby and had a better chance to get an education, as she went on to become a nurse.
When 45-year-old Sam married 25-year-old Rose, they moved into the house that Sam built. His mother lived with them from day one, along with Goodbeau and later Rose's father when he lost his small farm on the corner of Kofmehl Road and the Bates Gaastra Road, which had to be forfeited to the state when he applied for old age pension.
Rose discovered that she could not bear children, so when they learned, through their Priest Fr. Lenhart, of my case they applied and were given permission to adopt me. Being brought into this family was a blessing and a chance for a loving and stable environment.
---
<! Page 38>
---
<! Page 39 >
---
<! Page 40 >
---
<! Page 41 >
---
<! Page 42 >
---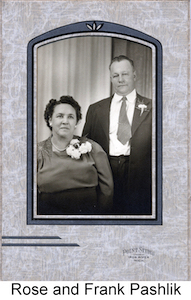 ---
---
Click here to return to the list of sections.
---
---
Great grandfather and great grandmother Green were the first trace of relatives on my biological mother's side of our background. John's ancestors haven't been determined as of 2020. He was born around 1800. Anna Hetzler Green was of German decent and she was born in 1813. They were married in New York state and later moved to McHenry County in Illinois. Four children in the family survived to be adults. Their names were Emilena, Dewitt, Elizabeth, and Fredrick R. Green.
When Fred R. Green was about 16 yrs old he married Charlotte Chapins. They had three children: John C., Anna, and Fredrick D. They also moved back to New York.
When Fredrick D. was about one month old, Fred enlisted in the New York Volunteers and was called to fight with the Union Forces from Louisiana along the Mississippi north to Vicksburg. He was wounded in April of 1863, but served two more years and discharged with a disability in January 1864.
During this period, they moved back to Wisconsin. Charlotte became disgusted with her husband and, leaving her sons John and Fred D. behind, walked out. She took Anna and was never heard from again. Fred believed her to have possibly died in a train accident. This was about 1864.
Fred remarried in 1868, when he was 27. The woman he married was Harriet Harrington, a widow with children of her own. Fred and Harriet had four children: Eveline (1873), Grace (1875), Bert M. (1877), and Mable (1879).
The marriage lasted for 15 years. Then Harriet passed away, leaving him with children 10, 9, 7, and 4 years old. The census doesn't list her first children with the family at that time. Fred R. Green was now 42 years old and had one child, Fred D. from his first marriage and four from the second to support.
Three months later he married Ellen Herrick whose family came from Maine. There were married in April 1883. This woman is Helen's biological Grandmother.
They moved north to Mountain, Wisconsin, shortly after the marriage, where they started their family. It was told by a neighbor that there were 10 children, one still-born and three girls. They were Gertrude, Florence, and Cora. None of the others survived. Cora was Helen's biological mother.
Fred died at age 64 in 1905 and is buried in Mountain. Ellen remarried in 1910, but only 5 years later she was alone again. She died in 1921 and is said to be buried at Mountain.
Without Fred, life was hard. Their 16-year-old daughter Gertrude married Frederick Walter Schroeder in 1907. They had two daughters, Clara in 1911 and Irene in 1913, but Irene died when only 6 1/2 months old. Then Gertrude herself died in 1922.
In 1912, daughter Florence died after eating berries from a tin container, according to Helen's cousin Clara, who was Gertrude Green's daughter.
Gertrude and Clara were present at Ellen's death, along with their half brother Bert. Apparently Cora couldn't be located.
---
<! Page 59 >
Cora Green Fonder, Helen's Biological Mother
Helen's biological mother Cora Fonder was the daughter of Civil War veteran Fred R. Green and Ellen Herrick Green of Mountain, Wisconsin, where Cora was born in February of 1895.
There were two older sisters, Gertrude and Florence and a half brother Bert living there with them. Two other half sisters and their families lived near by. These were children of Fred's second marriage.
Fred Green died in January, 1905, when Cora was 10 years old. Ellen was about 43 years old. Ten years later, she relocated in the Wisconsin Rapids area, and more than likely took Cora with her. Ellen' second marriage here to James Jewell lasted only 5 years, as he died in 1915 in the town of Saratoga, Wisconsin.
The next known record of Cora is a certificate of marriage to Charles Close, applied for on March 14 1914 (a year before her stepfather's death) in the town of New Rome, Wis. There were several discrepancies on the license, to pinpoint the chain of events. The town of Cora's residence was apparently written in as Saratoga where her mother and stepfather were, and overwritten as Rome. Her husband Charles's residence was listed as Mountain, Wisconsin, where they resided after the marriage. Cora was 19 at this time.
However, in 1919 Charles left Cora and took up residence in West Allis Wisconsin. He applied for divorce from Cora in January 1920, and in May 1920 the divorce was finalized. Cora was now 24 years old.
In 1921, at the age of 26, she married August Fonder. He was about 50 years old at the time. They moved to Tipler Wis.
On Jan 12, 1924, Cora Fonder gave birth to a little girl. They named her Hellen Exzine Fonder, presumably after Cora's mother Ellen and August's mother Exzena. But August was not the infant's father. DNA testing of their descendants shows that Helen's biological father was Frederick Walter Schroeder, the widower of Cora's older sister Gertrude. We don't know why this happened. We know that Cora had a wild streak because that is why Charles Close divorced her. At age 37 in 1923, Frederick Schroeder was a little closer to her age than August was.
Did August know that Helen was not his daughter? We don't know. We do know that within a few years August left Cora and Helen, and moved back to Oconto Falls to live with his family. Being a good Catholic, he would not divorce Cora so there is no record of why he abandoned them.
Helen wrote the following.
"Shortly after this their sojourn to Iron River, Mich. began. Several places of residence have been told to me by others. I do not know if iron River proper was one place we lived, but there were two in Bates Township. One told to me by a former baby sitter was on Helgemo Rd., and another was closer to the Chicagoan mine location on what is now called Nelson Rd. The next, and probably the last before adoption, was near the Fortune Lake area in Crystal Falls Township. All during this time she found different types of work to support herself and child; Fonder refusing to help, or not bothering to check. This was all in the period, from 1925 through 1929.
"On May 2 1928 Cora had me Baptized at the Catholic church in Crystal Falls. Probably she had stated that she had a former marriage to Charles Close because his name is written in parenthesis after hers. An interesting point to me is that my name changed from Hellen Exzine to Helen Mary Fonder. I vaguely remember being placed in costodial care in a home in Crystal Falls for a while, possibly just prior to adoption. The adoption papers state that during the trial custodial with my adopting parents to be my health and general appearance improved; and on Aug. 29, 1929, I was legaly adopted by Albert and Rose Nault. I was 5 years old at the time.
"On Dec. 11 1931 Cora applied for divorce from August. However, the case was dismissed in May 1933 because of lack of progress.
" Cora's story ends here as there is no other information as to the rest of her life. Her biological grand son Albert Holm is still in persuit of any clues that may bring the balance of her life to light."
Cora apparently loved her daughter. She twice petitioned the court to get her Helen back, but was turned down each time. This last suit was filed in 1931 and rejected in 1933. After that, Cora disappeared from our view.
In the early 1970s, Helen and Carl had stopped for refreshments at a bar in the Wisconsin village of Alvin. She chatted with another woman there and discovered that the other woman, Clara Hasse, was the daughter of Cora Green's sister Gertrude. They were cousins! Actually they were half-sisters because Frederick Walter Schroeder was the father of both, but they did not know that. Helen was very happy to have found a link to her birth family.
---
<! Page 60>
---
<! Page 61>
Click here to return to the list of sections.
---
<! Page 54>
August Fonder was the husband of Cora Green when Helen was born. There now is genetic evidence that August was not Helen's father. Albert Holm had his DNA tested by Ancestry.com. Ancestry provides a means of locating cousins by comparing the DNA tests of all the people who have had the test done by Ancestry. There are two results of Albert's test that suggest that a different man was Helen's father. First, no Fonder descendent has shown up as a cousin to Albert through mid 2019. This may not be fatal as the inheritance of DNA is a random process, but it is highly unlikely. Second, Albert has DNA matches who are descendents of the Schroder family, to whom he should not be related if the family tree is accurate. This is pretty strong evidence that Helen's father was a Schroder.
It is possible that at the time no one knew that Helen's father was not August Fonder. However, if August himself knew, that would be a good explanation for why he abandoned the family and returned to Oconto Falls.
Even if August Fonder was not Helen's biological father, he and his family qualify as shirttail relatives. The following was written by Helen who always thought that August Fonder was her father.
"The earliest record of the Fonders are great-grand father and great-grandmother John and Mary Fonder who migrated from Belgium about 1855, settling in Bellevieu, Wisconsin, near Green Bay.
"They had eight children, one of which was my Grandfather, Augustus Fonder. He married Exzena Poulin in 1870. They had five children. They were August J., Louis, Mary, Charles, and Henry. August J. Fonder, my father was born in Bellevieu in 1871. His mother died when he was 9 years old.
"He married his first wife, Anna Meyers, in 1900. When she died, he moved north to Mountain. There he met Cora Green. They were married in 1921 and moved to Tipler, Wisconsin, where he worked in the lumbering industry. I was born there on Jan. 11, 1924, at 8 AM, and given the name of Hellen Exzine Fonder.
"Sometime in the next five years the family broke up, and August moved to Oconto Falls to live with his brother Louis and family where he helped with the farm chores until his health began deteriorating. In December he suffered from heart problems and passed away in March of 1937.
"He was described to me, by Delores Steffens, Louis Fonder's daughter, as a gentle, quiet person, well liked by everyone, and greatly missed by their family and friends.
"August died when I was 13 years old and I remember the Naults telling someone that August would like to see me before he died, but they thought it best for me not to become involved. Perhaps they were right, however I did feel sad about it."
---
<! Page 56>
---
<! Page 57>
| | |
| --- | --- |
| | |
| | |
---
<! Page 55>
Henry Fonder
More by Helen Holm

"Through cousin Delores Steffens I met Uncle Henry at the nursing home in Oconto just about three weeks before he passed away on June 11, 1982. He was 97 years old, but he was a very alert, slight built fellow with a quick smile when he saw us. I'm not sure he really understood who I was, but he loved the big kiss he got from Delores and I.

"He was very sad, to the point of tears, however, that he had to be restrained in a chair by his bed so he wouldn't fall and hurt himself. He was used to strolling through the corridor visiting with friends.

"He had been experiencing fainting spells and had fallen a few times and had to spend time in bed recouperating.

"He and Martha, his wife of 61 years, were married in 1912 and raised four children. Their son Lyle, who lives in Oconto, came to see him every day and to take his Dad for a ride, walk, or just a breath of fresh air.

"Henry and his wife were the first couple to reside at the nursing home when it was first built."
Click here to return to the list of sections.
---
---
According to Jack Hill's book A History of Iron County Michigan, Elzeard and Delvina Baker were pioneers who settled in Stambaugh in 1886, coming originally from French Canada. Their son Frank, the seventh of eleven children, was the first baby of European descent to be born there.
Elzeard and Delvina Baker's oldest son, Neil, started a neighborhood grocery store in Stambaugh. When he retired in 1946, he turned the store over to his sons Earl and Ed. They continued the business as the Baker Bros Grocery. A specialty that they sold was homemade potato sausage, which is a traditional Swedish sausage, often served at holiday celebrations, such as Christmas.
Frank Baker married Francis Belland in April 14, 1914 and they had ten children: Murray, Adele, Celeste, Fernette, Frank, Jr., Irene, Bill, Clarence, James, and Jeanne. At first Frank worked on the Baker farm. Then they moved to Stambaugh where he first worked for the village as marshall, but he soon became a fireman, a job he kept until retiring. He also used to do carpentry work.
Most of the Baker photos are from a CD Curt had at Murray's funeral.
Click on the photo for a video of Murray Baker reminiscing
---
Return to
Click here to return to the list of sections.